While not a newcomer to service delivery, Africa has recently been experiencing a surge from buyers and service providers in adoption and investment, making this a region to watch for technical support and other value-added IT and business process services (BPS). Read on to learn why perceptions of Africa have changed, and explore six factors fueling Africa's growth and its emerging delivery locations.
Africa has been part of the sourcing strategy of numerous Information Technology (IT) and BPS leaders in Europe, the Middle East, and Africa (EMEA) for quite some time. Lately, Everest Group has witnessed a sudden uptick in interest and adoption of Africa by both buyers and service providers.
More importantly, Sub-Saharan Africa has moved from primarily being leveraged for transactional services and low complexity customer experience (CX) queries to accelerated adoption of specialized operations and judgment-intensive processes as part of the region's delivery portfolio mix.
Enterprise (business-to-business) technical support is one such area where buyers and service providers are proactively investing in Africa. We have noted several new technical support locations being set up in Sub-Saharan Africa by third-party outsourcing providers serving European and other English-speaking global markets.
Let's take a look at what is contributing to this increased higher-level activity.
What factors have changed the perception of African talent and delivery sites?
STEM-focused education – The African Union (AU) has repeatedly reinforced its commitment to science, technology, engineering, and mathematics (STEM) education among member countries. The High Level Panel on Innovation and Emerging Technologies (APET) encourages AU Member States to implement STEM education regionally. Some emerging and nascent sourcing destinations, like Rwanda, have taken significant steps in this direction by introducing STEM education in 2019 at all education levels through its "New Competence-Based Curriculum," focused on STEM and Information and Communications Technology (ICT)-led education
Investments by leading technology players to develop a local talent pool – Several multinational companies have set up delivery centers in the region to deliver services to Europe and North America, and tech giants including Google, Microsoft, and Netflix are leveraging it for global services delivery. These companies have invested heavily through well-designed upskilling programs with a focus on technology and digital services, creating a pool of managerial expertise as well as technology delivery capability for complex technical support and other value-added services in BPS and ITS
Acceptance of the remote work environment and related experience – The past two years have proven the remote and distributed work environment is as effective as traditional on-premise office setups. Service providers now have greater flexibility to enable their agents and managers to gain experience by working with global teams while delivering from Sub-Saharan Africa. This has significantly lowered the talent barrier for agents and supervisors
Six factors fueling Africa's adoption
While the above factors have been instrumental in changing the perception and quality of the region's talent pool, the following additional macro factors are driving the increased adoption of Africa:
Favorable demographic – As one of the youngest regions in the world, Africa boasts the greatest youth population in the world, with more than 60% of its population younger than 25 years of age, according to the World Population Perspectives of the United Nations. By 2035 the working population in Sub-Saharan Africa is expected to be larger than the rest of the world combined. This becomes even more relevant when viewed from the prism of the aging population elsewhere, including India
Cost arbitrage: Some countries in Africa offer highly-attractive cost arbitrage compared to onshore locations in Continental Europe (CE) and North America (NA). For example, Egypt, Nigeria, and Kenya's pricing come in at 70-80% less compared to onshore locations in CE and NA, although Nigeria and Kenya are primarily leveraged to serve domestic markets. South Africa (for non-voice Finance & Accounting) and Morocco (for voice-based services) offer cost savings of 40-60% over onshore locations
Strong domestic market: The latest African trends show that consumer spending growth in Africa is projected to rise to $2.1 trillion by 2025 and $2.5 trillion by 2030, according to market forecasts. This is expected to create a fast-growing and lucrative local market for contact center and ancillary services, further fueling growth in Africa's CXM delivery landscape
Increased confidence due to the presence of global enterprises: Some of the world's largest brands from across industries, such as Accenture, Daimler, Google, Microsoft, Standard Chartered, and Teleperformance, are leveraging Africa as the destination of choice for global service delivery. This has given a lot of confidence to prospective companies as they look at Africa while exploring new delivery locations
Proximity to Europe: Proximity to various European countries is a big selling point of many African locations. Companies are increasingly leveraging Morocco for French and Spanish voice-based BP services because it offers both cultural and geographical proximity to France and Spain. Additionally, since most African countries share similar time zones with Europe, delivery and client teams can collaborate in real-time, optimizing work in both geographies
Business Continuity Planning (BCP) measures: Expansion into Africa further diversifies delivery location risk, which has become even more important in light of COVID-induced disruption in traditional delivery locations in Asia. Enterprise buyers of CX services are keen to balance their locations portfolio to manage business continuity risks for nearshore and offshore services
Government and regulatory support: African governments have progressively aligned the local data security laws with global standards, particularly the European Union General Data Protection Regulation (EU GDPR). For example, Nigeria released its Nigerian Data Protection Regulation 2019, which is aligned with EU GDPR. Similar laws, with regional variations but common intent, have been implemented by countries such as Egypt, Kenya, Rwanda, and Mauritius, providing potential investors and customers comfort around data privacy standards. Besides regulation, the government has also invested in infrastructure and security measures to boost outside investment
Emerging delivery locations in Africa
The map below highlights key locations leveraged by global enterprises and service providers for global service delivery. Of these, established locations such as Egypt, South Africa, and Morocco are quite mature and may house 20,000 to 100,000 full-time equivalents (FTEs), while emerging/nascent locations may have less than 20,000 FTEs.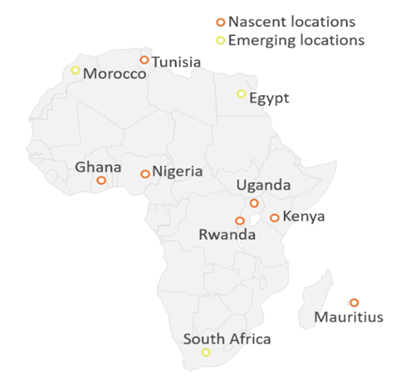 Illustration 1: Emerging delivery locations throughout Africa | Source: Everest Group
Below is a snapshot view of key emerging/nascent delivery locations:
Nigeria: Boasts a huge graduate talent pool with 460,000 to 465,000 graduates every year. It has significant IT services delivery in addition to inbound/outbound customer services. Nigeria has the potential to support multi-lingual contact center delivery in French and English as well as meet significant domestic demand for CX services
Rwanda: Utilized for both voice and non-voice business process services and French and English language support. It is increasingly being leveraged for IT service delivery across global markets with a strong government focus, excellent infrastructure, and educated talent pools
Uganda: Used extensively to support African countries and also to provide some support to US markets. Uganda supports both voice and non-voice service delivery (inbound and outbound customer service, Finance and Accounting Outsourcing (FAO), etc.). It has the potential to deliver complex IT skills, given the huge ICT talent availability
Mauritius: Leveraged for IT (Application Development & Maintenance (ADM) and infrastructure), non-voice business process services, and R&D services to serve French and Canadian markets. This location offers a favorable business environment, with government incentives for the IT-BPS sector, such as tax-free dividends and foreign tax credits
Kenya: Leveraged primarily for voice-based services and providing support to the US and Canada. While it has relatively low maturity for IT-based services, it can serve as a gateway/regional hub for organizations looking to expand in the East/West Africa region
With these positive conditions shaping its future, it will be interesting to see how the next decade fares for Sub-Saharan Africa. If the current trends continue, many countries in Africa are set to emerge as a close competitor to India and the Philippines for technical support and other value-added services delivery as long as it can successfully overcome misconceptions about safety, security, and talent. Continued public-private partnerships like the ones described in some countries above will need to continue for the region to accelerate its growth in this vibrant sector and positively impact Africa's broader industry.
If you have any questions or would like to discuss global service delivery in Africa further, please reach out to Rananjay Kumar, [email protected], or David Rickard, [email protected].