Make a difference and gain business benefits
Achieve your social responsibility goals with our ESG and sustainability insights
Let's Connect
Building a business model for ESG and sustainability impact
Everest Group connects enterprises to Environmental, Social, Governance (ESG) and sustainability opportunities
Over 90% of large global enterprises are reporting on sustainability in some way, which is a significant jump from just a decade ago. This boost in ESG and sustainability programs is demanding businesses across virtually every industry to get involved.
Social, economic, and environmental initiatives can add benefits across the business, affecting everyone from customers and employees to third-party services providers, investors, and stakeholders. And enterprises are discovering that, in doing good, not only are they giving back, but they are achieving business value and competitive advantage.
Finding ways to make an impact has never been more advantageous. But creating good does not come from charities and non-profits alone. Forward-looking companies are now taking their sustainability efforts to the next level and realizing the business gains it brings.
Everest Group provides enterprises with the knowledge to find ESG and sustainability opportunities within the services industry, partners in reaching sustainability goals. From net-zero targets to diversity, equity, inclusion and belonging (DEIB) integration, we empower enterprises to achieve their purpose-driven goals with the breadth and reach of our industry knowledge
The evolution of environmental, social, governance ESG and sustainability practices
ESG and sustainability initiatives are being adopted at a rapid pace and at a variety of levels. But how do enterprises get started? One of the initial challenges of becoming purpose-driven is putting a description and goal behind what an enterprise wants to achieve. It could be in the early phases of philanthropic efforts and business ethics or moving toward more advanced stages like sustainability reporting and stakeholder engagement.

Enterprise executives are initiating forward-looking governance strategies, keeping their eye on the long-term payoffs and impacts, and staying ahead of the pace of change, whether regulatory, risk-related, or new business opportunities. Sustainability investments are increasing as enterprises plan for the future and transition from maximizing return for shareholders and toward overall stakeholder engagement, creating purpose-driven enterprises.
Everest Group's data-driven insights and continuous guidance serve as the resources that enterprises need to find ESG and sustainability opportunities in the services industry. We steer enterprises toward better performance results throughout their entire ESG and sustainability journeys.
The #EGresponsible Series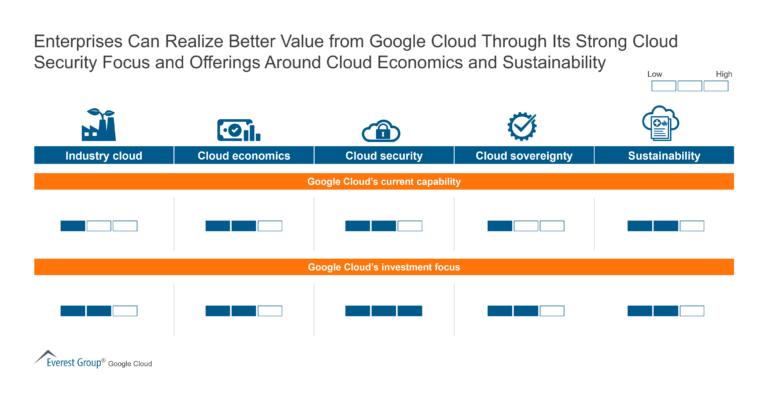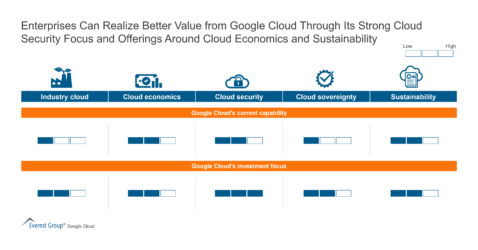 Enterprises Can Realize Better Value from Google Cloud Through Its Strong Cloud Security Focus and Offerings Around Cloud Economics and Sustainability