As enterprises face mounting challenges in adopting complex digital solutions, digital transformation consulting continues to grow. But economic pressures, heightened digital intricacies, and new opportunities in sustainability will impact the industry's future. To thrive in this rapidly evolving environment, consulting firms must offer tailored solutions that deliver measurable outcomes. For more insights, read this blog.     
Reach out to us directly to learn more.
Digital transformation consulting has gained market prominence in recent years due to the demand for experts who can help organizations effectively embrace technology-driven processes and strategies. With enterprises' constant demand for digital relevance continuing, the sector is expected to grow 8.5 to 9.5% through 2025.
Consultants have a critical role in helping guide enterprises through the why, what, and how of digital business transformation. The success of digital transformation initiatives hinges largely on identifying the right objective, determining the best strategies, and properly planning digital initiatives, which is where consultants can provide invaluable guidance and expertise.
Service providers also have opportunities to display market-leading thought leadership, influence technology decisions by becoming strategic partners, and build long-term senior stakeholder relationships through consulting. These factors make digital transformation consulting one of the most important segments of the IT industry. Analyzing this industry's movements helps decode the overall direction of digital change.
Macro-economic conditions are pushing enterprise priorities toward operational benefits
With the increasing economic pressures, cost optimization and productivity improvement have become top-of-mind priorities for enterprises in 2023. Companies are looking to optimize operations, streamline processes, and reduce expenses. In response, consulting firms should rebalance their priorities on operational segments such as supply chain management, production, finance, Human Resources, or sales and marketing.
This shift towards operational benefits will likely impact consulting service delivery. Clients increasingly are seeking outcome-based pricing models that tie consulting fees to specific cost savings or productivity gains. To meet this demand, consultants must demonstrate a deep understanding of their client's business processes and operations and develop customized solutions that deliver measurable results. Many large consulting houses have also leveraged lower-cost locations to address their delivery cost uptick.
Digital pragmatism is leading enterprises to eye scope and vendor consolidation
Many enterprises are struggling to see the expected returns on their digital investments and are looking to optimize their value. This has led to a surge in demand for consulting services that can help businesses rationalize their digital scope and streamline their vendor portfolios. In 2023, the number of enterprises seeking to critically rebalance or rationalize their service provider portfolio increased by 35%.
To meet this wave of digital pragmatism, professional services firms need to provide end-to-end services that can guide clients throughout the process of IT portfolio rationalization. This includes identifying areas for consolidation, developing an implementation roadmap, and providing ongoing support to ensure successful execution. By taking a more strategic approach to IT investments and vendor selection, enterprises can optimize their value and drive better business outcomes.
This also highlights why digital consulting providers have been attempting to expand their footprint across overlapping opportunities among peer groups. For quite some time, the Big Three consulting firms have targeted downstream revenue with products and solutions for enterprise decision-making. Meanwhile, traditional IT services vendors are leaning on the importance of digital to engage top-brass executives and expand into upstream revenue more strategically. This all comes alongside the Big Four accounting firm's efforts to exert dominance across end-to-end services capabilities.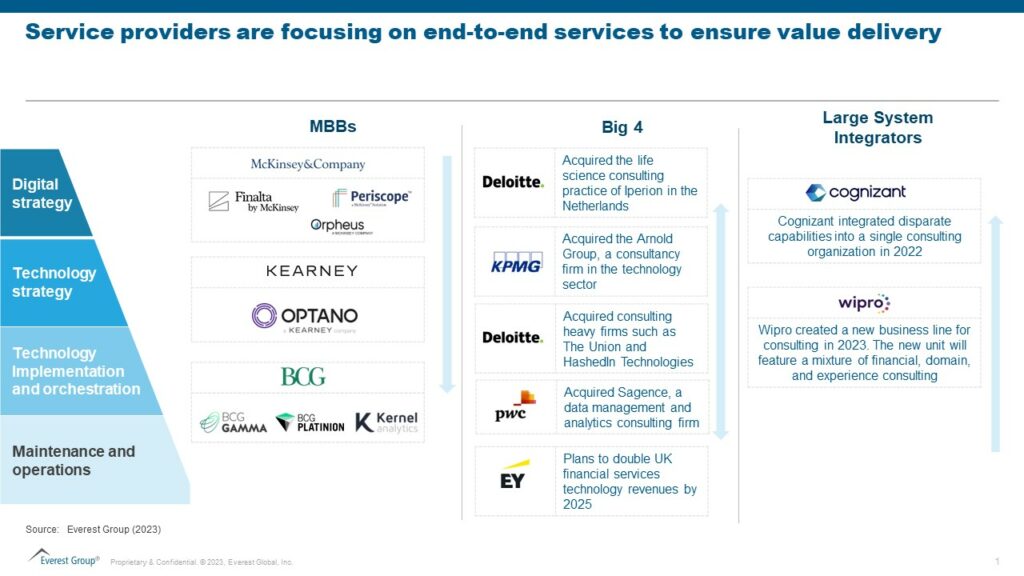 This razor focus on value also forces consulting service providers to repair delivery inefficiencies. Everest Group's Digital Transformation Consulting Services PEAK Matrix® Assessment found that costly engagements with large management consulting houses are not perceived as delivering sufficient value by most stakeholders, and organizations are receptive to working with IT service providers that have a stronger technical focus.
However, IT service providers who excel in technology expertise may fall short in delivering domain or industry expertise. The study showed clients were 10 percent less satisfied with providers' domain/industry expertise than their technical expertise.
Winning in the "Value Market" will require consulting service providers to deliver well-rounded engagements supported by forward-thinking talent at effective price points that bring technical and domain prowess.
Sustainability will be the next game-changer in consulting
As businesses become more conscious of their environmental impact, many seek consulting services to help them develop and implement sustainable practices. Everest Group research found four out of every 10 Environmental, Social, and Governance (ESG) engagements are focused purely on consulting elements. As this trend is expected to accelerate in the coming years, sustainability will likely become a key driver for growth in the consulting industry.
Consultants are uniquely positioned to help clients navigate the complex sustainability ecosystem, working with diverse partner segments such as rating agencies, global standards organizations, data and reporting vendors, as well as independent software vendors (ISVs) and original equipment manufacturers (OEMs.) To capitalize on this trend, consulting firms need to invest in creating industry and function-focused expertise on sustainability. This includes building teams with deep domain knowledge in areas such as carbon accounting, circular economy, and ESG reporting.
Looking ahead, the consulting industry is expected to continue to undergo significant change, driven by macroeconomic conditions, digital predicaments, and sustainability. Consulting firms today must have a deep understanding of their client's business processes, operations, and priorities. Providing customized solutions that produce measurable results will be crucial to thrive in this rapidly evolving environment.
To discuss digital transformation consulting and digital strategies, contact [email protected], [email protected], and [email protected].  Stay tuned for our perspectives on generative Artificial Intelligence's impact on the digital transformation consulting market.
Don't miss our webinar, Welcoming the AI Summer: How Generative AI is Transforming Experiences, to learn how enterprises can leverage Generative AI to unlock business value and about current use cases.