Historically, companies have leveraged the GIC model to deliver business process (operations) and IT services. However, as the model is maturing and incremental demand for these services is declining, enterprises are increasingly looking to their GICs to build more strategic Research & Development (R&D) and digital capabilities, drive innovation, and focus more on value-added services. In other words, they want their GICs to be "capability centers," not just "delivery centers."
There's clear evidence that this is happening. In 2017, there was a significant increase in set-up of such capability centers focused on R&D and digital skills, especially in areas such as design, innovation, automation, Artificial Intelligence (AI), Machine Learning (ML), and cybersecurity. Indeed, our recently released GIC Annual Report 2018 shows that the share of centers supporting R&D/engineering services – including digital services – increased by almost 150 percent during 2017, as compared to 2016. And these centers accounted for more than 50 percent of total GICs setup in 2017.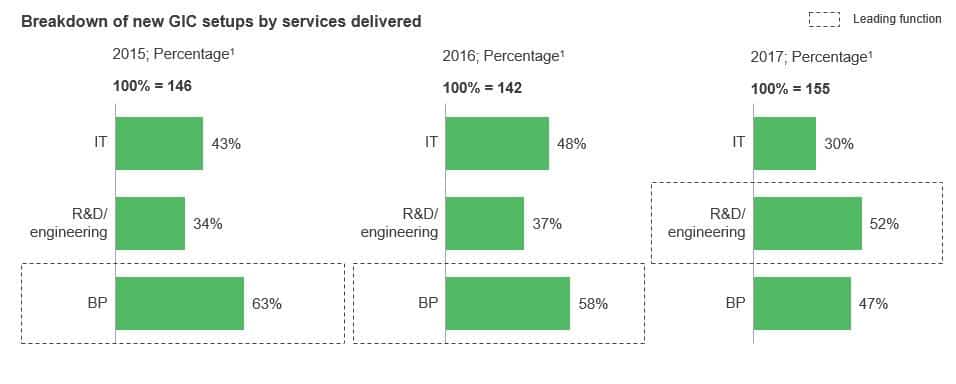 These capabilities are expected to be the key differentiators and success drivers for global enterprises going forward. In 2017, ~46 percent of all new centers were focused on developing or expanding digital capabilities for the enterprise. There are multiple examples where offshore/nearshore GICs have been given a global mandate to lead organizational initiatives in new and emerging areas such as automation and blockchain.
So, how exactly are GICs becoming the global capability centers? What are the key enablers? Another of our recent research studies shows that GICs need to take a FORCEful approach: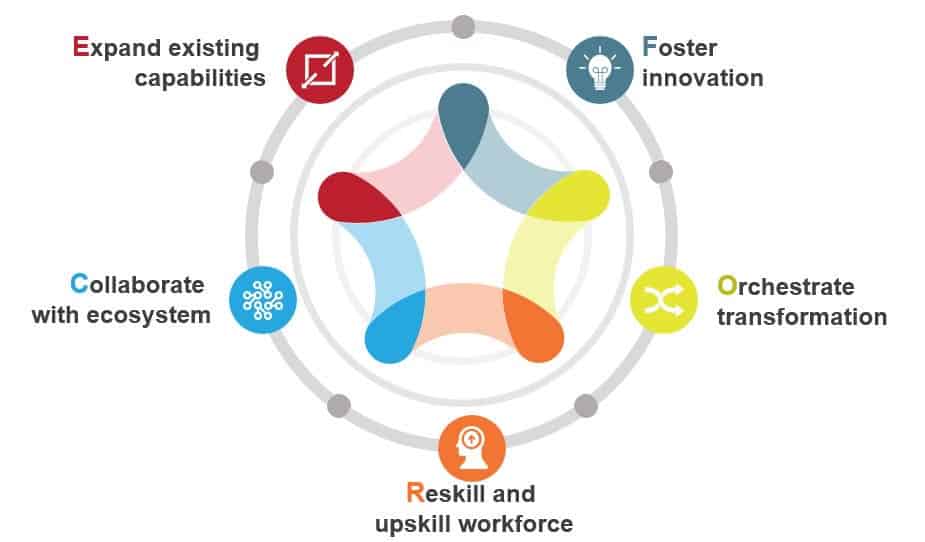 Foster innovation: GIC leadership needs to invest in developing a customer-centric culture, and test small-scale Proof-Of-Concepts (POCs) to demonstrate end-client value and build credibility
Orchestrate transformation: GICs should leverage their well-established foundation by identifying their core strengths and upshifting the value they deliver through improved operational excellence with productivity enhancements, optimized pyramids, and better managed external spend. Simultaneous focus on leveraging these new capabilities to drive both growth and efficiencies will be critical to deliver true value to the enterprise
Reskill and upskill workforce: GICs must radically change their reskilling/upskilling initiatives to ensure talent readiness for next-generation skills. They also need to adopt a bespoke approach for specific requirements, and undertake pilots in areas with the highest skills gaps to assess the effectiveness and relevance of the capability centers model
Collaborate with ecosystem: GICs should proactively leverage the external ecosystem – specialist providers, startups, educational institutions, etc. – to develop holistic solutions, increase agility, and reduce go-to-market time
Expand existing capabilities: GICs have a unique insider's view that enables them to provide strategic insights to orchestrate enterprise-wide digital/technological transformation, facilitate integration between IT and operations, and break functional siloes to achieve truly breakthrough results
To learn more about the research behind our FORCEful approach, please click here. And if you've already established a capability center, or are in the process of doing so, write to us at [email protected] or [email protected]. We'd love to hear your thoughts and experiences!