Clinical and Care Management Operations – Services PEAK Matrix® Assessment
Value-based care models have gained significant traction in the market with growing costs of healthcare services and a pronounced gap in the care quality provided under traditional fee-for-service models. Consequently, the Centers for Medicare and Medicaid Services (CMS) plans to drive the adoption of value-based care by transferring all Medicare fee-for-service beneficiaries into a care relationship with accountability for quality and lower total cost of care by 2030. While the pandemic initially drove alternate care delivery models, such as home-based care and virtual care, enterprises are increasingly using them to improve the continuity of care, reduce costs, and drive value for their member/patient base.
However, this push toward value-based care requires further technology investments from both payers and providers for integrated care management and effective utilization management. Providers can fulfill enterprises' clinical and care management operations requirements by delivering clinical services from cost-effective locations and deploying advanced technology solutions built on a foundation of clinical, claims, and Social Determinants of Health (SDoH) data for personalized care programs and engagement.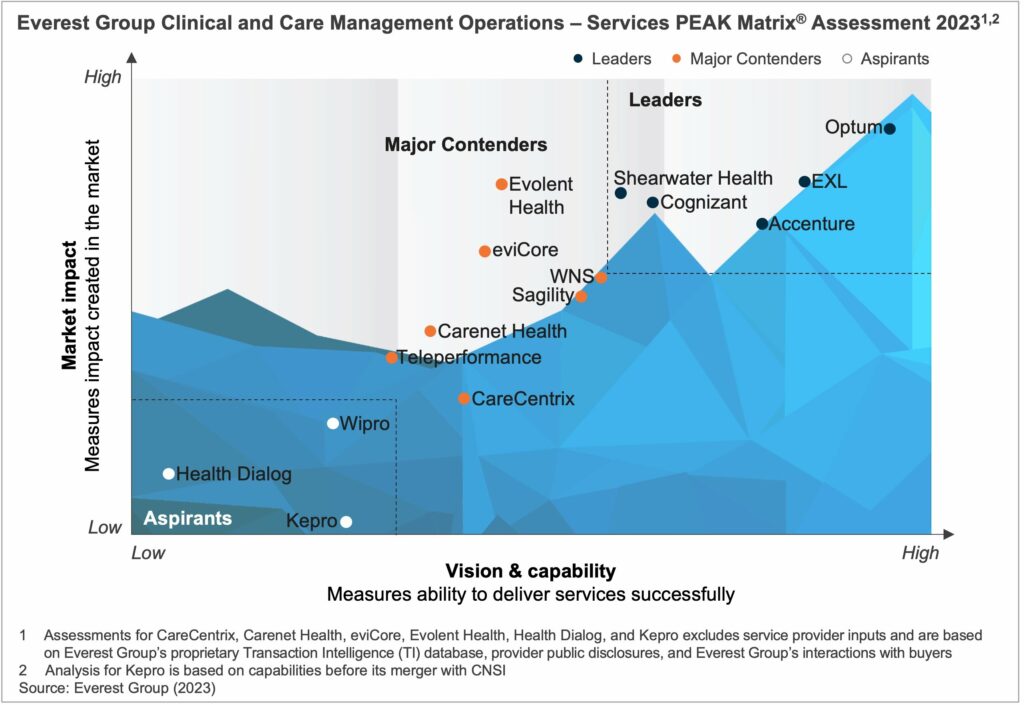 What is in this PEAK Matrix® Report
In this research, we assess 15 healthcare service providers featured on the Clinical and Care Management Operations PEAK Matrix®. We provide a relative positioning and analysis of the providers' market shares and evaluate their strengths and limitations. The study will enable healthcare enterprises to identify suitable providers to transform their business processes.
This report features a detailed analysis of 15 healthcare service providers and includes:
Relative positioning of the providers on Everest Group's PEAK Matrix® for Clinical and Care Management Operations
A comparison of the providers' capabilities and market shares
Everest Group's analysis of the providers' strengths and limitations
Scope:
Industry: healthcare business process
Geography: global
The assessment is based on Everest Group's annual RFI process for calendar year 2023, interactions with leading healthcare clinical and care management operations providers, client reference checks, and an ongoing analysis of the healthcare BPS market
Related PEAK Matrix® Assessments
What is the PEAK Matrix®?
The PEAK Matrix® provides an objective, data-driven assessment of service and technology providers based on their overall capability and market impact across different global services markets, classifying them into three categories: Leaders, Major Contenders, and Aspirants.