5G Engineering Services PEAK Matrix® Assessment
5G's lower latency and higher bandwidth have unlocked newer uses for enterprises to explore. Additionally, 5G adoption is allowing the transformation of network infrastructure to make it quickly scalable, driving higher levels of customization and lower operating costs.
Enterprises are exploring the decoupling of hardware and software in the form of network function virtualization, automation of network operations, adoption of open-source components (hardware and software), and monetization opportunities. However, the market's nascency is creating uncertainty and increasing complexities for enterprises.
Therefore, they are looking to partner with providers to share development risks, reduce operational costs, implement system integration measures, bring in a larger talent pool, and leverage the expertise of their partner ecosystem to engineer solutions faster.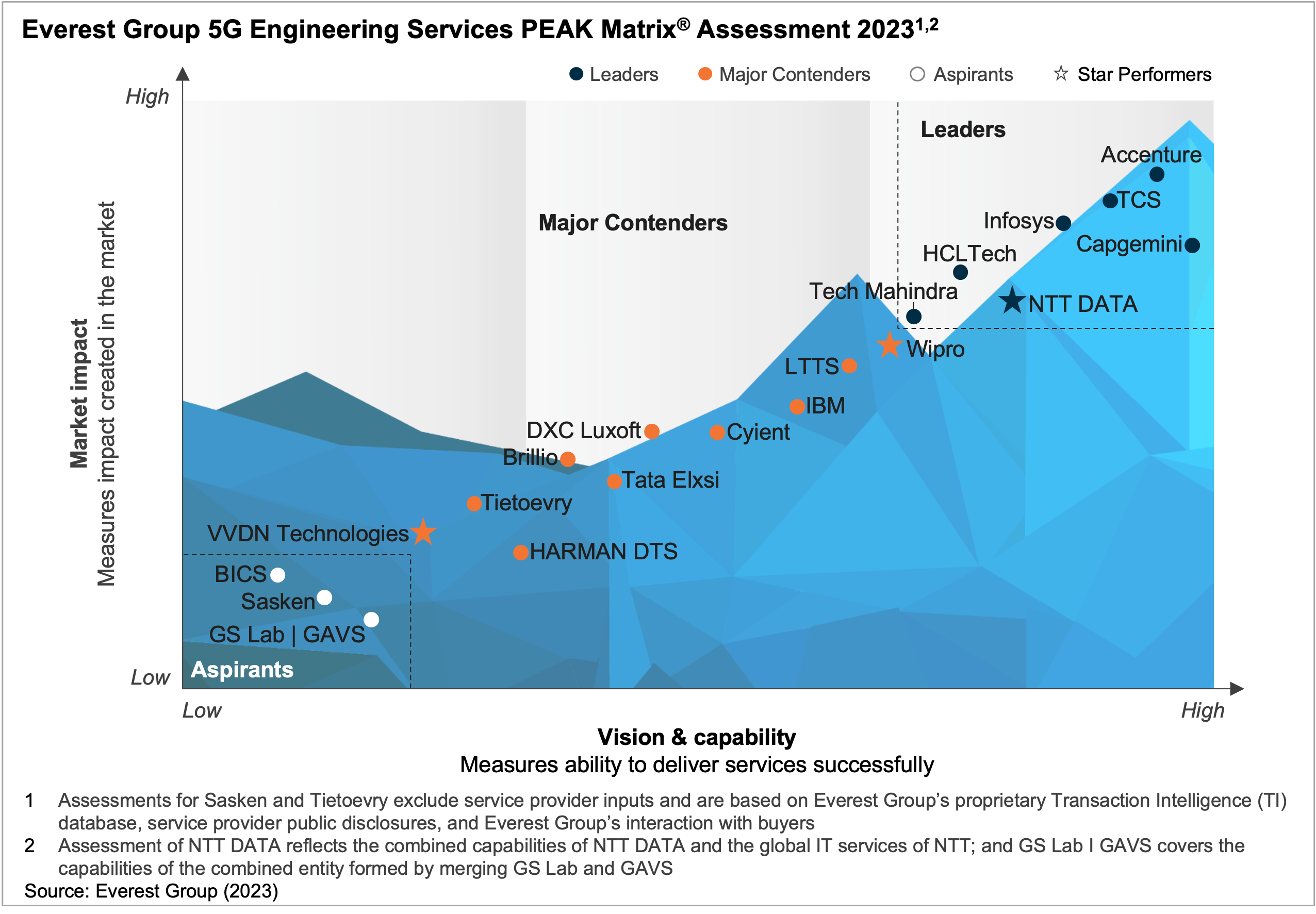 What is in this PEAK Matrix® Report
This research, the second edition of Everest Group's 5G Engineering PEAK Matrix® Assessment, evaluates 20 engineering service providers, features them on the PEAK Matrix® framework, and provides sourcing considerations for enterprises.
In this PEAK Matrix® report, we provide:
Everest Group's 5G Engineering Services PEAK Matrix® 2023
Key characteristics of Leaders, Major Contenders, and Aspirants
A summary dashboard assessing each provider's vision & capability and market impact
Providers' strengths and limitations vis-à-vis enterprise sourcing considerations
Scope:
Providers assessed: Accenture, BICS, Brillio, Capgemini, Cyient, DXC Luxoft, GS Lab I GAVS, HARMAN DTS, HCLTech, IBM, Infosys, LTTS, NTT DATA, Sasken, Tata Elxsi, TCS, Tech Mahindra, Tietoevry, VVDN Technologies, and Wipro

Services: 5G engineering services
Geography: global
The study is based on RFI responses from providers, interactions with their 5G engineering leadership, client reference checks, and an ongoing analysis of the engineering services market.
DOWNLOAD THE 5G ENGINEERING SERVICES PEAK MATRIX® ASSESSMENT 2023
Related PEAK Matrix® Assessments
What is the PEAK Matrix®?
The PEAK Matrix® provides an objective, data-driven assessment of service and technology providers based on their overall capability and market impact across different global services markets, classifying them into three categories: Leaders, Major Contenders, and Aspirants.