With slowed IT industry growth, service providers can drive momentum with asset-based business models that center on delivering services built on digital products and platforms or monetizing the platforms and assets themselves. To learn about the advantages and key questions service providers should ask to successfully move to this model, read on.
Contact us to explore this further.
After fast growth on a once expansive highway, the IT industry hit a roadblock in recent years and is now navigating on narrower lanes. Service provider leaders are grappling to help the IT industry find new avenues of growth. Asset-based business models that prioritize the monetization of digital products and platforms may hold the key to moving forward. Let's explore this concept further.
Finding stability amid uncertainty
With IT revenue and operating margins already down (approximately 14% decline in operating profit per employee since 2018), larger macroeconomic and geopolitical disruptions will continue to impact the IT services industry as the sector interconnects ever more closely with enterprise operations.
This tough climate is pushing service providers whose traditional linear business model is oriented around services to seek innovative growth opportunities. Amid these challenges, the asset-based business model is attracting attention.
An asset-centric business model revolves around a strong foundation of digital assets like products and platforms. Asset-based models are appealing because they help promote client loyalty, streamline operational costs, expedite market entry, and provide a competitive edge.
Assets as catalysts for growth
Some may argue that the concept of harnessing assets isn't new, as it has been a steadily growing trend for a long time now. While some suppliers use assets closely bundled with their services, others have been able to position themselves as product providers.
Some large system integrators record anywhere between 8-12% of revenue in 2022 through assets. Their lessons learned and success stories have paved the way for other service providers to explore and scale asset-based models.
For instance, Accenture's acquisitions of Navitaire and Duck Creek Technologies showcased the power of assets, while TCS strategically positioned ignio™ as a transformation catalyst and upheld BaNCS as a revenue-generating platform within banking, financial services, and insurance (BFSI).
Some of the notable benefits realized by these leading players include: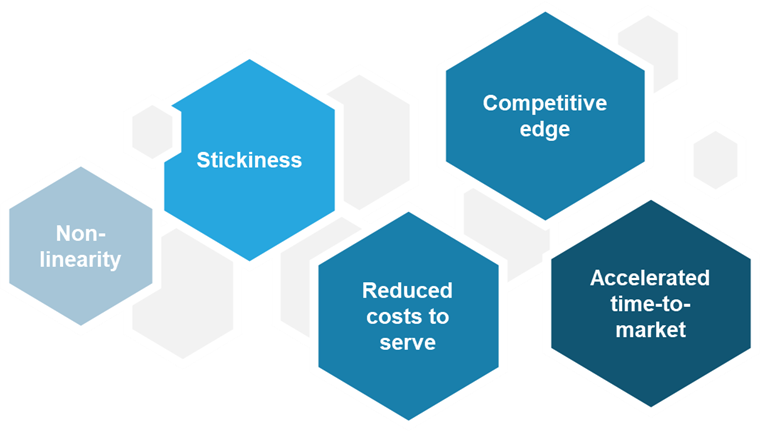 Revenue diversification: Relying solely on traditional services may no longer be sustainable. Integrating digital assets can create new revenue streams and ensure business sustainability
Time-to-market advantage: Developing digital products and platforms allows IT service providers to respond quickly to market demands, gaining a competitive edge
Reduced cost-to-serve: Automated and scalable digital assets enable cost efficiencies, enhancing profitability while delivering high-quality services
Talent solution: The scarcity of skilled resources in the market makes it imperative for service providers to embrace digital solutions and optimize their talent pool
 Embarking on the asset-based journey
 When considering moving to an asset-based business approach, providers need to answer key questions and consider their unique objectives, strengths, and market synergies. These include:
What is the appropriate business structure? Should we opt for a specialized asset-centric business distinct from the services business or integrate assets within the existing services structure?
How does an asset-based business model impact the existing service provider positioning?
How do we select the products that can help drive long-term growth? Should we build or buy them?
How does this approach change our talent model? Do we need a team of product specialists? How do we train sales teams to pivot to products from services? How will this impact internal collaboration?
Who owns the responsibility of developing the asset and subsequent implementation?
When beginning this transformative journey, we recommend:
Pick the battle and weapons meticulously: The first and the most critical aspect is strategically selecting assets based on market potential and alignment with business objectives
Manage synergies internally and externally: Strike a balance between maximizing synergies and mitigating conflicts between the existing services business and the new asset-based ventures. Addressing any potential conflict in customers' perception is crucial
Establish a holistic model: Forge a comprehensive asset-based business model, addressing strategic vision, organizational alignment, commercial models, talent strategies, and operational intricacies
Don't miss Everest Group's much-anticipated annual webinar, Key Issues 2024: Creating Accelerated Value in a Dynamic World, to gain valuable insights into the current perspectives of IT-BP industry leaders.

Asset-based business outlook
With the bumpy road ahead in IT, the asset-based business approach gives service providers a new lane to accelerate in. By embracing this model, businesses have the potential to transform into innovative engines that can swiftly navigate obstacles and seize new opportunities.
To discuss strategies for adopting an asset-based business model, reach out to Alisha Mittal or Parul Trivedi.