On July 21, 2020, HealthEdge announced its acquisition of The Burgess Group, which we recently recognized as a Major Contender on our Healthcare Payer Payment Integrity Solutions PEAK Matrix™ Assessment 2020.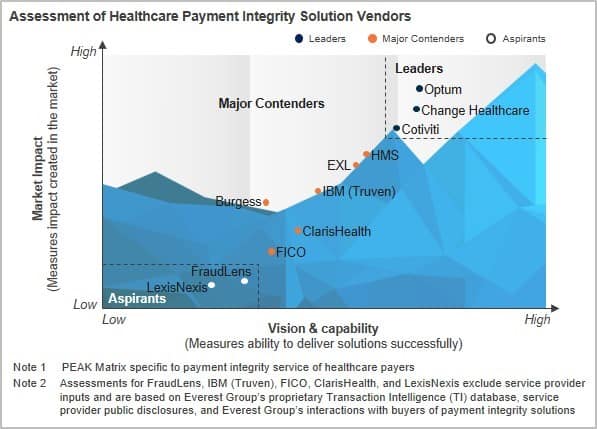 HealthEdge provides an integrated financial, administrative, and clinical software platform (the HealthRules suite), while The Burgess Group is a specialist in the payment integrity software space.
Here's our take on this deal.
The strategic intent behind the deal
The healthcare payer industry is plagued with notoriously old infrastructure. While healthcare payers are working to increase data transparency, offer member-centric solutions, and adopt a value-based care model, they're obstructed by high reliance on dated, disconnected, and non-interoperable systems. Cost management is another endemic issue impacting the payer industry. One of the key reasons for this financial distress is the high share of expenditure on administrative costs in the US healthcare system, driven by redundant processing and limited automation. To address these roadblocks, payers are increasingly leveraging a core-admin platform approach.
The interesting fact here is that medical costs account for 80-85 percent of the total payer cost, while only 15-20 percent are admin and IT costs. Payers leave a lot of value on the table when they manage these costs separately. Payment integrity is one of the principal tools to manage medical costs and, hence, is a key functionality that payers value in core-admin platforms. By adding The Burgess Group's offerings to its own expertise, HealthEdge's goal is to create an integrated claims processing, payment integrity, and adjudication platform that addresses both administrative and medical expenses.
Another point worth noting is that Blackstone completed the acquisition of a majority stake in HealthEdge in April 2020, giving HealthEdge the financial muscle it required to make the right investments to expand its product offerings and compete with the other big players such as Cognizant (TriZetto), HM Health Solutions, Mphasis, and NASCO.
Unpacking the companies' synergies
The acquisition offers several synergies.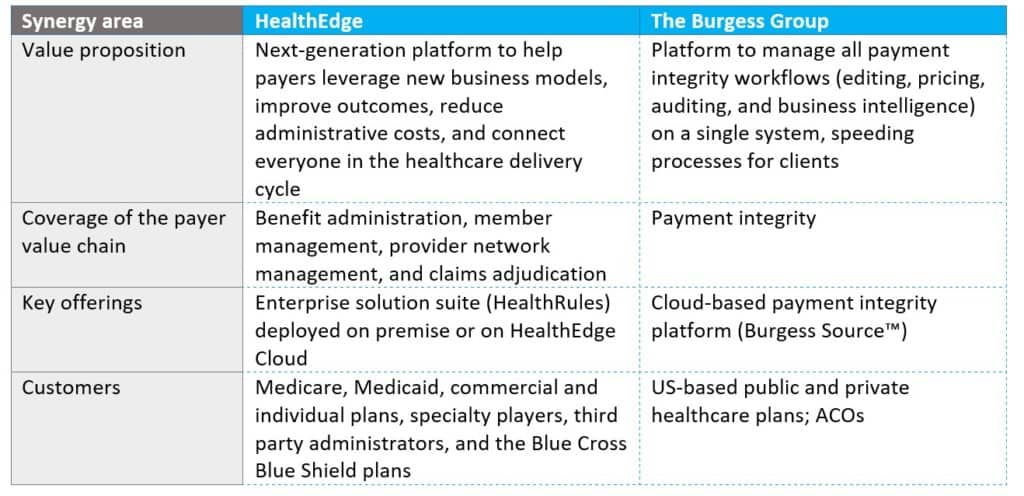 Things to watch out for
Ram Jagannath, global head of healthcare at Blackstone Growth and chairman of HealthEdge, has stated that the acquisition of Burgess is a great strategic fit for HealthEdge to enter the large, high-growth payment integrity market, helping address the estimated $1 trillion in wasteful spending in the US healthcare system.
We are positive about this deal, particularly for what it means to the market and current market demand. However, it remains to be seen how HealthEdge leverages this investment, while also mitigating the major concerns that enterprises cite around using platforms, including integration, interoperability, scalability, and user experience.
Platforms that can address medical costs while encouraging data-driven process efficiency are generating growing interest in the market. If HealthEdge can partner with payers to create tightly knit contracts with strong risk mitigation and guaranteed savings clauses, this comprehensive platform can unlock tremendous value for payers. We'll be tracking this one closely.
Reach out to me at [email protected] with your thoughts on this acquisition or the market in general.