Procurement Outsourcing (PO) – Services
Procurement Outsourcing (PO) providers are seen as strategic partners by organizations and are playing a critical role in helping them navigate the challenges posed by macroeconomic uncertainties and inflationary pressures by driving cost reduction and enhancing efficiencies. With the increasing willingness to outsource judgment-intensive strategic procurement processes, service providers are building strong domain expertise and digital transformation capabilities to drive value acceleration for organizations. Service providers are offering a comprehensive procurement digital ecosystem with advanced technology capabilities comprising end-to-end platform solutions, best-of-breed suites, and point solutions by leveraging in-house capabilities, partnership ecosystems, and targeted investments. Leading providers are also investing in developing capabilities and solutions in emerging areas such as sustainability, risk management, and direct spend management.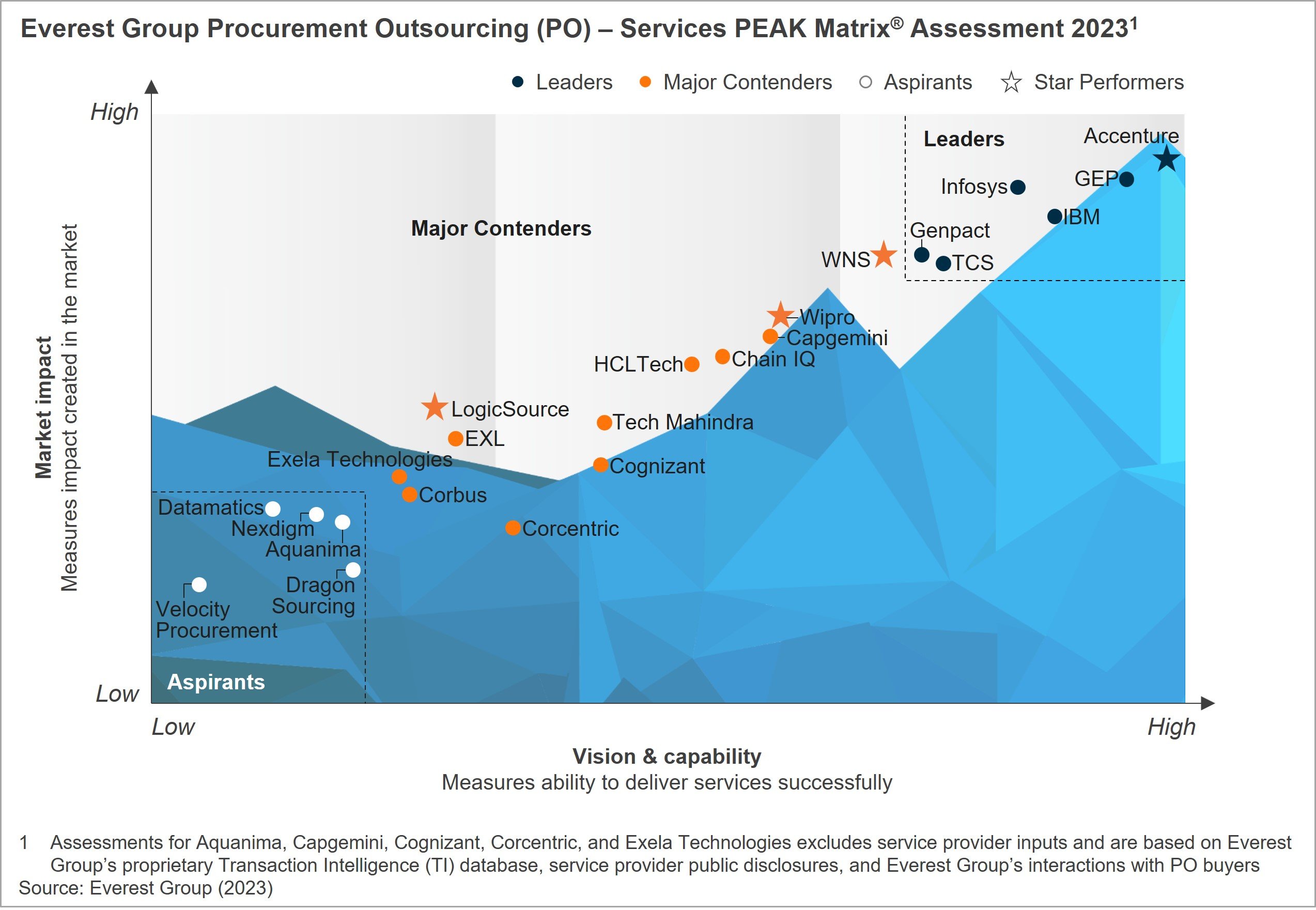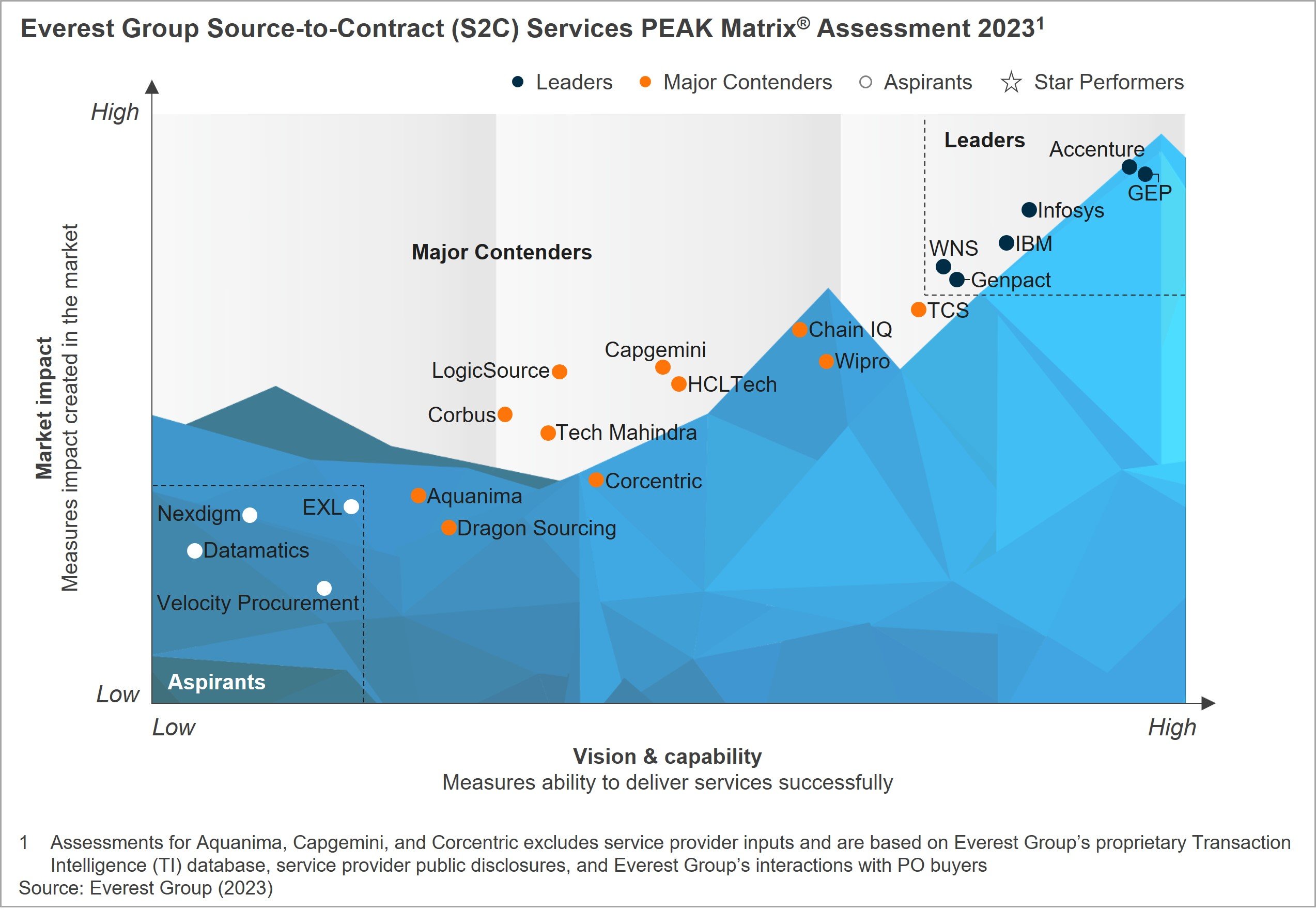 What is in this PEAK Matrix® Report
In this research, we present detailed assessments of 23 PO providers featured on the PO Services PEAK Matrix® Assessment 2023. Each assessment provides a comprehensive picture of the provider's market success, vision and strategy, service focus and capabilities, digital and technological solutions, domain investments, and buyer feedback to assist buyers in making sourcing decisions. Given the increased extension of PO engagements in upstream procurement areas, we have also assessed 21 of these PO providers on their Source-to-Contract (S2C) capability and featured them on the S2C Services PEAK Matrix Assessment® 2023.
This report examines the:
PO Services PEAK Matrix® Assessment 2023
S2C Services PEAK Matrix® Assessment 2023
Key insights into PEAK Matrix® dimensions
Strengths and limitations of individual providers
Enterprise sourcing considerations
Overview of top PO providers across geographies and industries, along with their respective market shares
Scope:
All industries and geographies
The assessment is based on Everest Group's annual RFI process for the calendar year 2023, interactions with leading procurement service providers, client reference checks, and an ongoing analysis of the PO services market
Related PEAK Matrix® Assessments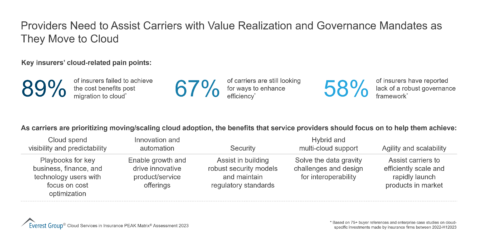 Providers Need to Assist Carriers with Value Realization and Governance Mandates as They Move to Cloud
What is the PEAK Matrix®?
The PEAK Matrix® provides an objective, data-driven assessment of service and technology providers based on their overall capability and market impact across different global services markets, classifying them into three categories: Leaders, Major Contenders, and Aspirants.