I recently attended the ProcureCon Indirect East conference in Orlando, Florida, where procurement professionals came to learn how to improve supplier relationships, staff their teams for maximum results, and discover new technology aimed at simplifying their processes and adding value. This year's 275+ attendees were addressed by keynote speakers, and participated in round table discussions and breakout sessions based on specific areas of focus and interests.
Three issues were prevalent at this event.
Struggles to bring spend under management
This was an area of concern and discussion during many of the breakout sessions. Understandably, as doing so enables procurement to negotiate improved pricing and higher discounts. To bring spend under management, there are several steps an organization must undertake. It must clearly define what it actually means by "spend under management" and achieve stakeholder buy-in from the top down so everybody understands that managed spend will be handled via a different, clearly defined process. Then, it's important to make sure procurement has access to all spend data so it can conduct an analysis of managed and unmanaged spend. Once the amount of spend going through the procurement process has been determined, goals can be set to increase this percentage. Of course, effective change management is crucial to creating new behaviors necessary to achieve these goals. Once procurement makes initial spend management inroads, it should work to minimize suppliers in areas where it makes sense to do so. This not only drives additional pricing leverage among the remaining suppliers, but also frees up procurement's time to address more value-add activities like tracking and reporting compliance, rather than managing too many suppliers. A final critical component of managing spend is an e-sourcing solution with as many suppliers as possible loaded into it. This e-sourcing solution should be as user friendly as possible for all buyers throughout the organization – not just those within the procurement department – as the easier it is to run spend through the system, the more it will cut down on spend that is occurring outside procurement.
Failure to create an integrated end-to-end process
This was another major source of frustration, as it results in tremendous value leakage between sourcing and payment. For example, one attendee realized recently that a breakdown of communication along the chain and an ineffective contract management function had led to numerous payments continuing long after their associated contracts had expired. Beyond unnecessary spend, lack of a fully integrated end-to-end process can create more work by requiring rekeying of data into multiple systems, and result in the inability to define rules-based workflows across the process. This lack of control and visibility can actually increase the opportunity for maverick spend. A fully integrated end-to-end procurement process will solve these issues, and provide a host of benefits such as improved process efficiency, increased collaboration with suppliers, and more control over demand and spend. There's an abundance of technological solutions available to help integrate the process, including end-to-end procurement platforms and technologies that augment and fill in gaps in the existing process.
Procurement is gaining traction as a key component of a company's strategy  
It was clear from the session topics and resulting discussions that procurement's mandate to transform from a cost center focused on savings to a strategic part of the organization that contributes to top-line growth is moving closer to actualization. Today, many companies seem to be looking to procurement with increasing frequency to make strategic decisions about how the supply chain can be optimized to deliver the greatest returns. Everest Group research shows that leading procurement organizations have 75 percent or more of spend under management, compared to only 50 percent for average organizations, and as low as 25 percent for bottom performers. The top-performing organizations consistently push themselves to find new and creative ways to think about procurement in broader terms, and to collaborate with other areas to extend procurement's value. They have a vision, and understand how that vision fits into the overall enterprise.
Enterprises have much to gain from an efficient and effective procurement department. Those in which procurement has managed to master some of these skills bring increased innovation into the company, enjoy greater flexibility, and have a competitive advantage over their peers. This conference shed a lot of light on procurement's aspirations, as well as where it seems to be falling short.
Looking to improve your company's procurement function? Following is Everest Group's take on how procurement outsourcing (PO) can help organizations achieve a "Cost+Value" value proposition.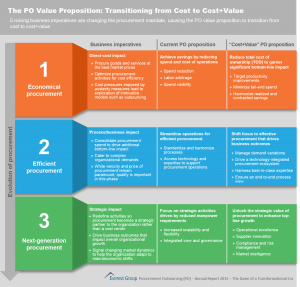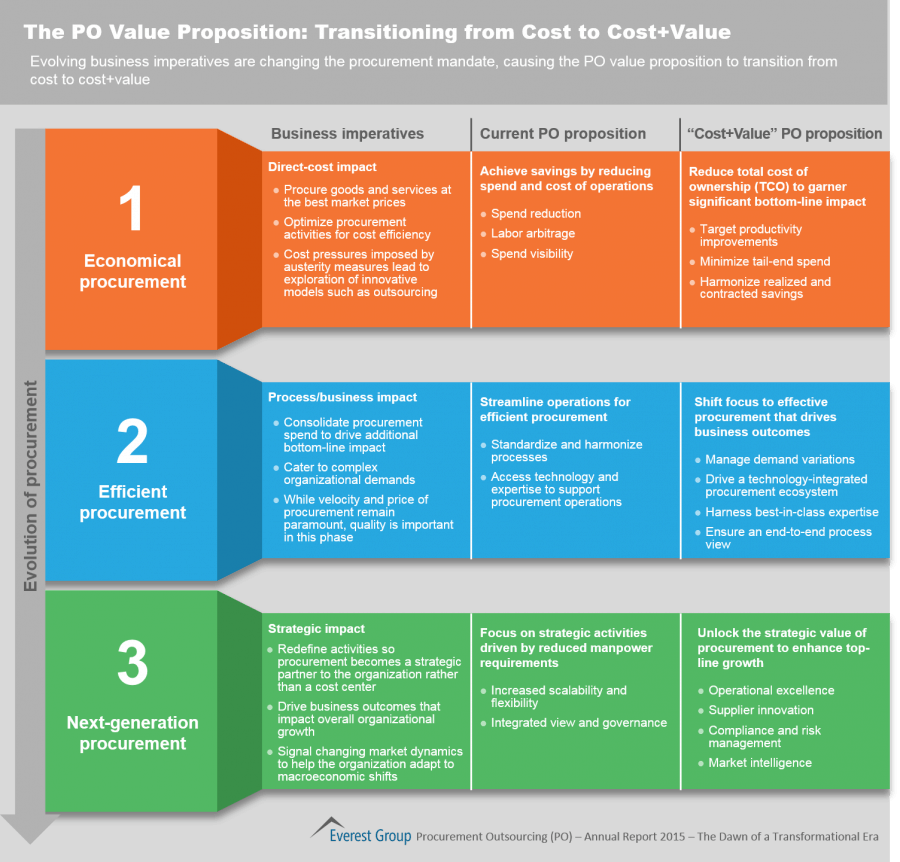 Has your company's procurement organization achieved some of the hallmarks of top performers? Our readers would love to hear about your experiences!