Conversational AI Products
Conversational AI has become a transformative force in technology, particularly for businesses seeking to enhance customer experiences, drive customer acquisition, and establish market differentiation. It has evolved through several stages, starting with traditional chatbots that primarily handled basic tasks and customer support inquiries, followed by the introduction of Artificial Intelligence (AI)-based chatbots. However, the most profound shift in the field of conversational AI has occurred with the emergence of generative AI and Large Language Models (LLMs). Conversational AI providers are actively responding to the growing demand for more advanced capabilities. They are not only introducing new capabilities but also fortifying their existing offerings to provide more comprehensive and accessible solutions catering to diverse use cases.
While AI chatbots have demonstrated commendable capabilities in conversational intelligence and sentiment analysis, the integration of generative AI and LLMs represents a groundbreaking advancement. These advanced AI systems can generate text that closely resembles human language, thereby facilitating more natural and context-aware conversations. This progress is leading to a host of benefits, including enhanced customer experiences, streamlined operational processes, and improved accessibility. Organizations are increasingly recognizing the potential of generative AI to bolster their agent-assist capabilities. This includes functions such as call summarization and recommendations for next-best actions, further enhancing their ability to deliver exceptional customer service and operational efficiency.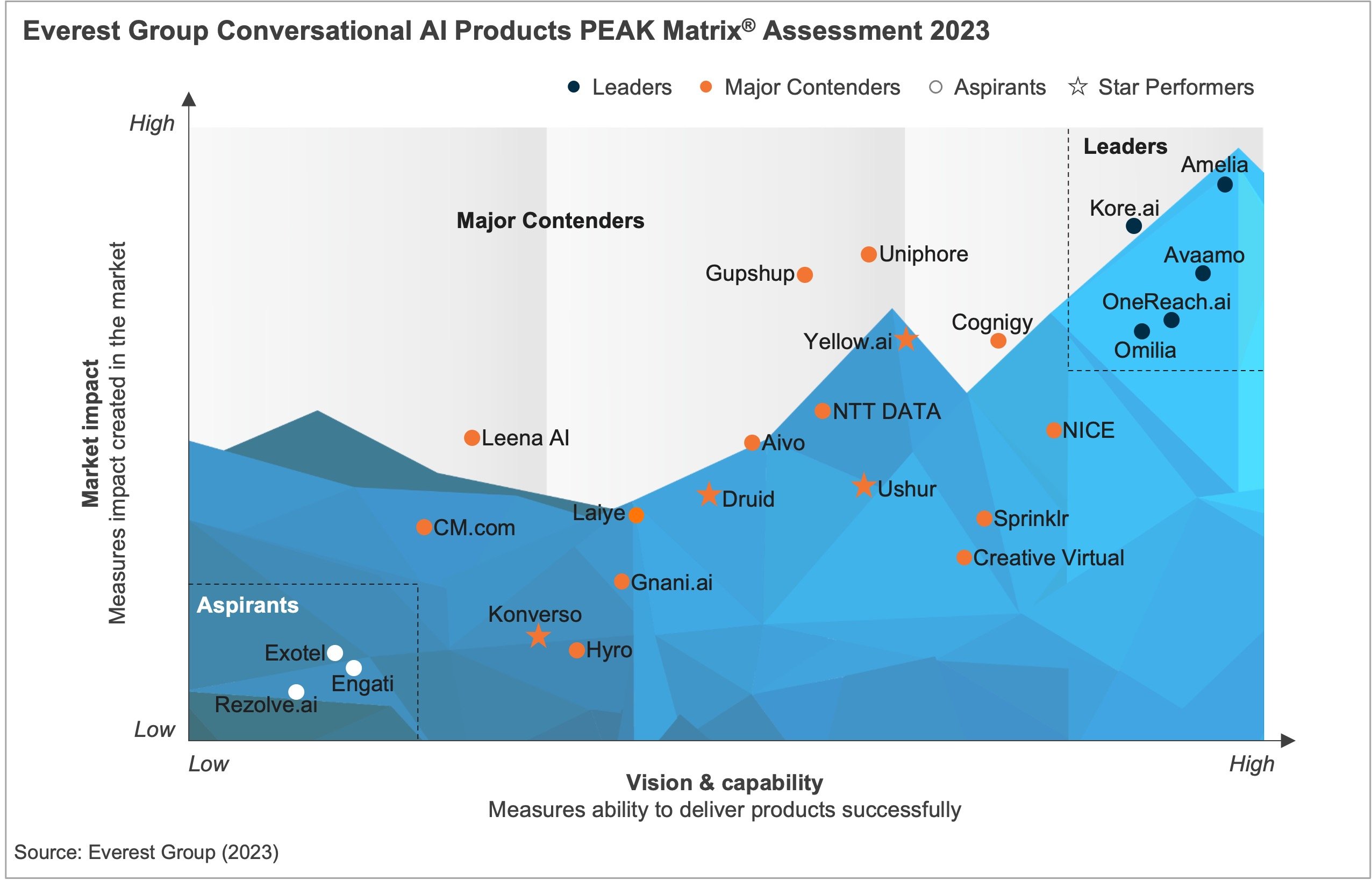 What is in this PEAK Matrix® Report
In this research, we assess 25 conversational AI technology providers featured on the Conversational AI PEAK Matrix® and categorize them into Leaders, Major Contenders, and Aspirants based on their capabilities and market offerings. Star Performers are also identified based on their shift in positionings from the previous year. This research will help buyers select the right-fit technology providers for their needs and enable providers to benchmark themselves against each other.

The report assesses the conversational AI technology providers landscape across various dimensions, including:
Everest Group's PEAK Matrix® evaluation, a comparative assessment of 25 leading conversational AI technology providers
The competitive landscape in the conversational AI technology provider market
Remarks on key strengths and limitations for each conversational AI technology provider
Scope:
All industries and geographies
This assessment is based on Everest Group's annual RFI process for the period till March 2023, interactions with leading conversational AI technology providers, client reference checks, and ongoing analysis of the conversational AI market
Related PEAK Matrix® Assessments
What is the PEAK Matrix®?
The PEAK Matrix® provides an objective, data-driven assessment of service and technology providers based on their overall capability and market impact across different global services markets, classifying them into three categories: Leaders, Major Contenders, and Aspirants.