Enterprise buyers frequently misunderstand voice network services and incorrectly group disparate services under a single resource unit (RU). Accurately defining and pricing RUs is essential to ensure both the enterprise and service provider benefit. To shed light on this often-cloudy aspect of enterprise networking, read on.
Voice technologies like Private Branch Exchange (PBX) and Voice over Internet Protocol (VoIP) have been integral to enterprise operations for many years now. Network voice managed services can make up a sizable portion of an enterprise's IT infrastructure outsourcing expenditure – consisting of up to 10% of the overall network managed services spend and as high as 5% of the overall IT infrastructure outsourcing spend.
Historically, outsourcing voice managed services has been trickier than network services. From our observations, enterprise buyers typically are unaware of the depth and nuances involved with voice services. Let's explore this further in this blog.
While traditional network RUs like switches, routers, etc., are well understood and standardized, blind spots exist across the industry over defining RUs and pricing voice managed services. Enterprises often lack a comprehensive understanding of all the RUs involved in voice managed services and group disparate services under a single resource unit, such as voice endpoints.
This broad classification can create the following two types of challenges:
An enterprise may overpay for services because the intricate details were disregarded.
An internal enterprise telephony service can have a significantly different price point and RU compared to an external-facing contact center. Service providers also have distinct price points for on-premises versus cloud-based versions of the same services.
For instance, prices for an on-premises CUCM-based VOIP system can vary widely from a Cloud Cisco Webex-based system. Similarly, an on-premises contact center will attract a completely different price point than one that is cloud-based.
Elements like voice gateways and session border controllers that require additional management effort and pricing can further amplify the complexity of voice networks. This creates a scenario in which the chances of applying an inappropriate RU rate are very high.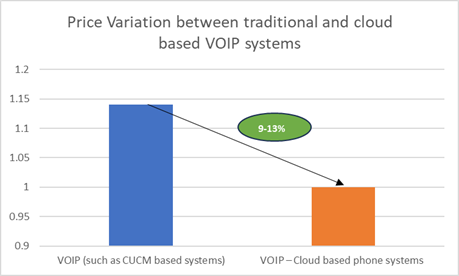 Fig. 1. Cloud-based instance of the same technology can be priced differently compared to the on-premise instance
Combining different services under one RU can also lead to scope misalignment and ambiguity regarding the responsibilities of the enterprise and service provider
This may cause issues during the actual delivery and lead to unanticipated renegotiation between the parties.
Appropriate RU definition and pricing is important because it ensures mutual value is created between the enterprise and service provider and neither comes away from the engagement feeling shortchanged.
Below are some common RUs and the associated pricing metrics that should be leveraged when outsourcing voice managed services:
| | |
| --- | --- |
| Resource Unit | Pricing Metric |
| PBX System (Legacy) | Per device |
| VOIP (such as CUCM-based systems) |      Per endpoint |
| VOIP – Cloud-based phone systems |      Per endpoint |
| Cloud contact center | Per agent |
| Session Border Controller |  Per device |
| Voice Gateway |      Per gateway |
| Video Conference System |  Per device |
| Video Conference System with Telepresence |  Per device |
Table 1. Commonly used voice network resource units
Enterprise buyers or service providers of voice managed services who want to better understand the pricing model and price benchmarks across geographies, please email [email protected].
Don't miss our webinar, Key Issues 2024: Creating Accelerated Value in a Dynamic World, to learn major concerns, expectations, and trends for 2024 and provide recommendations on how to drive accelerated value from global services.