From monolithic to MACH architecture, the next evolution in digital experience is here – composable commerce. Similar to building with Lego Blocks, this modular approach allows enterprises to create unique models by selecting "best-of-breed" digital commerce components. Learn how composable commerce is optimizing all aspects of the online shopping experience and what tech providers are pioneering solutions in this rapidly rising area.
Digital commerce growth leads to composable commerce
Just as the COVID-19 pandemic has been a catalyst in accelerating digital platform adoption among enterprises, modern consumers' purchasing habits have dramatically changed due to frequent lockdowns and increasing online purchasing convenience.
According to a United Nations Conference on Trade and Development (UNCTAD) report, the average share of internet users who made purchases online increased from 53% before the pandemic to 60% across 66 countries following its onset in 2020/21.
The shopping experience has evolved from brick and mortar stores to online and moved to unified commerce – an amalgamation of offline and online channels with an ever-evolving myriad of customer touch points such as social commerce, video commerce, and now metaverse, etc.
Emerging business models such as Digital to Commerce (D2C), new and interactive channels, and advancements in technology, especially Artificial Intelligence (AI) and Augmented Reality/Virtual Reality (AR/VR), have fueled digital commerce's growth. In response, the underlying digital commerce architecture principles have also morphed to meet the pace of change in digital-native customer expectations.
What is composable commerce, and how will it unlock business value?
Up until a few years ago, monolithic architecture-based platforms were the de facto choice for any digital commerce storefront. These big and chunky solutions providing standard out-of-the-box features for all customers offered a "one-size-fits-all" approach. Enterprises had to be content with these standard features and were required to spend huge budget and time on customizations to meet their business requirements.
However, major issues with scalability, complexity, longer time to market, and budget made this implementation approach less useful for modern commerce businesses where staying abreast of technological advancements, customer centricity, and nimbleness are of utmost priority.
The next major evolution in digital commerce architecture is MACH (microservices-based, API-first, cloud-native, and headless) architecture enabled enterprises. This approach will overcome the shortcomings of monolithic architecture and responsively and dynamically adapt to customer expectations.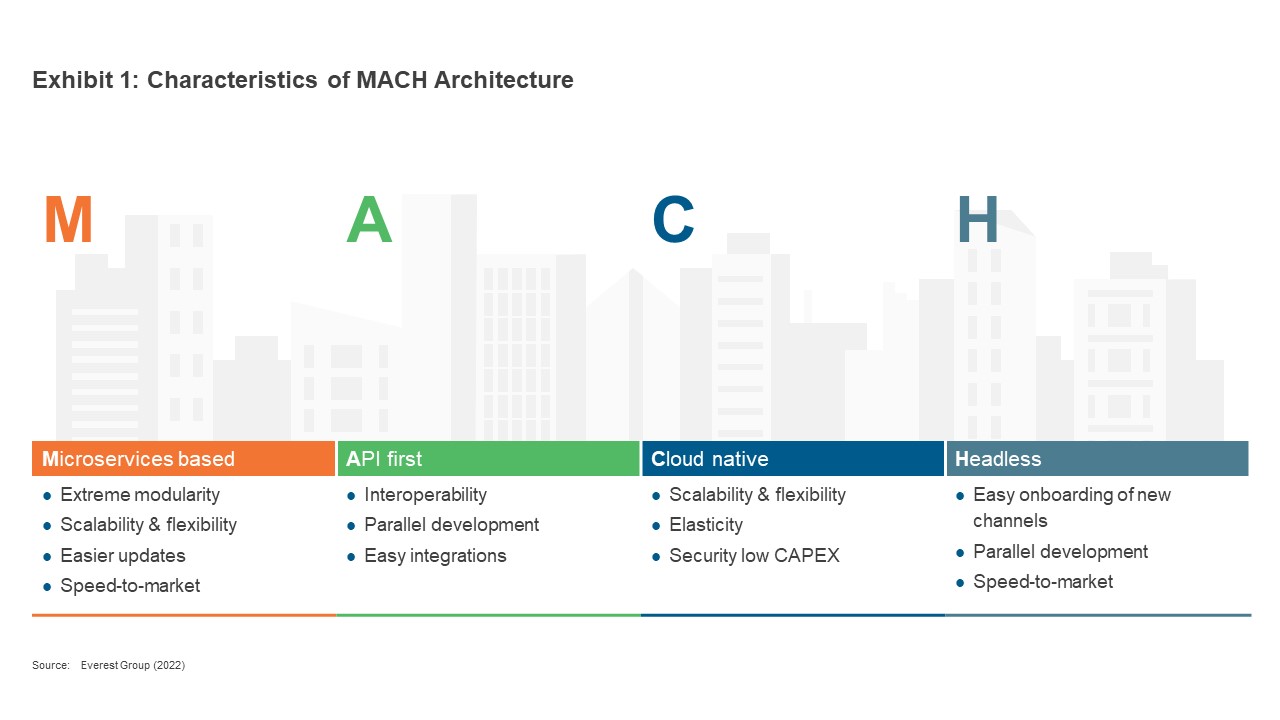 Taking a step forward from MACH architecture, the era of composable commerce has dawned. Composable commerce – a modular approach to implementing digital commerce – uses interchangeable building blocks, leveraging the MACH Architecture framework. It offers enterprises the choice to select "best-of-breed" digital commerce components such as Product Information Management (PIM), Customer Relationship Management (CRM), pricing, etc., and is similar to Lego Blocks where users can create unique models. These composable components are the specific solutions provided by third-party vendors.
While the microservice approach breaks down the digital commerce modules into individual building blocks, composable commerce enables the linkage of these microservices to realize a specific business value. Composable commerce utilizes Packaged Business Capabilities (PBCs), a fully functional, independent component serving a defined business capability. These are used as building blocks for "composing" the unique platform. Each PBC can consist of several microservices. These PBCs can be individually replaced or modified without impacting the entire platform.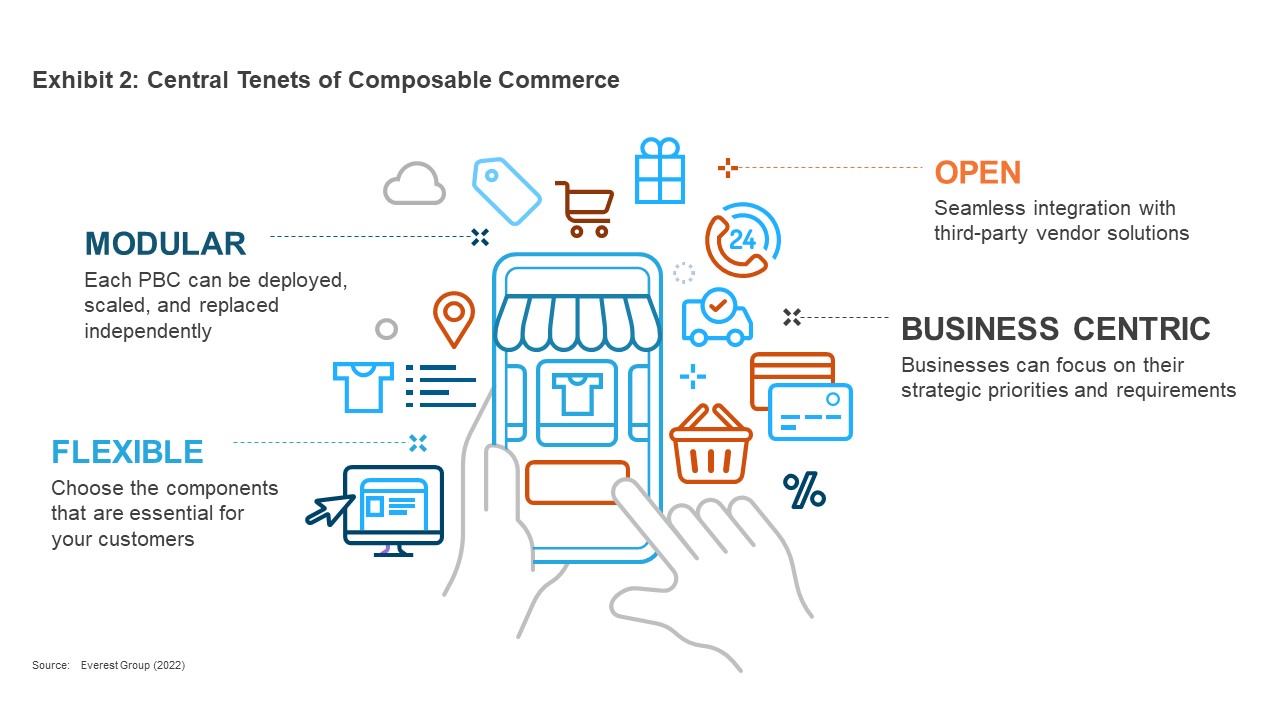 Thus, composable commerce has shifted the focus toward business-centricity. Composable commerce is built for an organization's unique operating models, strategic priorities, and customer focuses. Businesses can select essential functionalities for their requirements and "compose" them into a custom application built for their digital commerce platform. This allows enterprises to focus on the relevant PBCs for their business that are sometimes unavailable in the traditional and bulky monolithic platform's "out-of-the-box" features.
Below are some benefits of composable commerce that enterprises can realize.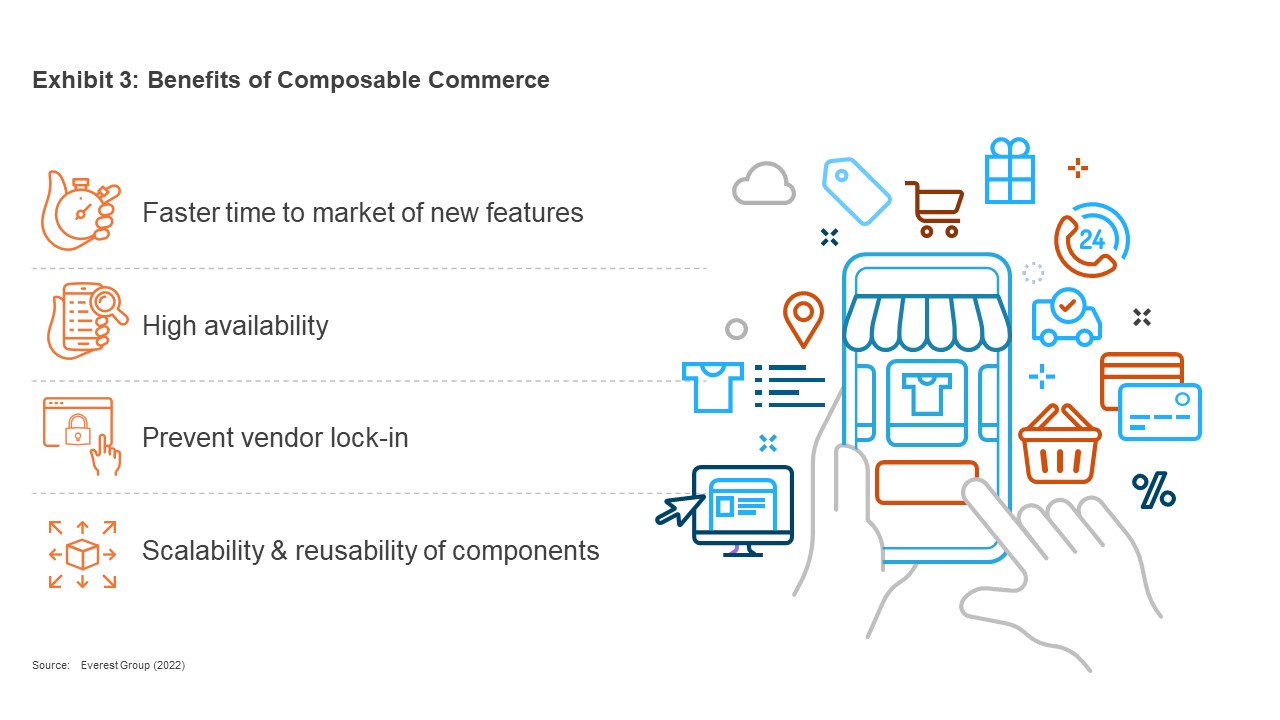 The number of PBC vendors providing functionalities such as loyalty, promotions, search, reviews and ratings, analytics, etc., is rapidly growing. Enterprises have the flexibility to choose the best vendor for their platform, considering their individual business and technical requirements. They can manage multiple brands and varying business models, leveraging the same composable commerce stack to stay nimble in response to market changes. Complex business can be launched and managed more efficiently using composable commerce.
Technology providers are already pioneering composable commerce solutions
Technology providers have extensively started working on solutions to enable enterprises to get on board the composable commerce bandwagon. Below are some examples:
Spryker has launched the cloud-native "App Composition Platform," which gives enterprises seamless access to third-party services and best-of-breed digital commerce vendors
Virto's Atomic Architecture™ allows customers to get a composable, flexible, manageable, customized, and easily-updated digital commerce architecture that is fully adaptable to market challenges
Elastic Path's Composable Commerce Hub is an open exchange of composable commerce solutions for digitally-driven brands that want to seamlessly create complete digital commerce experiences for their business
Fabric provides a configurable and composable commerce solution to rapidly deploy and scale unique brand experiences, product offerings, and services
Infosys Equinox is powering Nu Skin to compose unique and delightful digital journeys across ever-evolving channels
Avensia's composable commerce solution Avensia Excite is built on commercetools. Avensia Excite uses Contentful for CMS, Inriver for PIM, and Apptus eSales for search engine
Composable commerce outlook
While MACH architecture had set a strong foundation for modern digital commerce architecture, composable commerce is the next logical iteration in the digital commerce business model to meet rapidly changing customer expectations and the growing number of touch points. Composable commerce adoption will continue to witness a rise as enterprises plan to move away from the traditional approach of implementing digital commerce solutions. More and more niche third-party vendors are emerging faster than before, providing ample choice for enterprises to craft and "compose" their digital commerce stack.
If you have questions about digital commerce, please reach out to Nisha Krishan ([email protected]) and Aakash Verma ([email protected]).
Stay tuned for insights on the digital commerce platform market from our recently launched inaugural Digital Commerce Platform PEAK Matrix® Assessment.