Metaverse is here to stay, and it's going to play a significant future role in how we experience brands virtually. Industry giants are investing big in this space, and it is creating new opportunities for service providers to build feature-packed solutions for their customers entering the Meta world. Read on to learn about the potential and pitfalls of Metaverse eCommerce and why gaining a first-mover advantage is critical.
Digital commerce owes its maturity to the ever-evolving technology ecosystem – starting with the first online dial-up transaction on a modified television to a plethora of innovations over the past decade like mobile commerce, voice search, and social commerce. Emerging concepts such as gaming commerce and recommerce or reverse commerce are further defining the ecosystem.
Digital commerce is also witnessing an era of hyper-personalization powered by Artificial Intelligence (AI). According to Everest Group research on the Top 15 Start-ups Redefining Shoppable Experiences, 70% of the start-ups in the ecosystem are leveraging AI to offer enhanced solutions.
Enterprises are offering immersive buying experiences through Augmented Reality and Virtual Reality (AR/VR). To continue progressing on this trajectory, technological alignment is inevitable for a futuristic eCommerce strategy, and the next logical step for attaining this is Metaverse.
Defining metaverse and its significance in eCommerce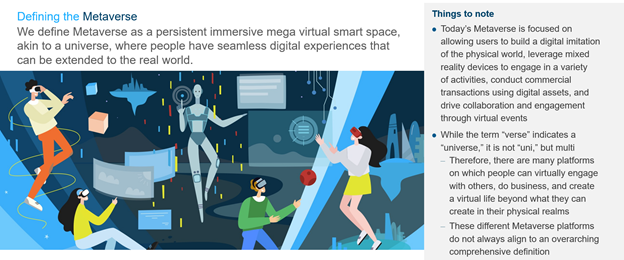 Exhibit 1: Definition of Metaverse
In simple terms, Metaverse is an extension of technologies such as AR, VR, blockchain, cryptocurrency, and social commerce coming together to form a virtual world, where customers can shop, play games, and socialize with friends.
Popularized by video games and fiction novels, the idea of Meta has been around since the early 90s, but recently, the industry has become extremely bullish on Metaverse primarily due to two major contributors. Firstly, technologies backing the concept of Meta (blockchain, crypto, and affordable VR) have attained significant headway in the past decade. Secondly, the idea has gained mainstream momentum because industry giants such as Facebook (Meta), Google, and Microsoft are pouring huge investments into Meta-platforms. Experience management leader, Adobe, has also put its best foot forward towards the Meta world by offering tools specific to 3D content creation, experience delivery, asset management, and commerce.
The Meta wave began in the early 2000s with games like Second Life and World of Warcraft, which were based on centralized economies where the value of owned assets was limited to those games. Aiming to overcome this deficiency, Decentraland came into existence in 2020. This platform offered a decentralized economy, where along with building virtual worlds, trading assets, and hosting events, users could transfer purchases to other Meta platforms like The Sandbox. Although the latest version of Meta provides numerous opportunities for users, we are still far away from creating an Omniverse like the movie "Ready Player One."
Despite the technology being in its infancy, Metaverse holds significant potential in the digital commerce space. In the current 2D eCommerce model, information is consumed rather than experienced, restricting brands from creating physical connections with users.
Metaverse can solve this problem to a very large extent. In Meta-commerce, shoppers can truly experience a company's culture, design, and branding elements. This will create huge brand differentiation beyond what is currently limited to logos and banners.
Although the technology backing Metaverse is still at a nascent stage, it holds immense potential to build an immersive commerce platform where products will come alive and personalized customer engagement will create brand loyalists.
Brands advocating metaverse are already pioneering virtual commerce
Envisioning the macro future implications of a single worldwide Metaverse, forward-looking brands have already started creating virtual commerce experiences at the company level. Here are some examples:
DRESSX – Designers and fashion enthusiasts can enter their Metaverse and create clothes from scratch. Users can try clothes on through their avatars and convert their fashion non-fungible tokens (NFTs) into actual garments
Gucci Garden Metaverse and Louis The Game – Gucci and Louis Vuitton have each launched their own NFTs where everyone has the freedom to create and modify their apparel
Charlotte Tilbury Virtual Beauty Gifting Wonderland – Users can connect with make-up artists in virtual rooms to discuss their skincare concerns and also invite friends to help them find the right product through an integrated video feature in the same session
Potential challenges in realizing metaverse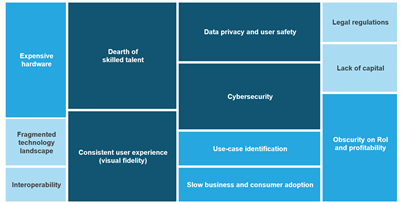 Exhibit 2: Challenges pertaining to Metaverse implementation
To make Metaverse a reality, several challenges need to be overcome. These include:
Consistent user experience and interoperability – A singular global decentralized Metaverse with shared data, computation, and bandwidth can only be achieved with collaboration between several global parties. Unless features are aligned and intellectual property is shared, we'll never get a true Metaverse
Dearth of skilled talent – Talent for developing design tools and headless systems for businesses to prepare their stores for different media and virtual formats is in high demand and short supply
Cybersecurity and privacy – Metaverse users could experience incidents related to fake NFTs and malicious smart contracts that access personal data and crypto-wallets. Since personalized virtual experiences will create an endless need for countless customer data points, industry giants will likely prioritize competitive advantage over user data privacy
 Along with these obstacles, challenges related to hardware, use-case identification, slow adoption, lack of capital, a fragmented tech landscape, unpredictable Return on Investment (ROI), and legal implications will surely make it difficult to turn the virtual world into a reality.
But on the brighter side, the foundational infrastructure is already in place in the form of a sophisticated global blockchain network, ergonomic VR design, scalable AI, and last-mile internet connectivity in most parts of the world. Therefore, Meta is no longer a far-fetched dream. And with most industry giants strategically investing in the concept, the challenges associated with it will get mitigated very soon.
Opportunities for eCommerce service providers in this meta wave
This new world is pushing IT service providers, consulting firms, and design agencies towards attaining Metaverse eCommerce capabilities. These industry players will be able to add several new digital service offerings through Metaverse. A few of these services include:
Metaverse consulting – With Pwc buying land in The Sandbox, it is evident that consulting firms will play a pivotal role in the world of Meta. Enterprises entering Metaverse will need significant hand-holding and a relevant knowledge base about the concept to formulate their Meta-business strategy. Consulting firms can leverage their expertise to advise and direct clients who wish to embrace Meta with its full range of challenges
Metaverse applications – Exclusive applications will be required for users to interact with the Meta world for virtual shopping. IT providers will need to build development expertise in the AR/VR technology stack to deliver these capabilities
Design and NFT – Design agencies will be essential for creating 3D models of virtual artifacts in the Meta world. Along with that, designers also create NFTs that play an extremely vital role in the Meta economy. Therefore, Metaverse will bring a plethora of lucrative business opportunities for design agencies around the world
NFT marketplaces – With the increasing popularity of cryptocurrencies, from digital paintings to Twitter hashtags, NFTs are being bought and sold everywhere. Since sellers will have the power to tokenize everything in Metaverse, a marketplace that supports NFT transactions through blockchain will be needed. Because of this, demand for IT service providers specializing in the NFT marketplace and blockchain development technology will rapidly increase
An exciting future
Brands are already implementing core technologies essential for Meta in silos. Soon, we will witness their integration to create an alternate world full of endless possibilities.
Metaverse is here to stay, and it will bring a multitude of opportunities for service providers to build feature-packed solutions for their customers entering the Meta world. Enterprises need to seize the first-mover advantage now by swiftly evaluating the future impact of Metaverse on their businesses.
Discover more about how organizations are increasingly finding ways to incorporate elements of the metaverse in our blogs: Enterprise Metaverse: Myriad Possibilities or Problems for the Hybrid Workplace? and Metaverse: Opportunities and Key Success Factors for Technology Services Providers.
To further discuss Metaverse eCommerce opportunities, contact us.