Everest Group's ongoing analysis of global service providers' performance revealed some notable market shifts in the most recently reported quarter. We note especially that Wipro seems to be righting its ship. Although its growth previously had lagged its peers and the industry, the last quarter evidenced higher growth.
As the chart below displays, Wipro is now performing as one of the top global services firms.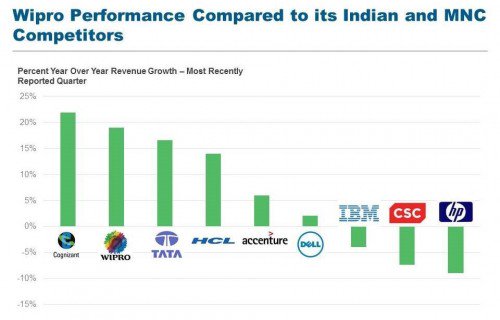 To what can we attribute this improved performance?
Certainly we need to give some credit to the strategic maneuvers that CEO TK Kurient and Wipro's executive council made. First of all, they have been implementing a verticalization strategy. They also are focusing on large accounts. We believe these strategies make sense and could well contribute to further growth.
In addition, taking a step further back, we believe that Wipro is reaping the benefit of its concentration in services areas that are recovering — infrastructure and Europe. The industry has seen growth in infrastructure services really picking up over 2013. Also, as Europe recovers from its economic crisis (particularly in the UK, Germany and the Nordics), Wipro's strong position in Europe allows it to also benefit from this growth.
Considering it's in the right place at the right time with effective strategies, where will Wipro be in next quarter's charts?