Our last blog on social media analytics outlined the challenges organizations can face in developing and launching their social media analytics capabilities. The challenges ranged from organizational issues to technology solutions. Given that many organizations channel their social media interactions through contact centers, it's not surprising that an increasing number of companies have turned to contact center outsourcing (CCO) providers to help them get their social media house in order. Here's why.
Among all non-voice contact center channels, spending on social media support, while the smallest at 3.4%, is the fastest growing, at 53% CAGR. This spending occurs both within existing CCO engagements with expanded scope thatinclude channels beyond social media, as well as those engagements developed specifically around social media interaction. At the same time, Everest Group has seen the inclusion of customer analytics as a defined element of CCO engagement double in the past five years, from 19% of deals including analytics to now 40% inclusion. These two developments are clearly linked.
Realizing the stakes in play of a successful social media effort versus one that fails, clients often seek specific benefits from their working relationship with CCO providers. The table below outlines the key challenges in play and how CCO providers can address these.
Key Client Social Media Challenges and CCO Solutions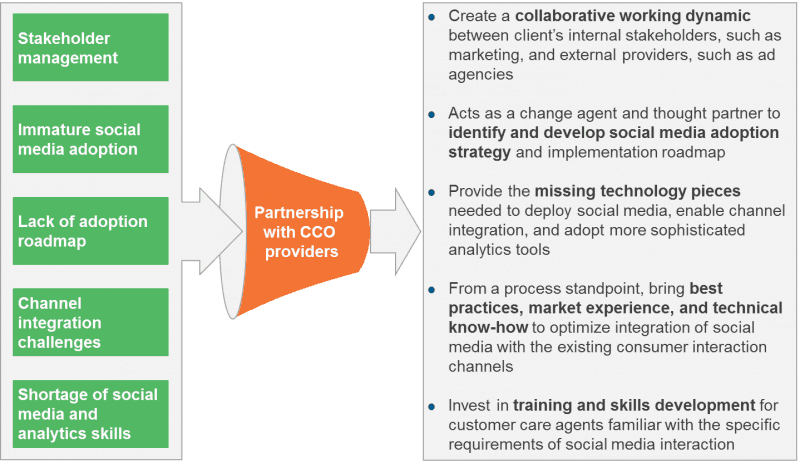 CCO providers have been on the frontline of social media and analytics adoption – in fact they're ahead of the curve on this one. Providers have proactively invested in best practices, staff training, and technology capabilities in order to meet clients' current needs and help them envision the path forward. These engagements will often begin with a consultative phase to determine strategy and run through implementation and service delivery.
One key area of investment by CCO providers has been in enabling technology in support of social media, which can be both proprietary in nature (60%) and through partnership models (40%). Below we capture examples of proprietary technology tools developed by CCO providers specifically to take on their clients' social media and analytics needs.
Investments in social media and analytics by ownership model
Share of instances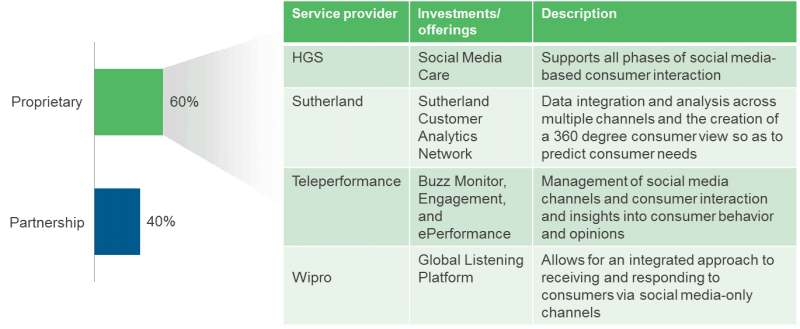 If you take a close look at these solutions, a few identifiable trends appear:
Social media interaction tools and analytics tools tend to be closely paired. The ability for analytics to shape and govern the unstructured nature of social media and drive value from these interactions is a key consideration here
CCO providers have taken a total solution approach in order to address the various social media needs of clients including channel monitoring, proactive issue resolution, and integration with other channels
Providers of CCO are ahead of the market. More specifically, with the exception of a limited number of mature adopters of social media, client organizations needing social media and analytics support perceive CCO providers as a means to access technology capabilities and expertise they lack internally
The level of investments made by the service providers clearly outpaces that of most organizations and provides a solid starting point for those that like to go-it-alone. Along the evolving frontier of social media and analytics, for some organizations, their CCO providers are valuable scouts leading their explorers to brighter horizons.
---
Photo credit: Flickr