In the past several years, Poland has become the most prominent global services delivery destination in the European region. But, unlike other countries in which the lion's share of digital services activity is in tier-1 cities – think India and the Philippines – Poland's tier-2 and 3 cities have outpaced activity in its tier-1 cities since 2008.
Why? Everest Group research identified two key reasons:
Increasing activity in tier-1 Polish cities, e.g., Krakow and Warsaw, has created intense competition for talent, driving higher attrition/turnover, longer hiring cycles, increased premiums for niche skills and seniority, and faster wage inflation
Increasing maturity of tier-2/3 cities over the past five years has established a critical mass for global services delivery in these cities, leading to a higher degree of comfort in talent capabilities and the ease of scaling up operations in these cities.
Other factors, including less competition for talent, lower salaries and infrastructure costs, better quality of life, stronger government support, and the opportunity to leverage untapped talent pools, have also contributed to tier-2/3 Polish cities' rise above tier-1 cities in the country.
To understand the full story, Everest Group evaluated multiple aspects of the tier-2 and 3 cities, including relative delivery scale/size, work complexity, extent of digital services delivery, and typical source markets supported.
Here are some of our findings.
Shift in nature of leverage
Historically, tier-2 Polish cities, such as Katowice, Łódź, Poznań, and Tri-city, and those in tier-3, including Bydgoszcz, Opole, Rzeszów, and Szczecin, were leveraged as small spokes to tier-1 city hubs. They were largely meant to accommodate "spill-over" growth, or to host more transactional work. But this is changing rapidly, as more companies, both in captive and outsourced arrangements, are establishing their delivery hubs in these cities.
Largely single functions to multi-functional delivery
While both Global In-house Centers (GICs) and service providers had previously been leveraging the tier 2- and 3 cities largely for IT services delivery, their increased confidence in the breadth of talent has prompted establishment of large, multi-functional centers in these locations.
Digital services CoEs
Most importantly, while where tier-1 cities in other delivery destinations like India and the Philippines account for more than 70 percent of all digital delivery centers, Poland's tier-2/3 cities are brimming with digital services activity.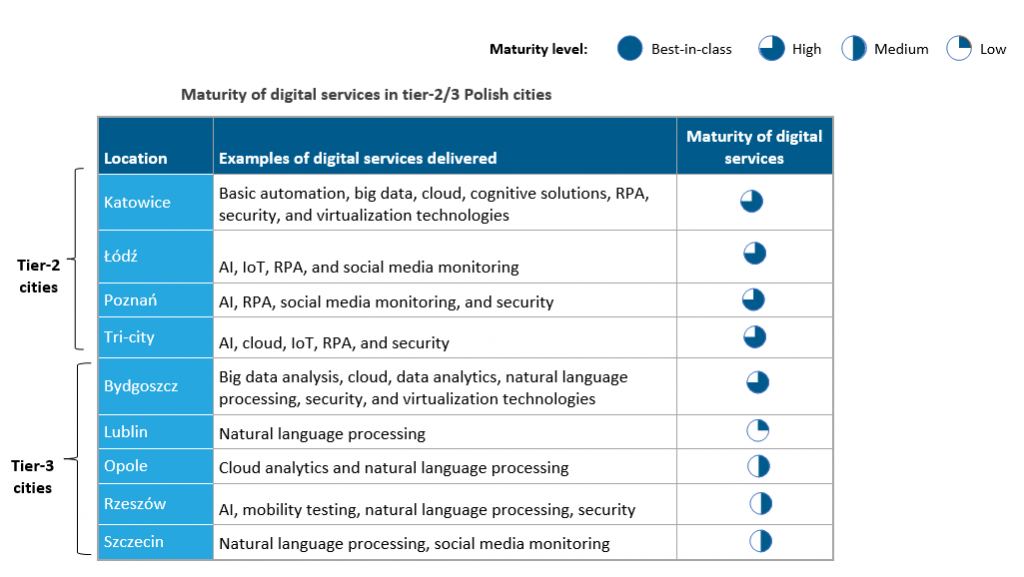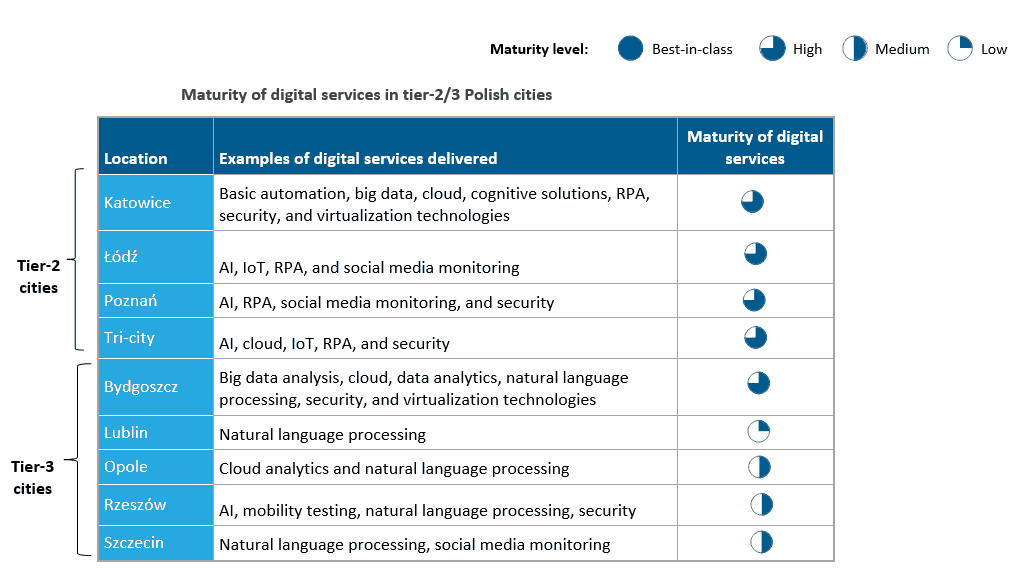 Of course, any company's selection of a tier-2 or 3 location in any country depends on its appetite for benefits versus trade-offs, including high cost savings versus low scalability, and early mover advantage versus relatively lower maturity. But Poland's smaller cities certainly have a compelling digital services delivery proposition.
For a more detailed analysis of the value proposition of Polish tier-2/3 cities, and relative comparisons of these locations with tier-1 cities, please see our recently published report, "Poland Tier-2/3 Cities: Complementing Tier-1 Cities or Carving a Niche for Digital Services?"