A whopping US$8.5 billion worth of IT and business process outsourcing deals are up for renewal in the next two and a half years, with 57 percent of this value up for grabs in 2013-14 (see the image below). This is a huge opportunity for service providers and buyers, as the oil and gas industry is going through a dynamic phase and both the sell-side and buy-side players are evolving their strategies and approach to IT and business process services delivery.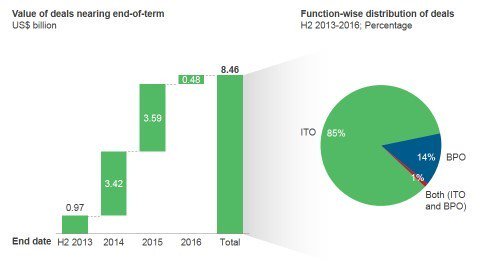 Oil and gas majors are facing declining profitability, while their revenues continue to grow. This indicates the significant cost pressures they are facing. Two possible reasons behind this are the rising cost (rising at a CAGR of 3 percent for the past several years) of converting new discoveries into production, and fluctuations in demand from large consumers. Other key challenges oil and gas firms are experiencing include:
An aging workforce, which is leading to the scarcity of skills in this sector and knowledge management issues
Increasing operational efficiency to combat growing cost pressures
Deriving greater output from their assets by leveraging technology
These challenges, coupled with dynamic nature of the sector, have led to a shift in buyers' approach to outsourcing. Early adopters of outsourcing are now rebalancing their sourcing portfolio and, hence, making a cautious move towards further outsourcing. Buyers' expectations from service providers are also changing, and they are demanding non-linear models in their outsourcing relationships, i.e., gain-share mechanisms.
Service providers are also stepping up their game plan on several fronts in order to grab a bigger piece of the oil and gas pie. First, they are focusing on developing domain expertise in order to support the need for integration of operation technology with information technology in this sector, as buyers are looking for such an integrated approach to derive more output/performance from their assets. They are leveraging domain expertise to create cost-effective, plug and play solutions that reduce clients' time-to-market. And they are using their domain expertise to build robust knowledge management systems, thereby tackling buyers' aging workforce issue. While service providers have historically followed an inorganic approach (mergers, acquisitions, and alliances) to develop industry-specific knowledge and they continue to do so, many are also adopting an organic route. They are hiring talent (both entry-level and experienced) directly from the industry or relevant universities, and are investing in institutionalizing internal training programs.
Second, service providers are looking to serve oil and gas firms in their expansion into newer geographies, such as Latin America and the former Soviet Bloc, which are emerging as new oil fields and are looking to expand their footprint and language capabilities to serve client needs.
Third, service providers are embracing disruptive technologies, such as mobility, cloud, analytics, and social media in their solutions for the oil and gas sector. Buyers are demanding these to gain a competitive edge. These technical advancements present a big opportunity for service providers to create solutions and ready-to-use platforms for this sector.
Overall, it is an interesting time in the oil and gas industry, especially for service providers to unlock their potential. While we provide a short-term view of the outsourcing deals' potential, providers must develop long-term strategies and make investments to capitalize on the opportunities that lie ahead. Yet, given the value at stake in the short-term, it is unlikely service providers will fail to recognize these undercurrents and miss the bus.
To learn more about this topic, please read our recently released report, "Outsourcing and Offshoring Trends in the Oil and Gas Sector."