There's no question that digital technological advancements, evolving business requirements such as changing consumer needs and faster time to market, and a heightened focus on customer experience are significantly changing the profile of skills needed to deliver services. As most global in-house centers (GIC) are already facing challenges in hiring people with the right skills for the future, it is concerning that their talent-related preparation for such a tectonic shift is lacking.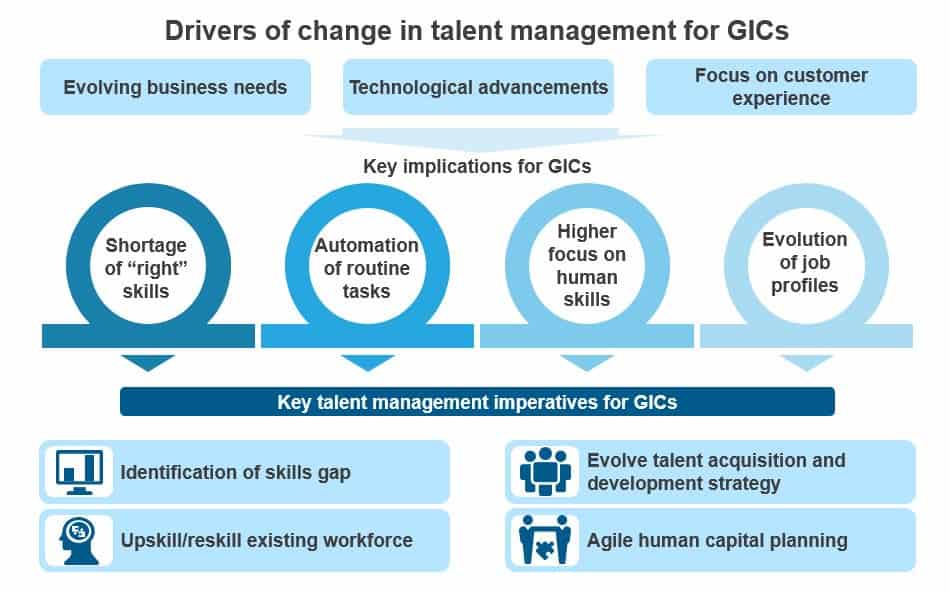 Here are four talent management imperatives for GICs to develop the workforce of the future.
1. Identification of Skills Gap
As automation and other technological advancements kick in, human skills, such as innovation, design thinking, problem solving, empathy, and ethical thinking will become more critical. Identification of skills gap will be pivotal for GICs' talent acquisition and development strategy. A recent Everest Group study of 80+ GICs across India, Philippines, and Poland identified multiple, and difficult to hire, skills that are likely to become more important in the future.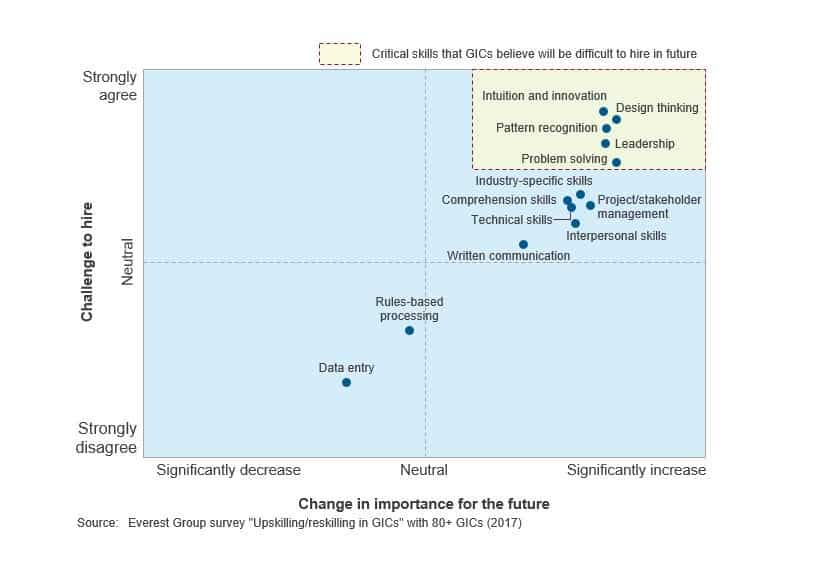 2. Upskill/Reskill Current Workforce
Firms' talent challenges will intensify with the automation of transactional services. They will face the dual risks of a large existing workforce with many skills that are likely to become redundant, while struggling to find talent with the right skills for their future needs. Upskilling/reskilling existing talent is an important lever for GICs to address these challenges while preserving their trained workforce with string domain/industry know-how. (See our detailed report on upskilling/reskilling in GICs for additional perspectives.)
3. Evolve Talent Acquisition and Development Strategy
As GICs look to develop a future-proof talent strategy, they will need to think outside the box to tap into alternative sources of talent. Opportunities include hackathons, hiring from startups and other industries, project-based partnerships with specialist agencies, and flexible resourcing. From an L&D perspective, traditional classroom model needs to evolve as learning is becoming more real-time, customized, and digitized, e.g., MOOCs, simulation, and gamification.
4. Agile Human Capital Planning
With a dramatic decline in skills' half-life, particularly in the technical space, GICs need to identify and focus on skills that are more likely to be critical for their growth. A more frequent approach to human capital planning might be essential to account for rapid changes in these skills.
While many GICs are still taking a wait and watch approach to the talent management issue, some have already embarked on this transformational journey. And those that are proactively addressing it are reaping big rewards.
Watch this space for more insights and success stories. And if you'd like to share your challenges, successes, or questions with us, please feel free to write us at [email protected] or [email protected].