Intelligent Document Processing (IDP) and Unstructured Document Processing Products PEAK Matrix® Assessment
Intelligent Document Processing (IDP) products play a vital role in enterprises' automation technologies portfolios. IDP leverages Artificial Intelligence (AI) technologies such as Optical Character Recognition (OCR), computer vision, Natural Language Processing (NLP), and machine/deep learning to classify and extract information from structured, semi-structured, and unstructured documents.
The demand for unstructured document processing solutions has been rising due to the increasing sophistication of IDP products in terms of their capabilities, features, and functionalities. To achieve success in implementing IDP, enterprises must partner with the appropriate IDP technology provider.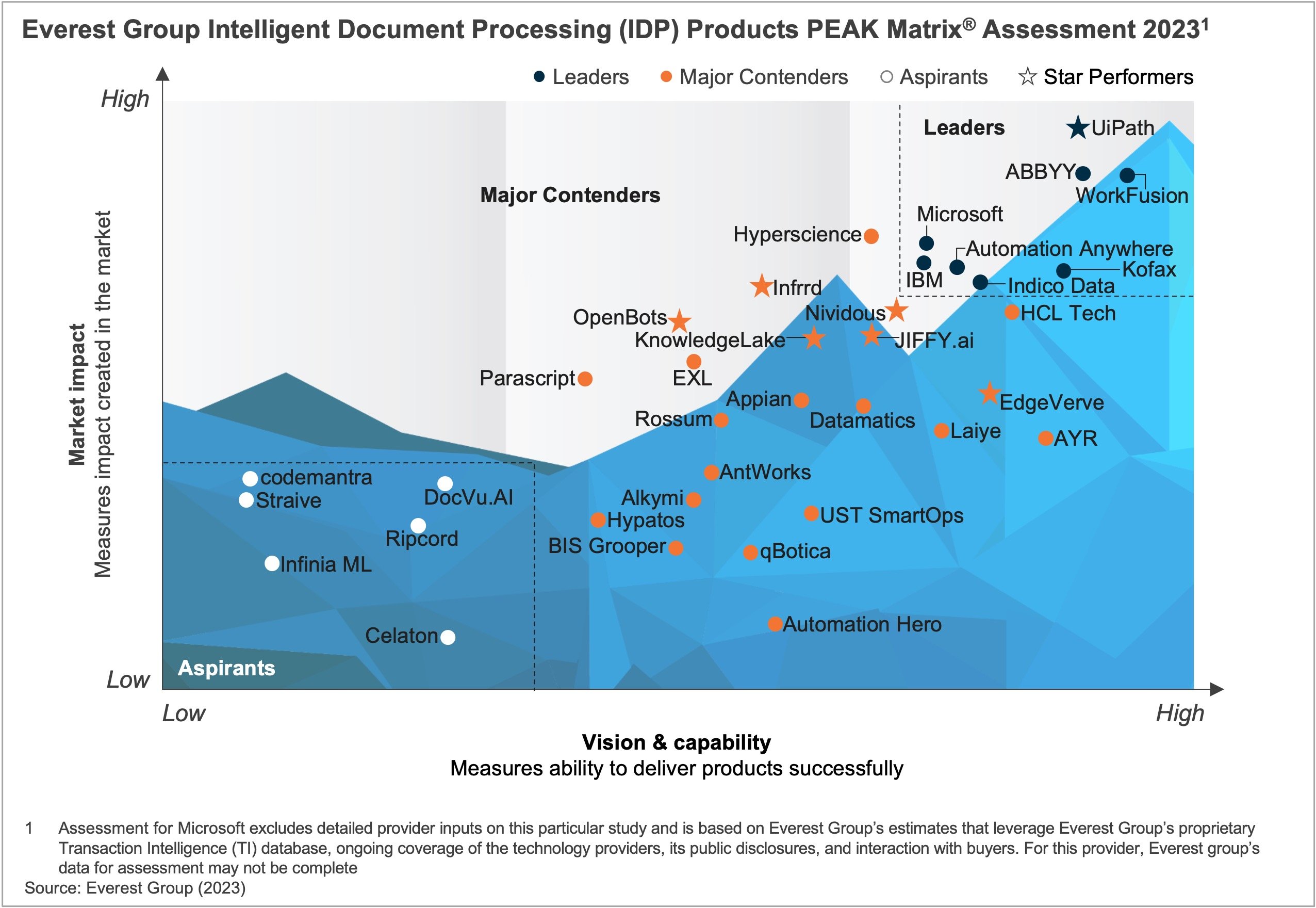 What is in this PEAK Matrix® Report
In this report, we assess 36 technology providers and position them on Everest Group's IDP PEAK Matrix® as Leaders, Major Contenders, Aspirants, and Star Performers based on their capabilities and offerings. Additionally, the report assesses 32 IDP providers and positions them on Everest Group's Unstructured Document Processing PEAK Matrix®. The research will help buyers select the right-fit technology providers for their needs, while technology providers will be able to benchmark themselves against each other.
In this PEAK Matrix® report, we:
Position IDP and unstructured document processing technology providers on Everest Group's PEAK Matrix, categorizing them as Leaders, Major Contenders, and Aspirants
Analyze the technology provider market's competitive landscape
Highlight key IDP and unstructured document processing technology trends
Discuss providers' key strengths and limitations
Scope:
All industries and geographies
The report focuses on IDP solutions sold on license, regardless of any ongoing business or IT process outsourcing or managed services
The report includes IDP providers that offer unstructured document processing solutions
DOWNLOAD THE INTELLIGENT DOCUMENT PROCESSING (IDP) AND UNSTRUCTURED DOCUMENT PROCESSING PRODUCTS PEAK MATRIX® ASSESSMENT 2023
Related PEAK Matrix® Assessments
What is the PEAK Matrix®?
The PEAK Matrix® provides an objective, data-driven assessment of service and technology providers based on their overall capability and market impact across different global services markets, classifying them into three categories: Leaders, Major Contenders, and Aspirants.