Data and Analytics (D&A) Services for Mid-market Enterprises
Currently, mid-market enterprises stand at a crucial juncture. They are striving to strengthen their Data and Analytics (D&A) foundation while simultaneously exploring cutting-edge technologies such as generative AI. In an ever-evolving market landscape, these enterprises are keen on achieving excellence and fostering innovation when selecting a provider. In their pursuit, mid-market enterprises are seeking partners that prioritize building strong relationships, cost-efficiency, agility, nimbleness, and a steadfast commitment to delivering tangible business impact and Return on Investment (RoI) at every stage of their transformation journey. Providers equipped with inventive solutions, accelerators, and strong advisory capabilities can efficiently guide these enterprises through the dynamic D&A landscape.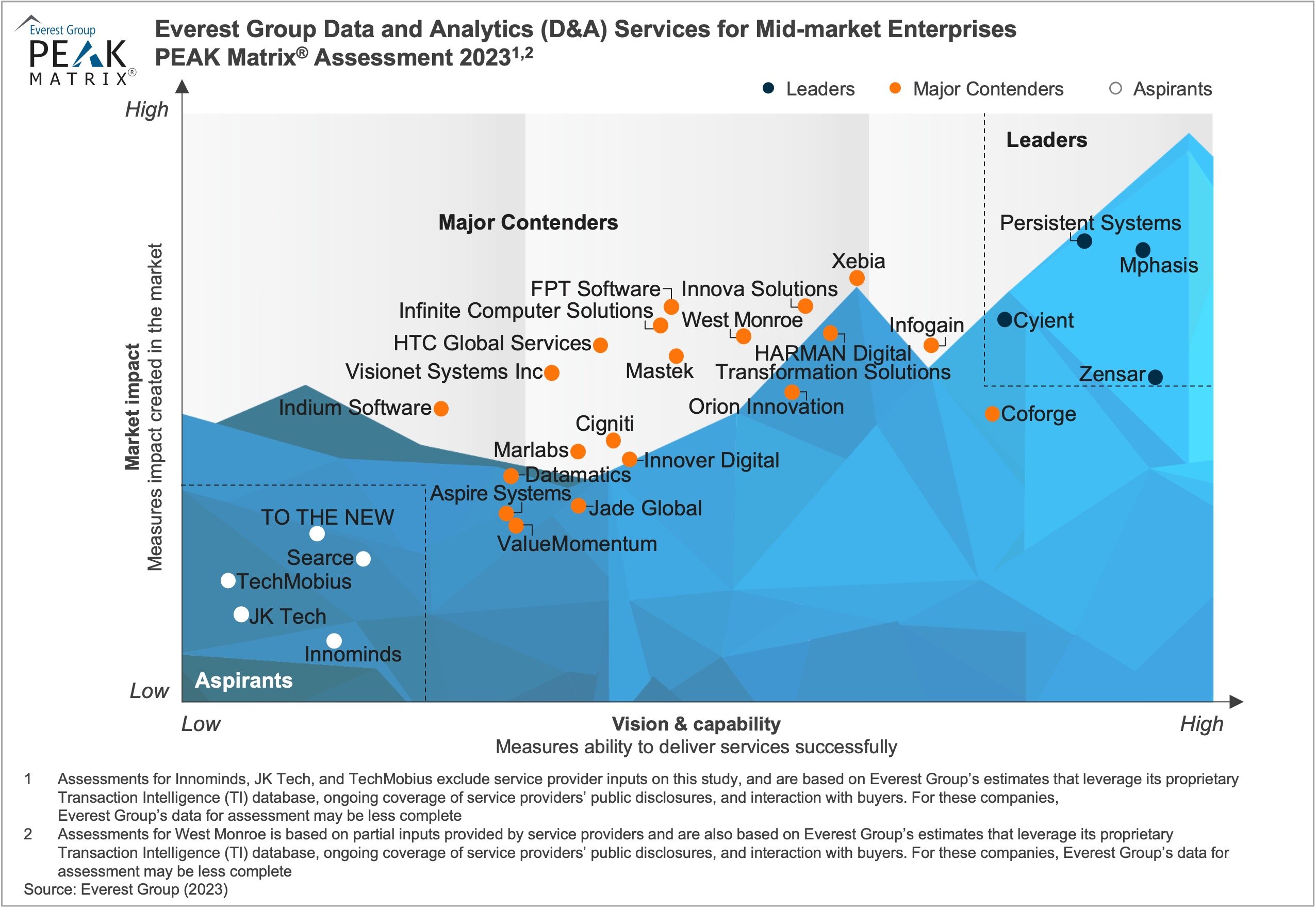 What is in this PEAK Matrix® Report
In this report, we assess 29 providers featured on the D&A services for mid-market enterprises PEAK Matrix® 2023. Each profile offers a comprehensive assessment of the provider's strengths and limitations, empowering mid-market enterprises to make informed decisions as they navigate the ever-evolving D&A landscape.
In this report, we deliver:
The D&A service providers landscape for mid-market enterprises
D&A services for mid-market enterprises PEAK Matrix® characteristics
Enterprise sourcing considerations
Scope
All industries and geographies
The assessment is based on Everest Group's annual RFI process for the calendar year 2023, interactions with D&A service providers, client reference checks, and an ongoing analysis of the D&A services market
Related PEAK Matrix® Assessments
What is the PEAK Matrix®?
The PEAK Matrix® provides an objective, data-driven assessment of service and technology providers based on their overall capability and market impact across different global services markets, classifying them into three categories: Leaders, Major Contenders, and Aspirants.