Cloud Services in Insurance
The insurance industry has been relatively slow in adopting digital measures due to regulatory constraints and product complexities. However, carriers are embracing the change to become risk mitigators. With the exponential rise in claims costs and unprecedented levels of underwriting losses during these challenging times, the need for value maximization, resource optimization, and achieving agility and scalability has become increasingly urgent.
In the past, insurers have embraced cloud technology as one of the prominent technologies. They are aware of the cloud's potential, which has prompted them to strategize and build new business models that can withstand an unpredictable future. As insurers embark on their next growth phase, the cloud industry is expected to drive cloud spending to future-proof the technology estate, monetize data to generate alternate revenue streams, and rethink value delivery to end customers.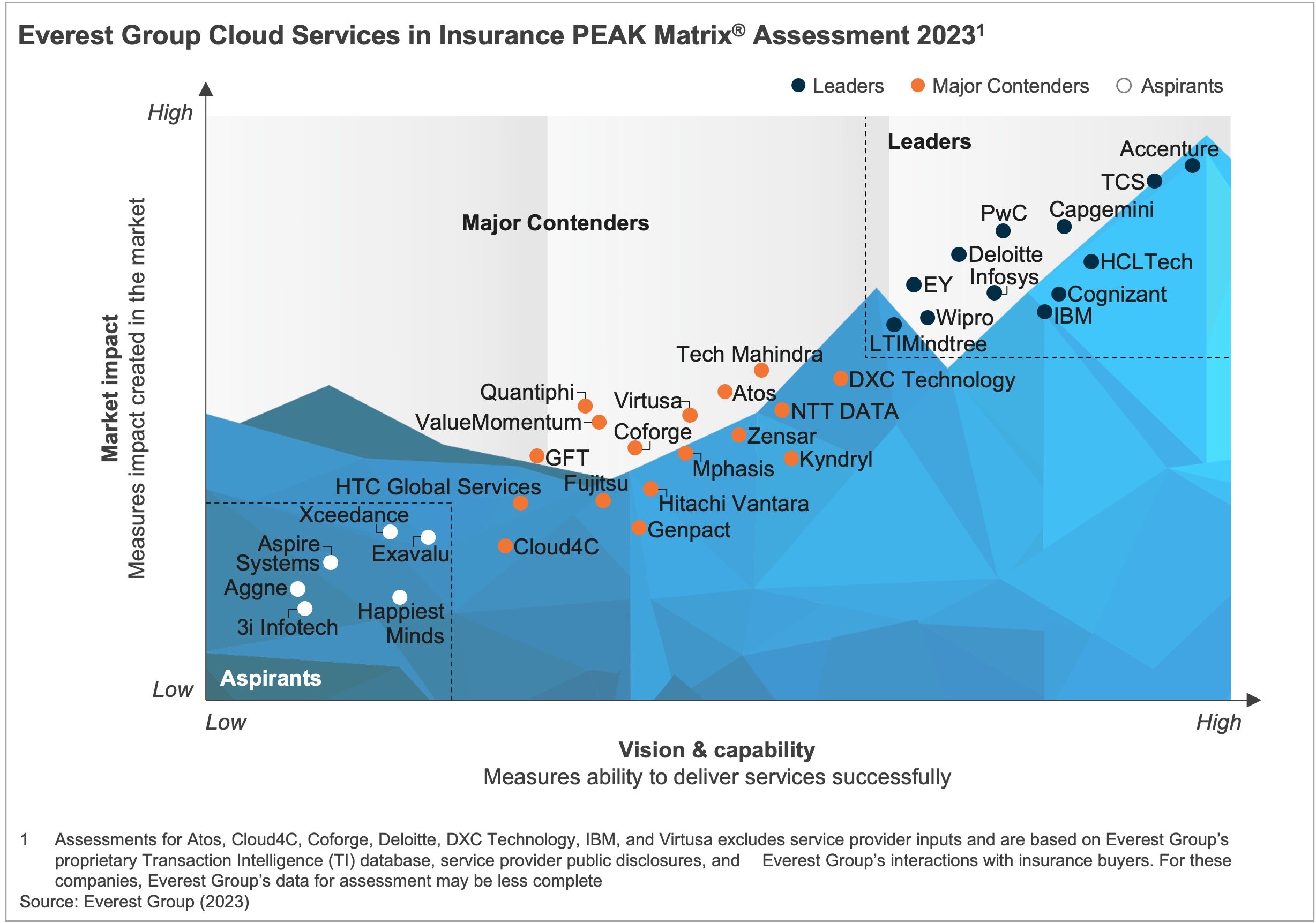 What is in this PEAK Matrix® Report
In this report, we assess 35 IT service providers for their cloud services capabilities featured on the Cloud Services in Insurance PEAK Matrix® Assessment 2023. The study will enable buyers to choose the best-fit provider based on their sourcing considerations, while providers will be able to benchmark their performance against each other.
In this report, we:
Assess 35 leading cloud services providers for the insurance industry using Everest Group's Solutions PEAK Matrix® evaluation framework
Examine the market impact and vision and capabilities of the cloud services providers for insurance enterprises
Identify and categorize providers as Leaders, Major Contenders, and Aspirantsr
Study providers' key strengths and limitations
Scope
Industry: insurance
Geography: global
The assessment is based on Everest Group's annual RFI process for calendar year 2023, interactions with leading cloud services providers, client reference checks, and an ongoing analysis of the cloud services market
Related PEAK Matrix® Assessments
What is the PEAK Matrix®?
The PEAK Matrix® provides an objective, data-driven assessment of service and technology providers based on their overall capability and market impact across different global services markets, classifying them into three categories: Leaders, Major Contenders, and Aspirants.