Looking at offshore destinations for service delivery, Sub-Saharan Africa – particularly Nigeria – is emerging as a surprising location with the potential for forward-looking providers and customers to seize. But what risks come along with the opportunities for doing business in this part of the world? To learn what you need to know to make the right site selection, read on.   
Africa does not immediately come to mind as an offshore destination for service delivery. In the past, the main destinations for low-cost offshore centers, both in-house and outsourced, have been India (for broad BPS operations including customer-facing CXM) and the Philippines (for CXM), particularly when the operation requires a good level of English language proficiency.
However, in recent years, the level of interest in Africa as a destination has been growing as enterprises look for cost-effective alternatives to traditional locations and to balance their risk from too much activity in one country/region.
Within Africa, South Africa has been strong for several years, especially for CXM. North African locations such as Egypt, Tunisia, and Morocco have also experienced growth for IT, back office, and language support for French and other EMEA languages. Up until now, there has been less activity in Sub-Saharan Africa (outside of South Africa), but this is starting to change.
Advantages of Africa
Enterprises are now starting to seriously look at Africa as a destination for outsourcing for many reasons, including:
Population – Its huge and youthful population of 1 billion, with over half of the talent pool projected to be under the age of 25 by 2050, makes it a great resource for BPS activities
Government support – In many countries, the government helps to enable global services delivery
Market potential – Many of the large service providers are yet to enter the market or have small scale operations supporting the local market
Infrastructure – Internet and other capabilities are improving. For example, CSquared (a Google subsidiary) announced a four-way partnership in 2017 to build out the shared fiber networks in sub-Saharan Africa
Spending growth – The latest African consumer trends show that consumer spending growth in Africa is projected to rise to $2.1 trillion by 2025 and $2.5 trillion by 2030, according to market forecasts
While interest in the continent is growing, enterprises also should be aware of the following risks:
Talent – Companies will need to invest in growing and developing talent locally by training recent graduates, building a recruitment engine from the ground up, and other activities to create an experienced talent pool. The low talent availability, limited language support beyond English, and high premiums commands also are concerns
Business environment – In comparison to other nearshore European locations, the quality of infrastructure, digital readiness, and safety and security are among the concerns for East and West African countries
Low market congestion – While key players supporting global services in most African countries is currently limited, the entry of a few large companies could easily congest the market and quickly increase costs
Delivery enablers – Limitations with utilities, transportation, meals/catering, stationery providers, office infrastructure quality, and poorer connectivity to domestic and international locations all present risks
Location selection is key
If an enterprise can balance the opportunities with the risks, we believe sub-Saharan Africa could be a wise choice. But selecting the right location is key. In our report from 2020 Africa: Emerging IT-BP Delivery Force, we reviewed ten of the most mature locations assessing talent availability with the financial attractiveness.
The key takeaway: Egypt and South Africa, the two most mature markets, scored well in terms of both talent availability and financial attractiveness. But a surprising entrant in the top right of the chart was Nigeria. While still relatively immature when it comes to BPS, Nigeria's high level of talent availability makes it a financially attractive destination.
As an example of recent investments in the region, Microsoft invested $100 million to open a technology development center with sites in Kenya and Nigeria in 2018. Three years later, it released a joint announcement with the Government of Nigeria, detailing several projects aimed at intensifying the nation's move to become a more digital economy.
Other locations driving conversations with enterprises are Ghana and Kenya, both presenting a high level of financial attractiveness but scoring lower than the leaders in terms of talent availability.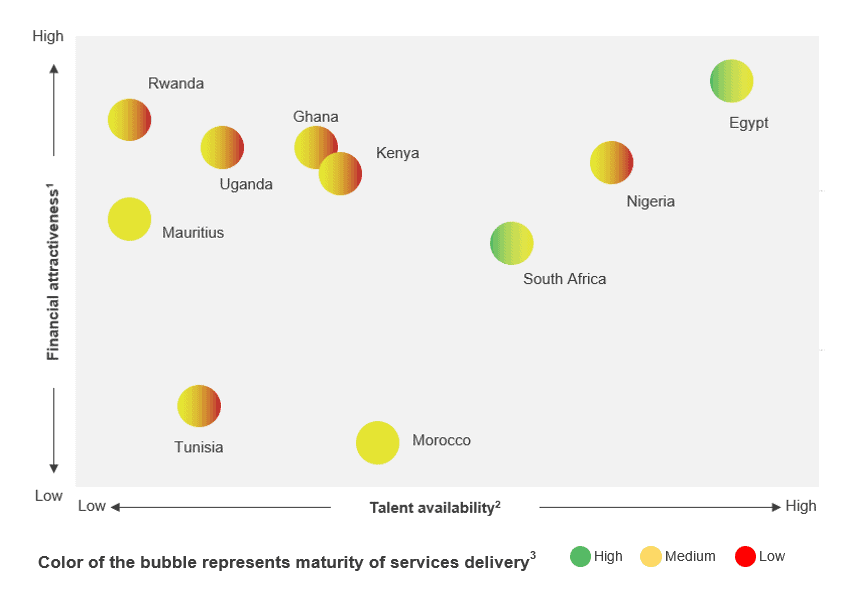 1    Reflects market average annual costs for English language delivery for steady state of operations blended across the delivery pyramid and excludes capital expenses related to set-up, transition, expat costs, and of economies of scale for large-scale operations
          2    Represents presence of entry level and experienced resources for specific functions blended in a 60:40 ratio
          3    Combination of maturity for services delivery, presence of global / regional GBS and service providers, scaled operations, and other related aspects
Source:   Country-/city-level investment promotion agencies and global services organizations
All the other locations we assessed, apart from Tunisia and Morocco, rated well in terms of financial attractiveness but were less strong when it comes to talent availability, presenting an issue for any enterprise looking to scale.
Talent forecasts
We believe the level of talent available in Africa, particularly in sub-Saharan Africa, will improve over the next few years as global service providers and enterprises begin operations there, and talent from local operators accelerate their development by working for experienced operators. But it may take several more years to reach similar levels to those seen in North Africa or the country of South Africa.
In summary, sub-Saharan Africa is likely to grow in relevance as an offshoring destination for BPS, and forward-thinking service providers are already investing. As an enterprise, if you are considering the use of sub-Saharan Africa as an offshore delivery location, we would recommend several approaches:
Undertake a detailed assessment of the location to better understand talent availability and how it aligns with your future business and talent needs

Assess talent scalability as well as the capabilities needed to deliver process or skill-specific requirements

Understand how it aligns with your corporate strategy and CSR commitments

Africa is the main source of impact sourced workers, a growing area of interest for many enterprises
Understand how the potential location aligns to target markets for business development. Consider whether the potential location is a key target to grow your business

Conduct a detailed review of the service providers with delivery locations in the region to ensure they meet your requirements, especially in terms of talent and skills availability, cost, and business continuity
For more findings from our recent report, 2020 Africa: Emerging IT-BP Delivery Force, and to discuss Africa as a service delivery destination, please reach out to David Rickard ([email protected]) or Anurag  Srivastava ([email protected]).