In the last few years, for a number of reasons, there's been a major uptick in global services delivery from Africa. The most significant driver of growth is Africa's emergence as the next frontier for small-scale delivery centers. Another is strong government support that enables global services delivery. But there are a variety of other key forces that are making Africa a destination of choice for companies of all sizes, including some of the world's biggest brands, such as Accenture, Daimler, Google, Microsoft, Standard Chartered, and Teleperformance.
There is less competition for talent in most locations in Africa compared to key offshore/nearshore talent hubs across leading geographies. Expansion into African cities helps organizations diversify their delivery location risk, as most locations have the ability to serve as Business Continuity Planning (BCP) locations to nearshore/offshore centers. Moving services to Africa also helps organizations differentiate themselves by capitalizing on early-mover advantage.
Other factors, such as an attractive talent-cost proposition, strong domestic demand across East and West African countries, and improving infrastructure capabilities (including rapid adoption of Work From Home (WFH) / remote working models), have improved the business case for new center set ups. For example, there's been an increase in services maturity for delivery of key services across the region, including voice- and non-voice-based BPS services, IT services, and engineering/R&D delivery. And while most locations have low operating costs, ongoing currency depreciation and lower attrition costs across leading countries like Egypt and South Africa have helped bolster overall growth.
Trade-offs and risks
As market players prepare consider options for service delivery from Africa, they need to be cognizant of the key tradeoffs and associated risks for operating in the region, including:
At present, Africa is best suited to deliver transactional services. Companies seeking to support more specialized operations or judgement-intensive processes may find it difficult to operate, or they may find that they need to make substantial investments in the talent market
There's a limited pool of experienced talent. Companies will need to invest in growing and developing talent locally, by training recent graduates and building a recruitment engine from the ground-up, among other options
The region poses potential challenges with delivery enablers (including utilities, transportation, meals/catering, and stationery providers), low quality office infrastructure, and comparatively poor connectivity to domestic/international locations
The business environment in East and West African countries is less favorable than nearshore Europe locations, including infrastructure quality, digital readiness, and safety and security
Given low talent availability, language support beyond English is limited and commands high premiums
The presence of key players supporting global services is limited in most African countries; the entry of a few large companies could easily congest the market and quickly increase costs
Most leveraged African countries for IT-BP delivery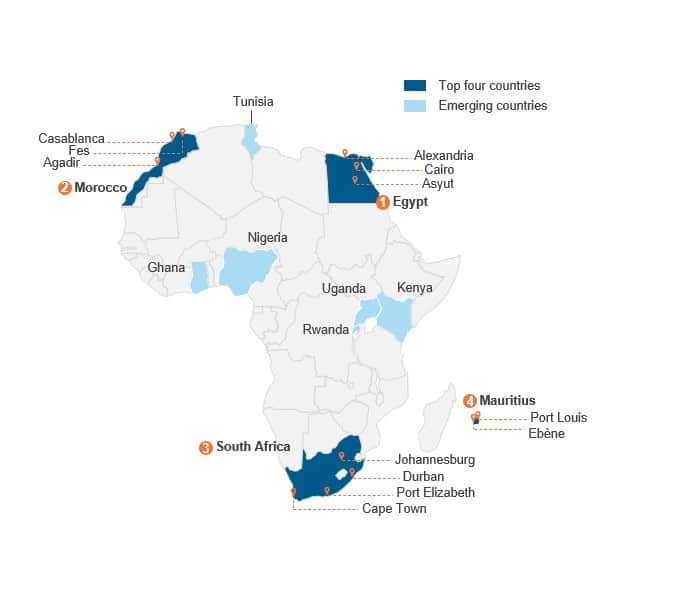 Here's a quick look at the top four global services delivery locations in Africa, by market size – largest to smallest.
#1 Egypt
Companies leverage Egypt as a hub location for multi-lingual delivery to the EMEA region, as well as delivery to the US, UK, and Australia markets. It offers an attractive cost and talent proposition to support to a wide range of functions – including voice- and non-voice business processes, IT application development and maintenance, and digital services – and high availability of talent to support English and some European languages. While it offers a favorable business environment, it has some geopolitical stability challenges.
#2 Morocco
Companies largely leverage Morocco as a spoke location for multi-lingual contact center and IT services delivery. It provides extensive support to the North Africa markets. While organizations extensively leverage Morocco to support IT services delivery, it also increasingly supports business process delivery as well, including sales, client support, HR, and F&A. French and Spanish language services continue to be in high demand, and are the most widely used for services delivery. The country offers a favorable business environment but has some geopolitical stability challenges.
#3 South Africa
Organizations continue to leverage South Africa as a global hub to support the UK, US, and Australia markets, and – in many cases – South Africa serves as a regional hub for Africa and Middle East countries. It offers an attractive talent proposition to support both transactional and judgement-intensive processes, including customer analytics, actuarial modelling, fund administration, HR, and procurement. IT services delivery has gained traction over the years, and the country boats a large talent pool to support English and multiple European languages. It has a favorable business and operating environment with no significant challenges.
#4 Mauritius
Organizations primarily use Mauritius as a spoke location to support French language delivery and a suite of services including IT services (application development, maintenance, infrastructure services), voice and non-voice transactional business processes (e.g., F&A, HR, and procurement), and analytics. French language talent availability continues to drive overall demand. The country is highly favorable from a business and operating environment standpoint and has no significant challenges.
While the global services market in Africa is relatively less mature than leading offshore geographies such as India and the Philippines, there is significant potential to tap into the domestic market across the top locations. Industry verticals including BFSI, telecommunications, and IT services continue to drive overall domestic demand. Further, with the strong government support, offshore advantage, growing talent pools, and infrastructure capabilities, several African countries offer a multi-pronged value proposition to enterprises seeking an IT-BP services delivery destination.
To learn more about the dynamics in the region, please read our recently published report Africa: Emerging IT-BP Delivery Force, which highlights the relative attractiveness and talent-cost proposition of key African locations to support global services delivery, based on our holistic and multi-faceted assessment across 10 key parameters parameters.
For more information on Africa as a global service delivery location, please contact us at [email protected] or [email protected].