Clients considering establishing a shared services center – or what we refer to as a Global In-house Center (GIC) – to deliver services, almost invariably ask us how successful the model is and whether it delivers on the expected business impacts.
To set the stage for answering the first question – how successful is the model? – the following chart shows that the number of new annual GIC set-ups has increased from <100 centers in 2015 to 145 centers in 2017, indicating a preference by companies to join the DIY bandwagon.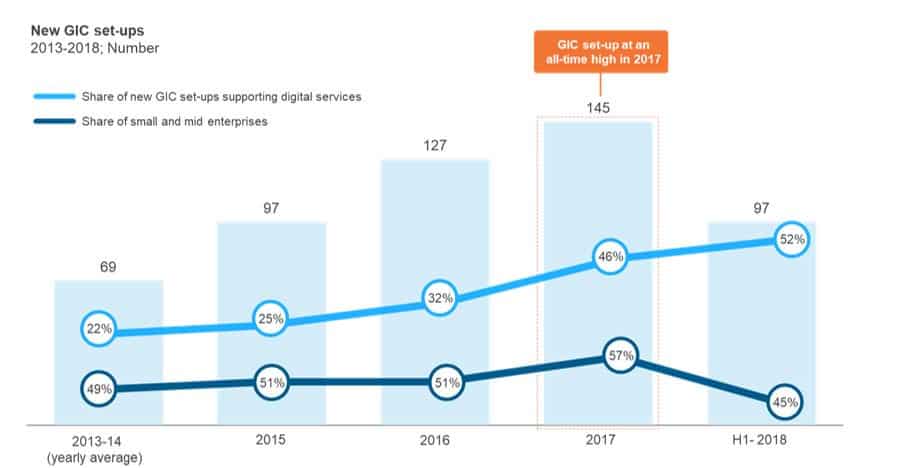 Multiple factors contribute to this DIY trend, including: the need/desire to take a digital-first approach to service delivery; capacity/growth constraints in onshore locations; challenges with service provider performance; increased adoption of agile/DevOps; pressure to replicate the success of early adopters; and focus on end-to-end ownership in internal delivery.
But that chart only tells part of the pervasiveness story. While it would be reasonable to state that the primary adopters of the GIC model are large enterprises, almost half of the new centers set up since 2014 have been established by small (USD <1.5 billion revenue) and mid-sized (USD <10 billion revenue) enterprises.  This adoption – seen across technology, telecom, manufacturing, healthcare, and BFSI verticals – reflects that small and small and medium enterprises recognize the successes the large organizations in their sectors have achieved with the model. By all accounts and measures, it's clear that use of GICs is becoming truly broad-based.
Expected Business Impacts
Here are a few examples of the business impact real-world GICs are delivering beyond arbitrage.
Improve Customer Experience – a European insurance firm's GIC developed a mobile app for auto insurance customers; the app has reduced claims turnaround time from 2-5 days to 3-6 hours
Drive Innovation – a leading snacks company's GIC developed an app for selling in-store displays to retailers; the app has reduced the rejection rate by 20 percent
Contribute to Revenue – a financial services firm's GIC has helped increase product revenue by 17 percent through analytics on product positioning in the retail market
Drive Operational Excellence – a leading bank's GIC has delivered savings of ~40 percent with substantial reduction in end-to-end delivery time for the customer by deploying robotic process automation
Reduce Errors – a leading financial institution's GIC has improved the commercial lending analytical models, resulting in identification of additional US$15 million worth of deals that would otherwise have been ignored.
Getting Intentional with Business Impacts
Of course, the only way to ensure business impact beyond arbitrage is by intentionally establishing the GIC to deliver business impact.
For example, we're currently supporting a global investment management firm through the "impact-first" approach to its GIC set-up. Instead of starting operations with low-value transactional processing, the GIC will predominantly deliver high-end technology services to build tools and systems for quantitative research. The talent model is skill-centric, not scale-centric, and geared to build high-end skills in a sustainable manner. And because a key enabler of delivering business impact is ownership, the GIC will have end-to-end delivery ownership and a seat at the parent's table to shape its evolution journey from the beginning. All these intentional actions will give the GIC a head-start in delivering business impact, and enable it to leapfrog its more tenured peers.
Overall, having an intentional approach during set-up can significantly influence and enhance the type of business impact the GIC delivers, and how soon it kicks in. And a well-thought-out approach is more likely to keep the expectations from the GIC in check, and its performance assessment objective.
Have you taken an intentional business impact approach with your GIC? Please share your experiences with us at [email protected] or [email protected].  To learn more about how we serve GICs, click here.