Everest Group is proud to release the second edition of its annual PEAK Matrix Service Provider of the Year™ awards for IT Services 2017.
2016 was an interesting year for the IT services industry. Political upheavals (think Brexit and the U.S. presidential election), growing consumerization, the Internet of Things (IoT), and artificial intelligence were the key topics that defined the discourse of this highly watchful industry.
Everest Group took all of the above, and more, into account with its 2016 research. Under the aegis of four key IT Services (ITS) practices – Banking, Financial Services & Insurance (BFSI), Healthcare & Life Sciences (HLS), Application & Digital Services (ADS), and Cloud & Infrastructure Services (CIS) – we published a whopping 21 PEAK Matrix evaluations, assessing service providers on their capabilities and market success across multiple practice sub-segments.
Despite intense competition, politico-legal challenges, and the changing shape of technology adoption, the ITS market continues to grow, albeit at a slower pace. There are some service providers that, through their consistency and innovation, continued to lead the discourse on change and adaption. Hence, while there indeed are Leaders and Star Performers for each of the segments we evaluated, the composite picture clearly shows that some deliver consistent leadership and top performance across many different categories.
As today's enterprises navigate the complex landscape of next-generation and legacy technology, a global business footprint, and a complex vendor portfolio, Everest Group's PEAK Matrix Service Provider of the Year awards will help them to identify the best of the best – service providers with strong broad-based capabilities and successful service strategies that align well with the evolving enterprise IT demand.
The 2017 award categories are:
ITS Top 20: We arrived at this list using a consolidated score reflecting points received on individual evaluations based on tiered scores for Star Performer, Leader, Major Contender, and Aspirant positions.
Individual awards categories: These awards are based on the count of Leader or Star Performer positions across the category evaluated:

Leader Of The Year

ITS (overall)
HLS
BFSI
ADS
CIS
Star Performer Of The Year
Here's a PEAK peek at the top five on the ITS Top 20 leader board.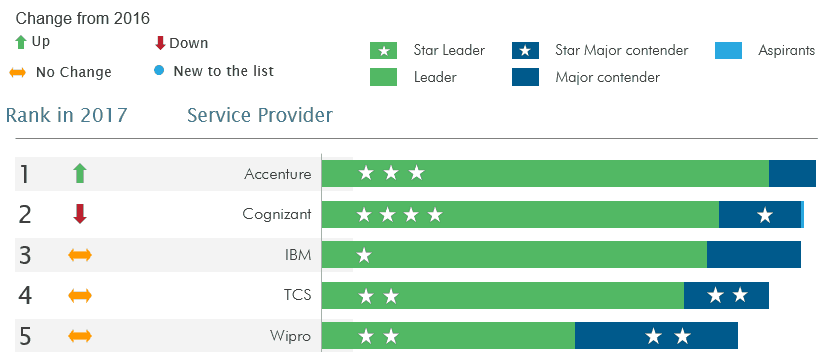 For the complete list of awardees, please click here.
Have you had experience with one or more of these providers? Our readers would love to hear your views about them!