A leading car manufacturer dispensed a spare part even before the customer knew it was needed. A doctor knew precisely when a patient took a vital medication. A metro city police department accelerated crime response time. A retailer designed its offerings based on dynamic in-store customer behavior.
Three in every four enterprises have a similar type of story to share about connecting to the "things" of interest and digital enablement of businesses. Recognized as the next big opportunity, the Internet of Things (IoT) is being embraced by enterprises to generate greater value and achieve their business objectives. Indeed, more than 50 percent have already piloted IoT, and the majority are highly optimistic about its returns.
Despite the high level of optimism, there exist numerous unanswered questions and concerns about IoT. Is it being used to the full potential, or are we just scratching the surface so far? Where is industry adoption headed? What risks should an enterprise take? What should an organization do to extract the most out of this investment?
Everest Group's recently published PEAK Matrix™ report on IoT Services reveals intriguing industry trends, enterprise adoption patterns, probable future developments, and services expectations based on extensive discussions on all things IoT with 30+ enterprises.
IoT is no longer a buzz term
Currently, organizations are leveraging IoT to achieve agility, flexibility, customer centricity, and cost reduction. We identified four types of IoT adopters, based on the adopting organization's desired outcomes: Optimizers, Engagers, Integrators, and Innovators. Most enterprises are categorized as Optimizers. That is, they focus on solving their operational issues and on infusing efficiency with IoT. Integrators and Innovators – which collectively equal less than 20 percent of IoT adopters – focus on enterprise growth or invest to seize larger benefits from the opportunity.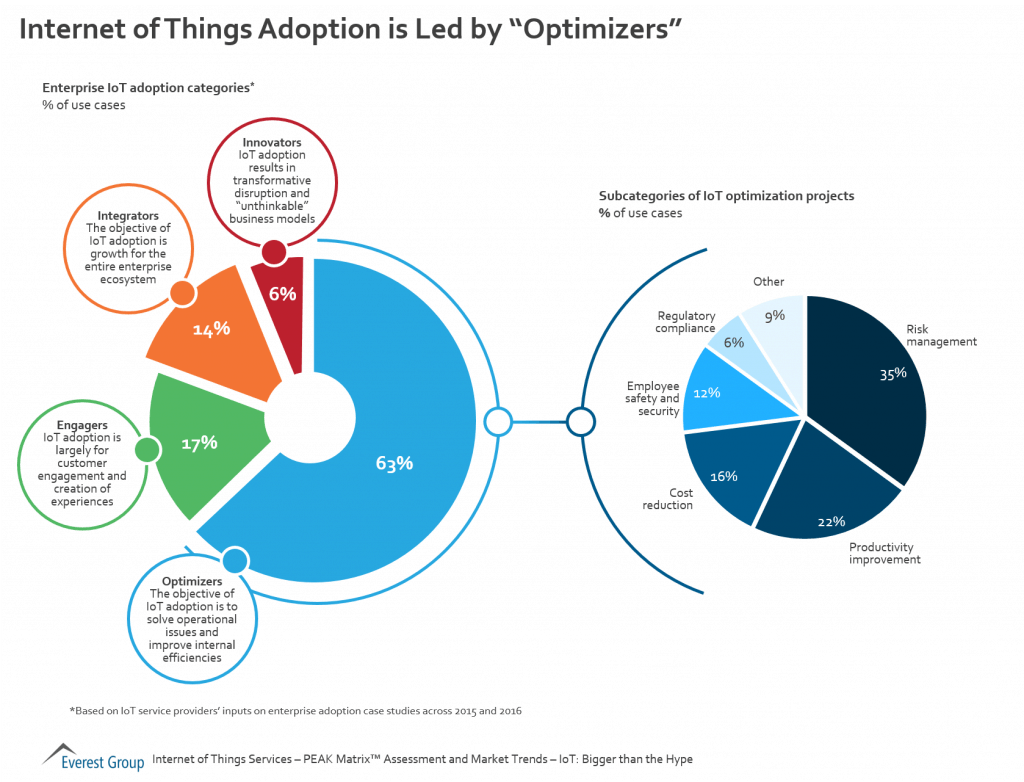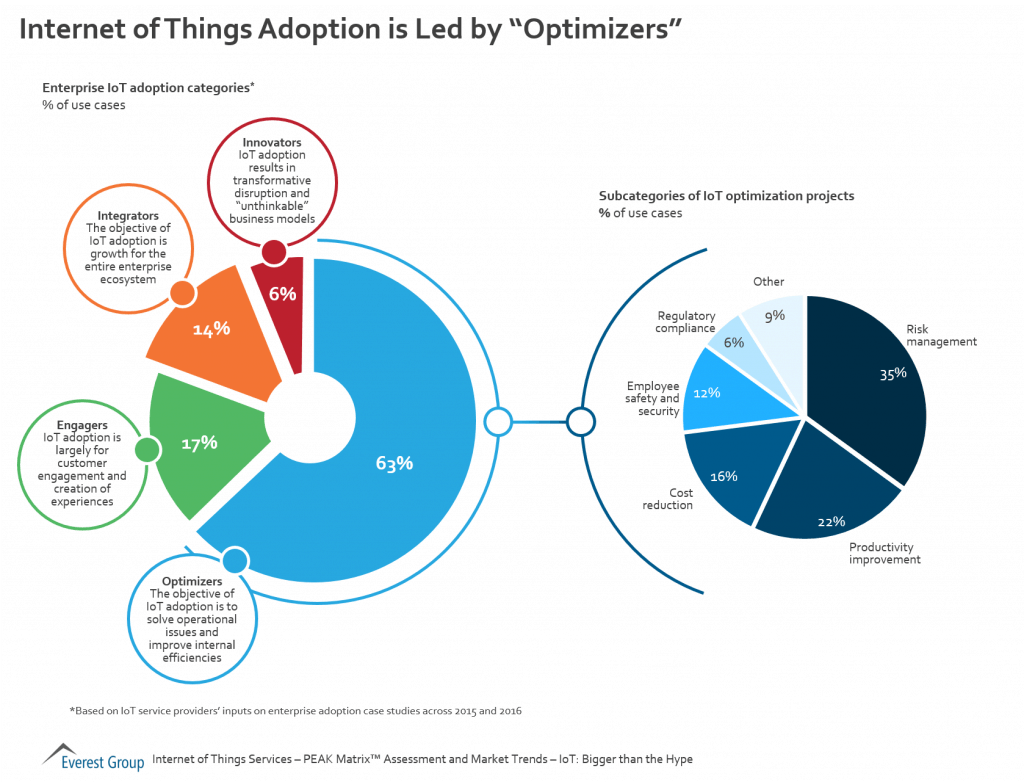 From an industry perspective, the leading beneficiary of IoT to date has been manufacturing, primarily focused on bringing efficiency to the shop floor. Customer-centric industries such as telecoms and retail are investing to improve ecosystem efficiencies and enhance end-user engagement. Other industries such as agriculture, BFS, and mining are expected to make considerable investments in IoT in the near future.
Substantial hurdles stall rapid adoption
Hype aside, the majority of the enterprises are taking cautious steps and embracing IoT in small, incremental stages only. A multitude of challenges such as data security and privacy, storage and rapid analysis of large volumes of data, and availability of a high-speed network at all locations are impeding large scale investments in IoT. Another major hindrance is change management that necessitates significant investment in talent, infrastructure, and processes.
Enterprises need to collaborate with a variety of partners from the vast IoT ecosystem to design, implement, and manage an IoT system. The service provider landscape itself is segregated at this stage, and players across the value chain are trying to capture a larger share of the pie by expanding their partner ecosystem and their internal delivery capabilities.
But you can't afford to miss the bus!
Despite the challenges, IoT remains among the top three investment priorities for a majority of organizations. To be front runners in the race, they must strategize their IoT adoption in a phased process for enterprise-wide benefit. And they need a transformational vision, investments in innovation and R&D, and a good partner ecosystem to maximize ROI.
The action is equally intense in the service provider camp. While some have up to 20 partners to complete their portfolio, others have acquired up to as many. Players with expertise in operational technology, engineering capabilities, and industry partnerships are best positioned to define success in the IoT services market. We anticipate large-scale convergence and new partnerships to cater to the services demand, which is expected to double by 2020.
Interested in learning more about IoT? Our PEAK Matrix™ report on IoT Services provides deep insights on IoT market trends, expected service market size, implications for enterprise and the service providers, and a detailed evaluation of 16 major IoT services providers.