More and more companies are recognizing the value of end-to-end business process management as it breaks down functional and organizational silos to enable a more holistic approach to enterprise performance management.
Of the common sets of end-to-end processes – which include Source-to-Contract (S2C), Procure-to-Pay (P2P), Order-to-Cash (O2C), Record-to-Report (R2R), and Hire-to-Retire (H2R) – P2P is most often identified as the priority for optimization. There are two key drivers of this trend. First, compared to other end-to-end processes, P2P activities are typically more common across the enterprise, making them easier to standardize. Second, the business case for P2P is frequently the most compelling. Through process standardization, workflow automation, system integration, and rigorous compliance enforcement, companies have been able to achieve rapid and significant spend and operating cost savings while simultaneously gaining the ability to better manage risk.
A case in point: a global software and products company achieved an initial operating cost reduction of 35 percent. It subsequently realized spend savings of US$700 million (~9 percent on a spend base of US$8 billion) and captured more than US$10M in Early Payment Discounts (EPD). The savings and benefits accrued generated a break-even on the business case in less than six months.
Based on Everest Group's experience, one of the most critical success factors of P2P transformation is the institutionalization of a common set of well-defined performance metrics across the entire organization, including both internal and third party delivery partners. The performance metrics should be closely linked to desired business outcomes, and applicable across segments and geographies. Moreover, both P2P efficiency and effectiveness should be easily quantified, measured, and benchmarked.
The table below presents a P2P metrics framework that starts with clearly defined business objectives that are measured by a small set of outcome-based metrics to reflect the overall efficiency and effectiveness of the P2P process. The diagnostic measures are designed to identify specific process breakdowns and improvement opportunities, and are tracked and reported at the operational level.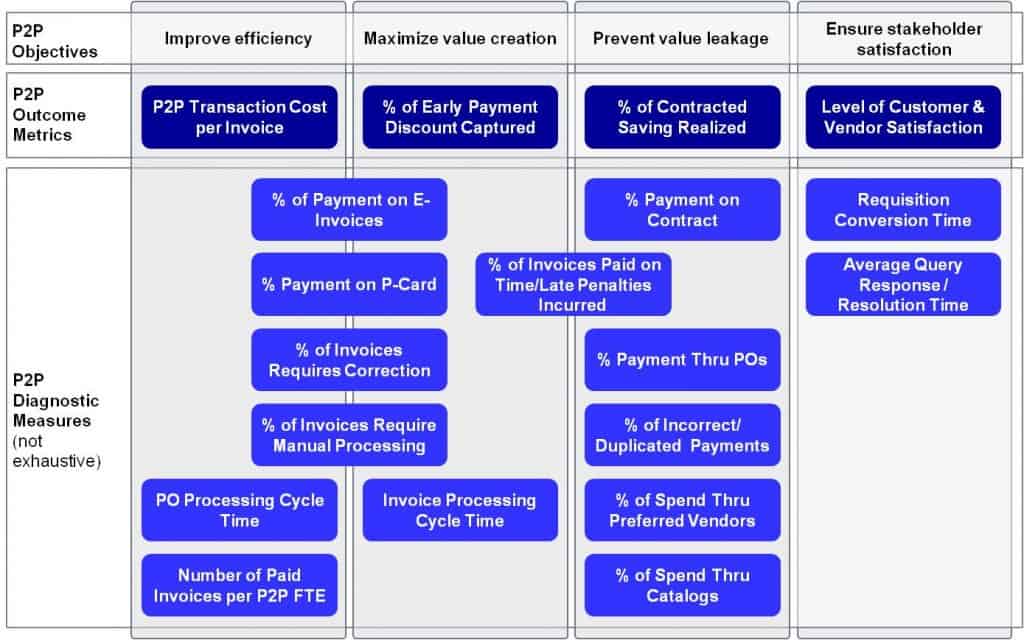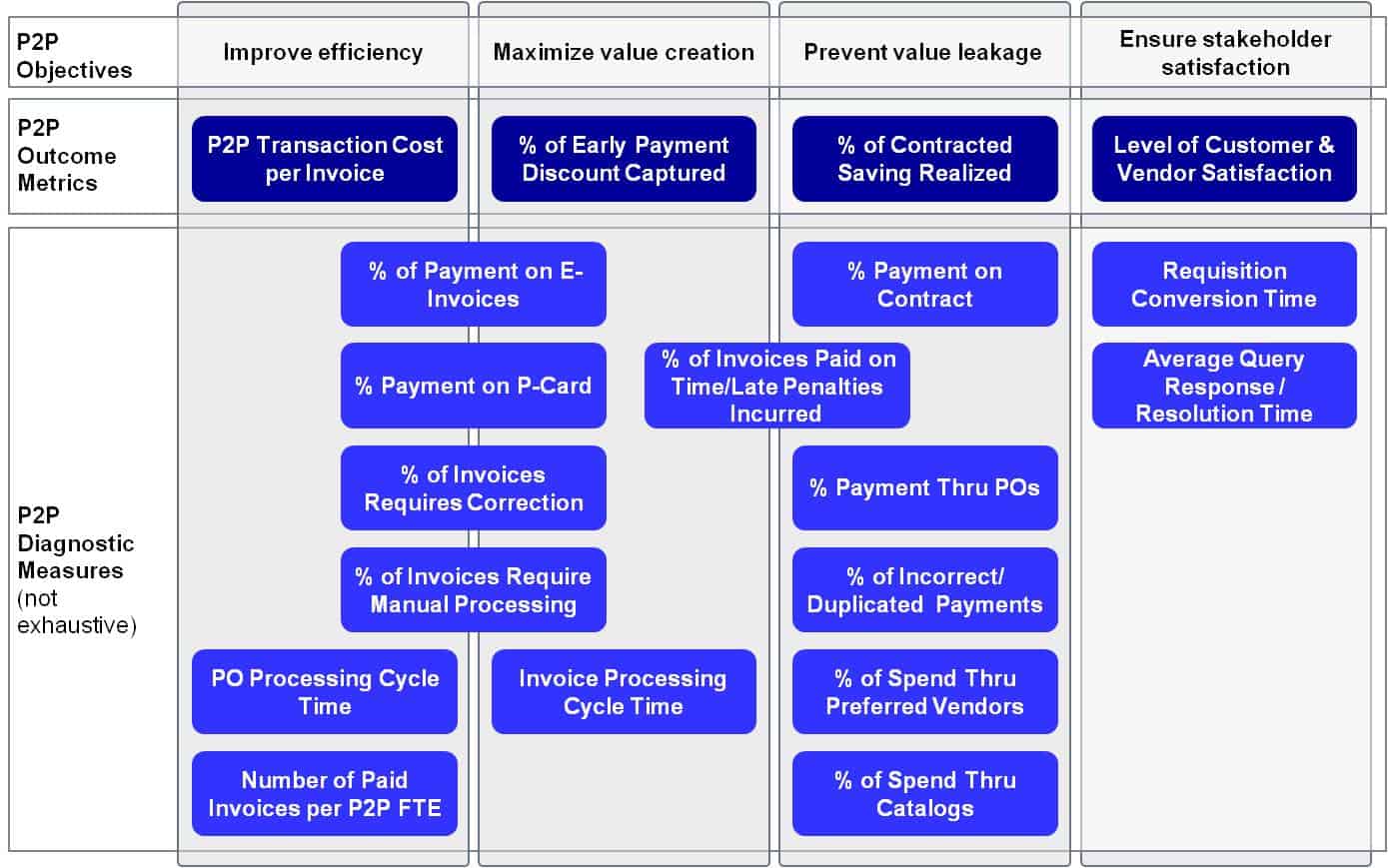 We strongly recommend companies follow a structured approach to develop a holistic P2P performance management framework:
Define common metrics, and clearly delineate objectives, descriptions, and interdependencies with other performance measures
Establish a standard methodology and systems to track and report performance; key components include:

Measurement scope, parameters, method, data source, and frequency
Benchmarking methodology and data source
Reporting dashboards, frequency, and forum

Assign accountability for:

Measuring and tracking performance metrics
Benchmarking and reporting overall P2P performance
Identifying and prioritizing continuous improvement (CI) opportunities
Reviewing and approving CI projects
Implementing and monitoring CI initiatives
Calibrating performance metrics based on evolving business objectives
There's no question that the old management adage "You can't manage what you don't measure" holds true in the case of end-to-end process management. Having a common set of appropriately-designed performance metrics is both an enabler for and indicator of successful P2P transformation.