Everest Group recently published a report focusing on the Global In-house Center (GIC – our new term for captive center) market in Poland. During our analysis, we came across a very interesting fact: more than 40 percent of all GICs in Poland are based in Tier-2 and Tier-3 cities, while globally, the share of Tier-2 and 3 cities with GICs is only around 20 percent! This immediately raises some compelling questions:
What does Poland's GIC landscape look like? Where does most of the demand come from?
What cities are we talking about? What companies are venturing / have ventured into Tier-2 and 3 cities?
What factors make Tier-2 and 3 cities enticing to enterprises?
Let's look at each of these questions individually to shed some light on what may be behind the Poland's unusually high share of Tier-2 and -3 city-based GICs.
Enterprises based in Western Europe and European subsidiaries of U.S. enterprises dominate the Polish GIC landscape. In terms of industry verticals, manufacturing leads with ~40 percent share, followed by banking and technology.

Although Poland was initially leveraged primarily as an F&A BPO/shared services destination, the IT and engineering services / R&D functions have experienced a notable uptick. In fact, Poles' aptitude for complex skills and cutting-edge technology is now well-known in global sourcing circles.

The figure below depicts Poland's GIC growth story. As you can see, numerous Forbes 2000 organizations (e.g., Citigroup, GE, Microsoft, Samsung, and Unilever) have set up GICs in Tier-2 and 3 cities in the country.

A number of factors have led to the high share of Tier-2 and 3 cities in the Poland GIC market:
Congestion and resulting high occupancy rates in Tier-1 cities sent office space and other operating costs soaring. Tier-2 and 3 cities provide ample office space, are not as congested as Tier-1's, and  costs tend to be lower
High competition for talent in Tier-1 cities means higher attrition and wage inflation, while salaries and wage inflation levels in Tier 2 and 3 cities are comparatively lower
Most Tier-2 and 3 cities are home to large universities that offer large pools of graduates. The presence of universities also allows companies to hire students as part-time employees, offering additional flexibility
Most Tier-2 and 3 cities in Poland are well-connected by air, road, and rail, not just to its own Tier-1 cities, but also to the major business centers throughout Europe
The chart below provides a comparison of operating costs in Tier-1 and Tier-2 Polish cities. The presented cost savings do not account for any subsidies / financial incentives that governments at the city/state/federal level might be offering to investors.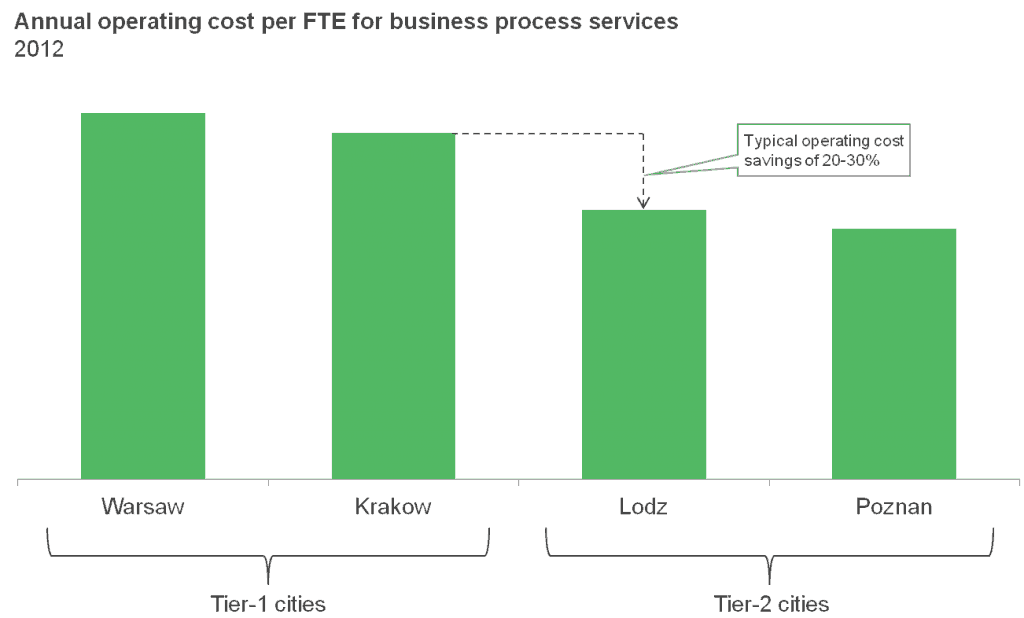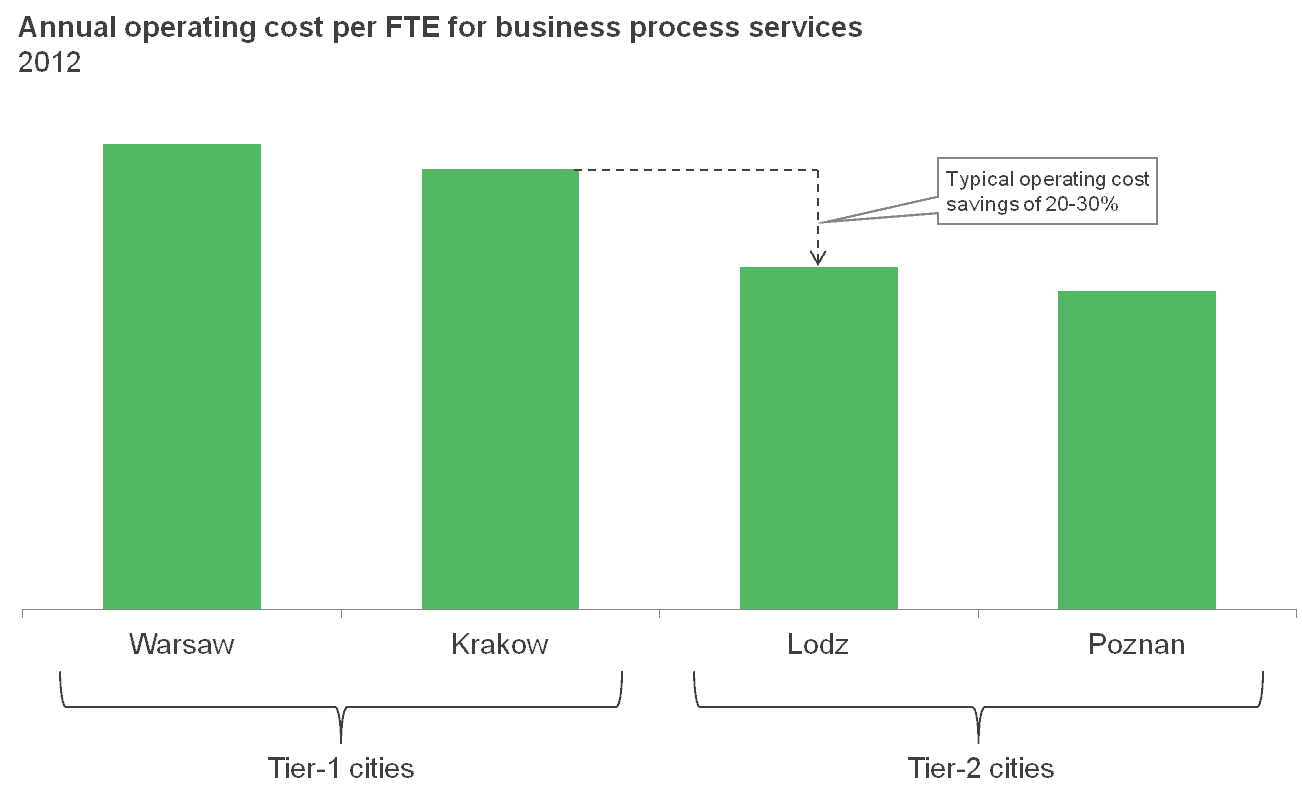 However, we must here give perspective to a couple of points:
Although Tier-2 and 3 cities are less congested, they may present lower scalability as compared to Tier-1 cities due to lower overall maturity and a smaller pool of experienced professionals. The average scale of GICs in Tier-1 cities is around 600 FTEs, as compared to approximately 300 FTEs in Tier-2 and 3 cities
Each location offers a unique set of skills, e.g., Lodz is attractive for back office business processes, but is not scalable for IT
All this brings us to a profound question: is the Poland market model way ahead of others' time? In other words, is this how other markets could operate if enabling conditions in Tier-2 and 3 cities were ideal? Or is Poland's model just a result of a unique combination of factors/situations?
We'll continue to provide our insights on this topic, but welcome our readers to weigh-in with their thoughts and perspectives!
For more information on Poland's GIC landscape, please read our "Global Offshore Global In-house Center (GIC) Landscape and Trends: Focus Geography – Poland" report, and our newsletter edition,  "Global Location Insights: October 2011 – Perspectives on Global Services Market in Poland."
Photo by jaime.silva