A large enterprise client recently asked us to confirm whether its belief that the majority of organizations have moved to output- and outcome-based contracting models for testing services was true.
What's the Reality vs. this Perception?
Our analysis of deals in our extensive database over the last 18 months showed that more than 75 percent of buyers are still contracting for testing services on a fixed price basis. Of those, nearly 50 percent are managed services contracts, where performance is linked to key performance indicators (KPIs.) The other 50 percent are a combination of fixed price and Time and Materials (T&M) contracts. In these types of arrangements, the part of the contract where the scope is clear and well defined is fixed price, and the T&M is for the part of the contract where the requirements are unclear, like testing support during the UAT phase, for change requests, etc.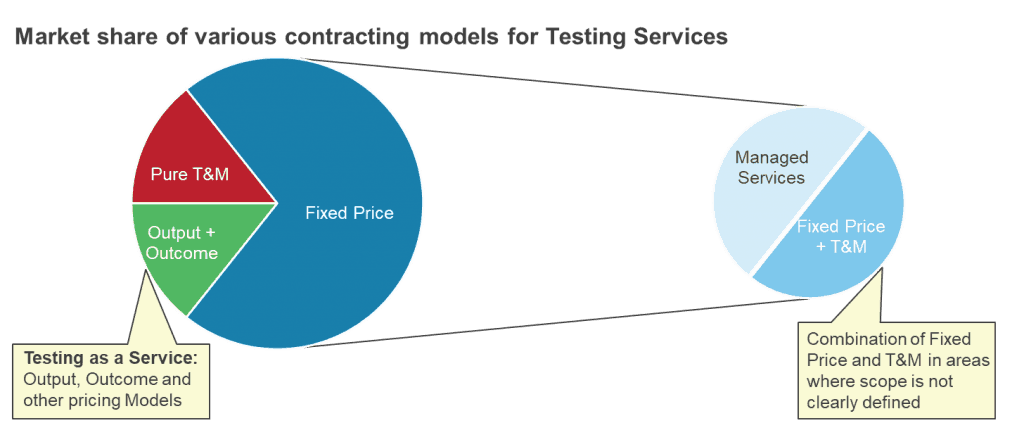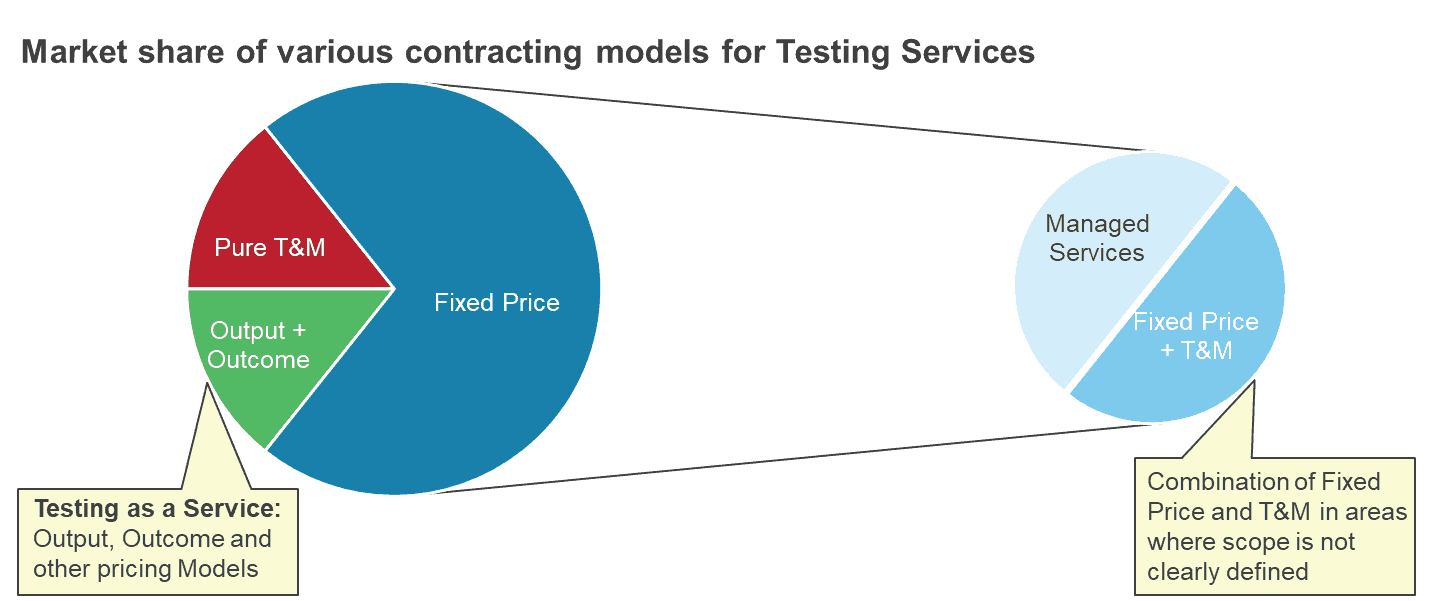 About 10-15 percent of the contracts in our set of deals from the last 18 months are purely T&M contracts where clients ask for specific testing resources.
Only the final remaining 10-15 percent of the contracts are based on output- and outcome- based models.
Deeper Look at Output- and Outcome-Based Contracting Models
While the current percentage of output- and outcome-based models is small – the model is  well-suited for engagements where the majority of work is transactional in nature, the client wants pricing clarity and guarantees, and the service provider has no explicit motivation to improve performance beyond service levels.
In fact, we believe that the transition to these as-a-service models is both critical and inevitable for enterprises with engagements matching these criteria – which exceed 15 percent of our database. Why?
They ensure enterprises pay for deliverables, not for time
They are more closely tied to enterprises' business activities, as they provide flexibility and visibility into the expected spend
They allow enterprises to remain engaged at a strategic level, without worrying about day-to-day responsibilities
Since the pricing is delinked from the underlying number of FTEs, process Improvements are driven by the service provider's motivation to reduce internal costs and improve margins.
At the same time, output- and outcome-based models pose different types of challenges than other types of contracting options, and enterprises must be prepared to address them to achieve success. For example:
Due to their fairly complex structure, these contracting models require sophisticated governance and strong due diligence
They are not easily benchmarked, because to ensure an apples-to-apples comparison, the benchmarking exercise needs to normalize for all the underlying environment characteristics
In multi-vendor environments where there are more dependencies, moving to output- or outcome-based models may increase costs as providers bake the higher risk into their fees.
In our view, most enterprises going down the output- and outcome-based model path will be best served by phasing in the adoption. Doing so will not only help them reduce risks, but also enable them to appropriately update their systems to process output-based transactions, create and put in place sufficient governance mechanisms for the new contracting regime, etc.
Have you embraced an outcome- or output-based contracting model for your testing services? Are you considering it? Please share your experiences with us at [email protected].