Disruptive forces – open banking regulations, growing FinTech ecosystems, and increasing demand for a seamless customer experience – are forcing banks to make significant investments in digital technologies.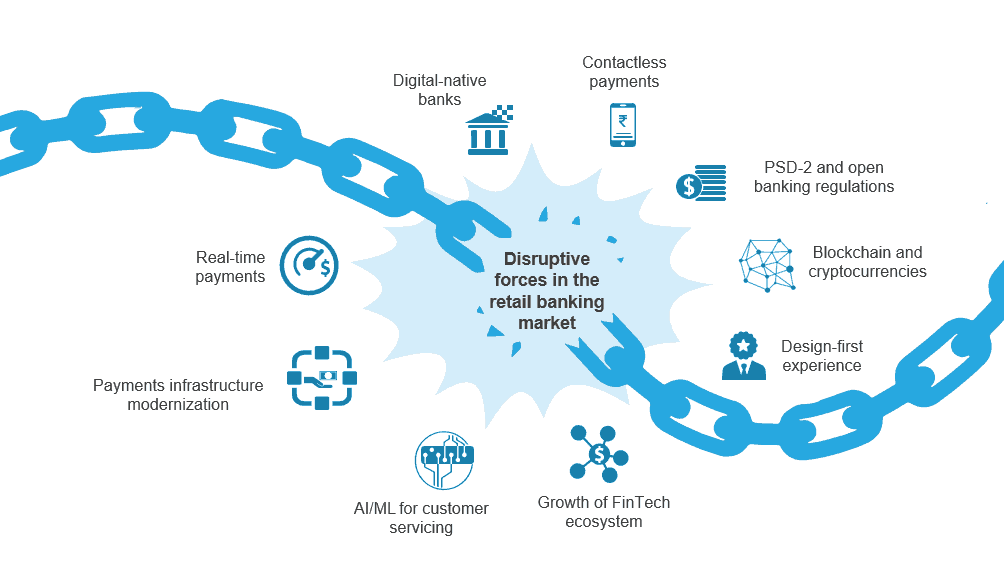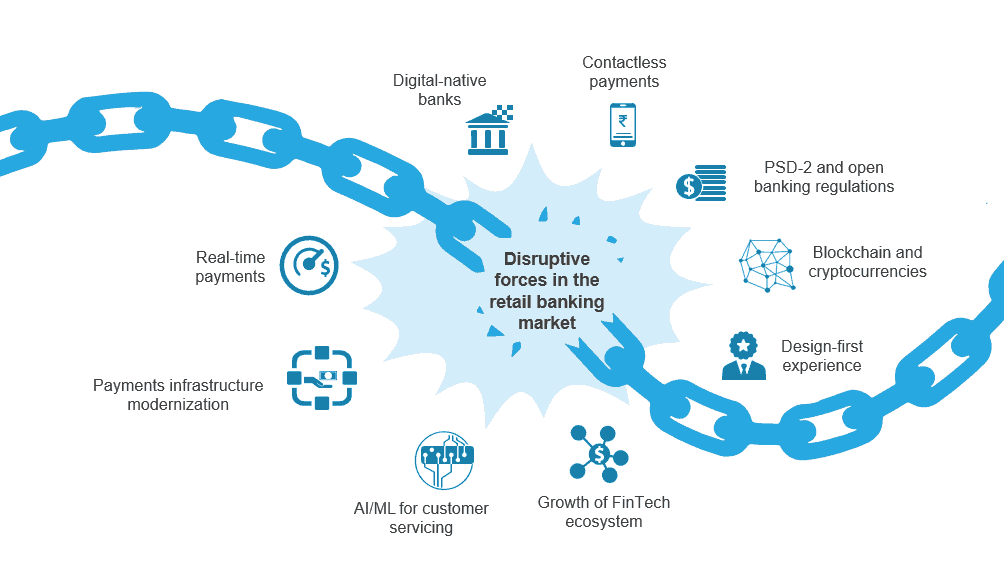 To effectively compete, banks must move away from being perceived as physical structures that offer financial services/products to an ambient fabric that connects people and businesses. They must transition from a transactional, product-centric approach to an intelligence-oriented customer-centric model centered around customers' journeys. Artificial Intelligence (AI), API-enabled open banking architecture, and cloud are fast-becoming the foundations of banks' IT architecture.
In order to evaluate and measure how organizations are faring in their leverage of digital technologies, Everest Group several years ago developed the Digital Effectiveness Assessment model.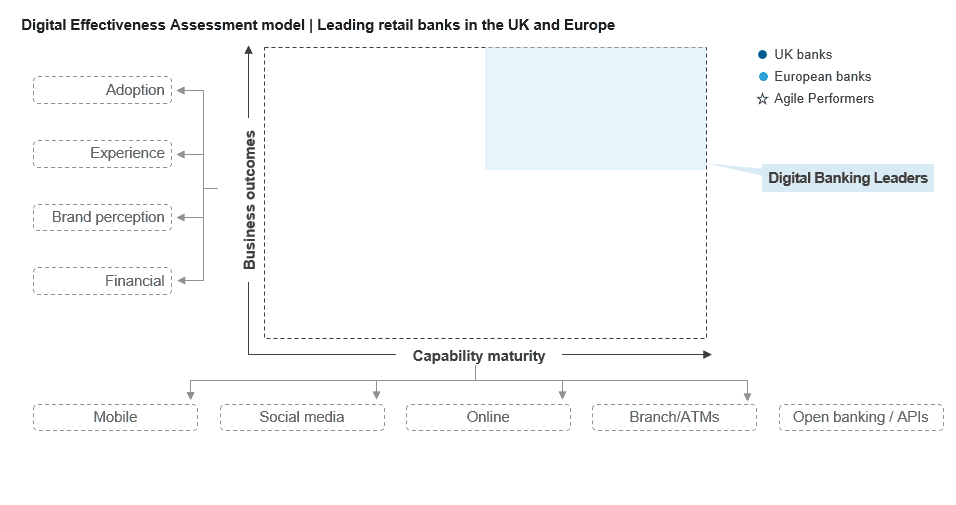 On the Capability maturity axis, we measure organizations' presence on all digital platforms, the quality of their mobile apps and online banking capabilities, their activity on various social media channels, their self-service innovations, and their open banking capabilities. On the Business outcomes axis, we measure their digital prowess using parameters including customers' digital channel adoption, the customer experience (based on mobile app ratings, website optimization, and engagement), brand perception, and financial performance.
Earlier this year, we used the model to determine the European digital banking leaders. And from a field of the top 20 banks in Europe, we identified seven: Barclays, BBVA, BNP Paribas, HSBC, KBC Group, Lloyds, and Société Générale. These financial institutions have achieved:
Superior financial performance: 17 percent higher growth in deposits, and 3 percent advantage in efficiency ratio in 2017
Superior customer experience: Higher penetration of digital and social channels (e.g., up to 75 percent of BNP Paribas' retail customers are using mobile app and online banking channels), mobile-based advisory capabilities, and personalized products and services. These leaders' mobile application ratings are 7 percent higher than the other banks we evaluated.
Stronger customer engagement: A superior user interface (UI), feature-packed mobile apps (e.g., BBVA offers 80 percent of the mobile features evaluated) and online banking platforms, self-service technologies across branch/ATM network (e.g., Barclays offers card-less cash withdrawal, bill payments, and check deposits through ATMs), and meaningful social media content.
Higher business growth: Wider adoption of digital banking channels, superior efficiency ratios, adoption of an open banking ecosystem, and innovative product offerings, particularly through the wider set of APIs they offer.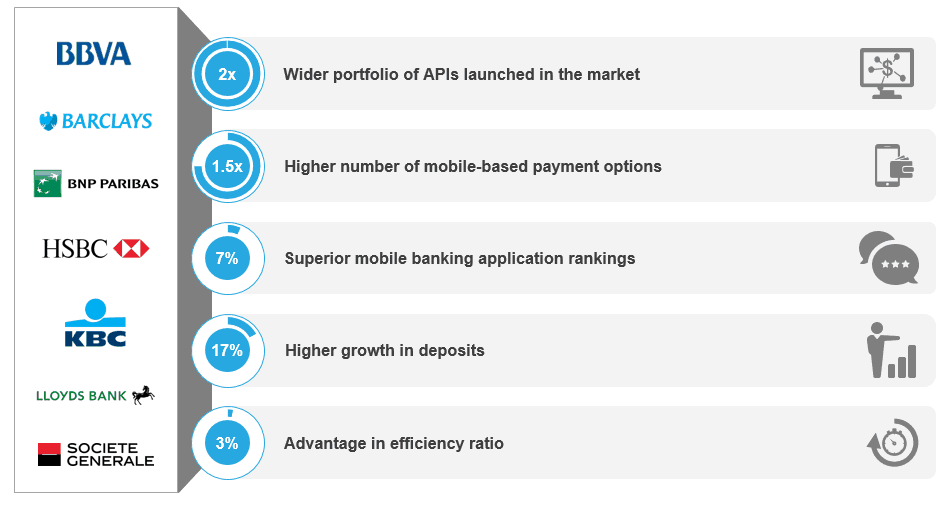 These leaders have re-designed their customer journey to adapt to external disruptions by:
Calibrating current customer satisfaction: Formulating a unique customer engagement model based on insights gained on each customer's digital readiness and adoption.
Benchmarking current digital maturity with best-in-class enterprises: Evaluating their digital channel maturity and customer satisfaction scores against best-in-class peers, and then tailoring their digital strategy to bridge the gap in their organization's vision of the customer experience.
Redesigning the customer experience: Incorporating human-centric design principles to address customers' stated and unstated requirements and desires.
Optimizing their channel strategy: Developing a comprehensive channel strategy to drive customer adoption and acquisition, and changing the business model to deliver digital experiences.
Innovative product offerings: Offering personal finance management features through digital channels that are intuitive and simple for users. Other services include payments through multiple messaging and social media channels, and intelligent voice-based payment solutions.
To learn more about the characteristics of Europe's digital banking leaders, and what sets them apart from the others, see our report: Digital Effectiveness in Retail Banking | Focus on Banks in the UK and Europe: Identifying Digital Banking Leaders in the Open Banking Era.