In news that has caused a huge stir in the technology world, Broadcom, the semiconductor supplier, reached a definitive agreement to acquire CA Technologies, a leading infrastructure management company, for a whopping US$18.9 billion.
Unpacking the Strategic Intent behind the Deal
Many view the deal through a dubious, even critical, lens that points to Broadcom's loss of strategic focus through a broadening of its capabilities beyond the semiconductors space. While the paucity of business synergies may seem true given the discrete nature of the two companies, the deal is not surprising when you examine the fragmented nature of the infrastructure software market.
Coping with bewildering choices in the realm of IT infrastructure management has been an impediment for most enterprises, leaving IT personnel grappling with a myriad of software and tools. Having said that, the advent of the converged stack approach is seen as the vanguard that can bear the mantle that democratizes infrastructure management. As time unravels the mysteries behind this move, the acquisition of an infrastructure software company may prove to be Broadcom's crown jewel.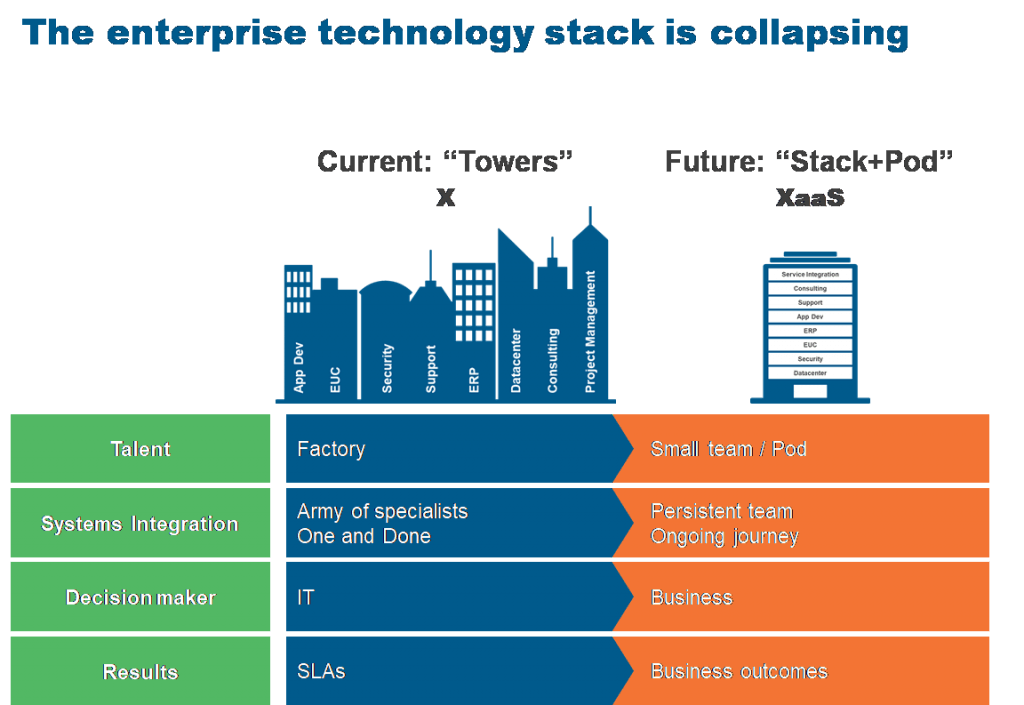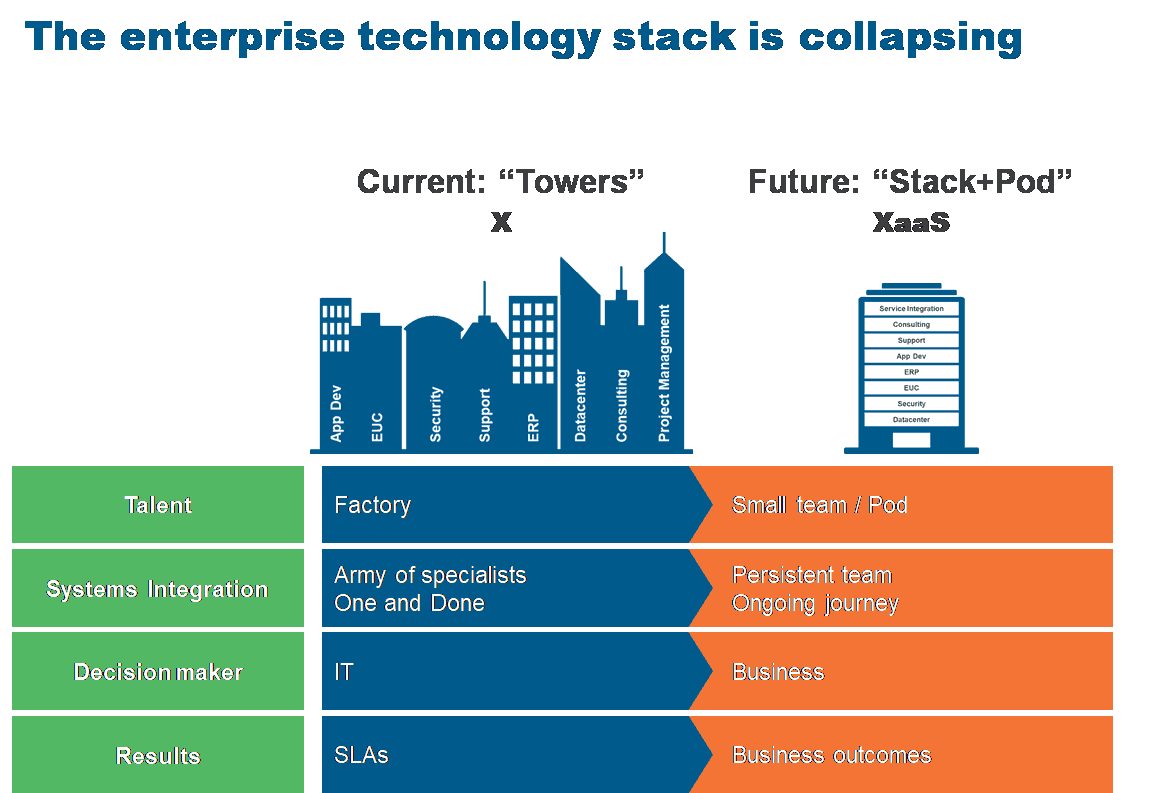 Why CA?
Broadcom has long embraced inorganic growth. While its past acquisitions have centered around expanding its portfolio in the semiconductor business, CA will likely give it considerable headway in becoming a leading infrastructure technology company.
Broadcom's revenue has been bolstered by its strategy of buying smaller businesses, and incorporating their best performing business units into the company. With this acquisition – expected to close by Q4 2018 – Broadcom is looking at ~25 percent business revenue from enterprise software solutions.
Broadcom will also gain access to CA's 1,500+ existing patents on various topics including service authentication, root cause analysis, anomaly detection, IoT, cloud computing, and intelligent human-computer interfaces, as well as 950 pending patents.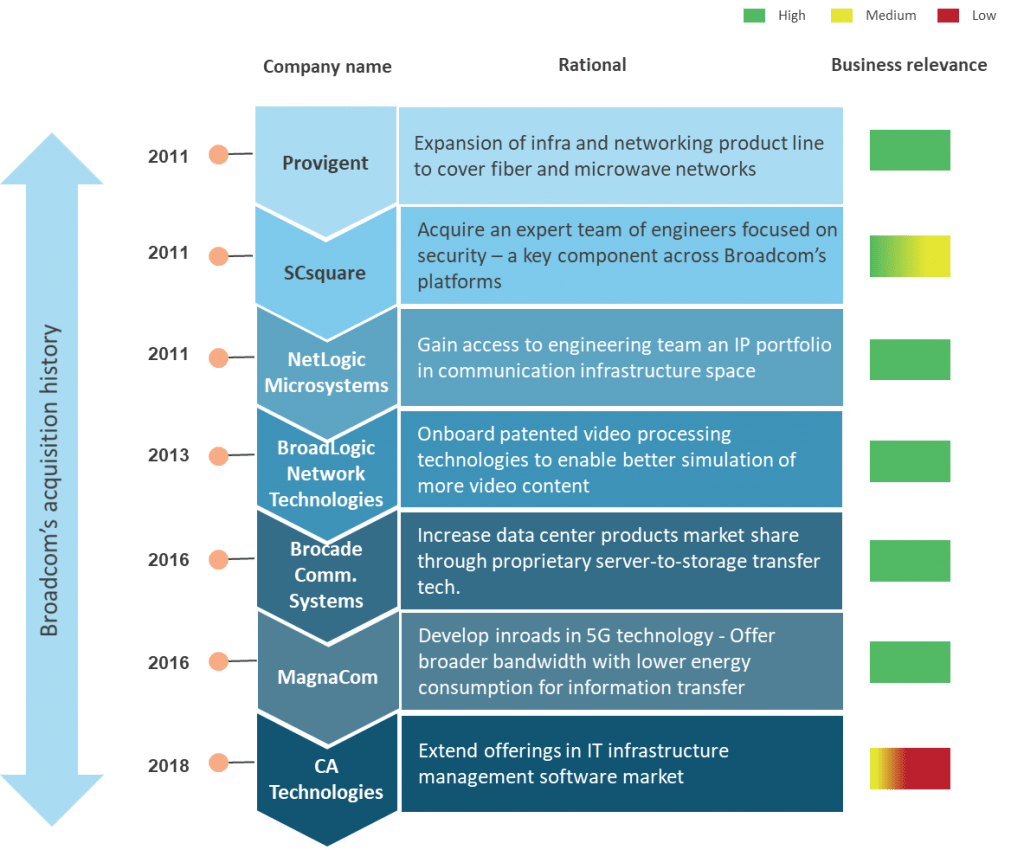 When you examine Broadcom's business mix shift, you see an acquisition-driven approach aligned to its Wired Infrastructure and Wireless Communication business segments. These are the segments where CA brings in more downstream muscle to create an end-to-end offering for the infrastructure stack.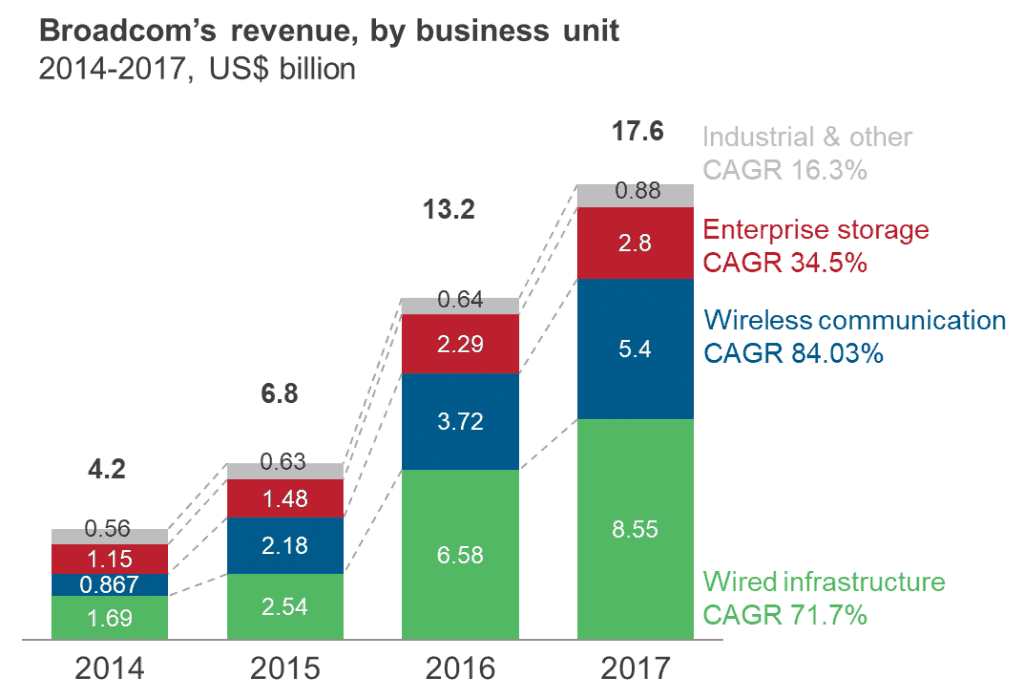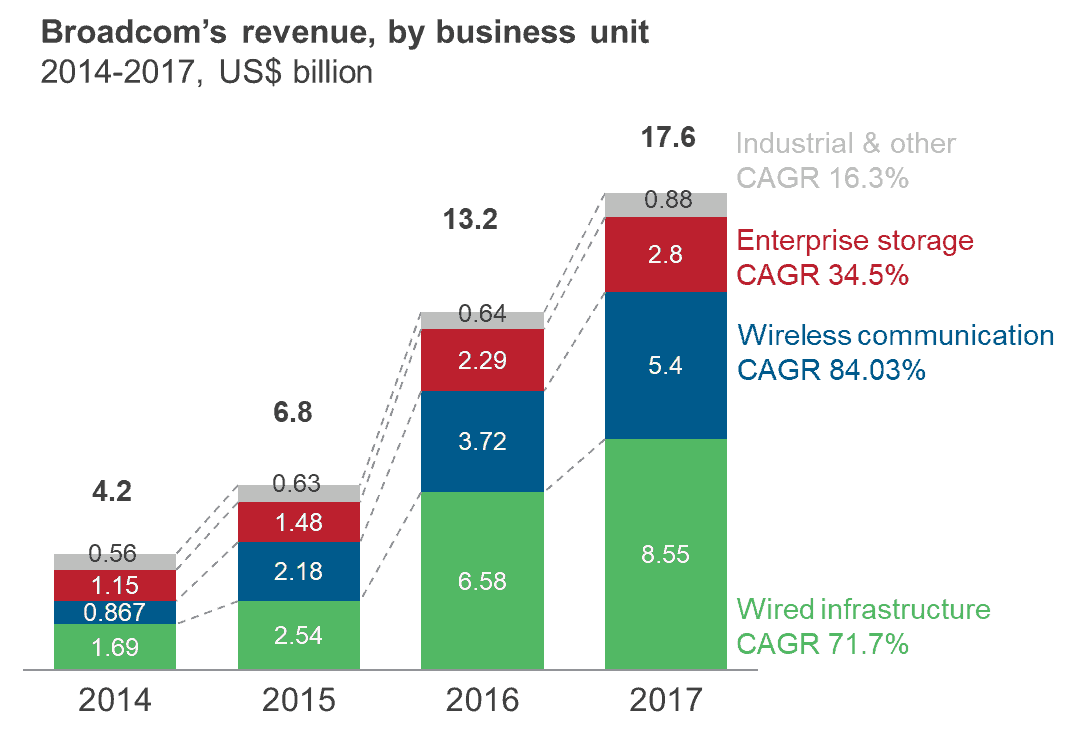 Thus, Broadcom's apparent strategic tenet to establish a "mission critical technology business" seems to be satisfied.
However, not everyone is convinced. The market was caught off guard, and is worried that this might be a reaction to Broadcom's failed bid for Qualcomm earlier this year. Its stock has fallen by 15 percent since June 11, and the street is betting that it will plummet by another 12 percent by the middle of August 2018.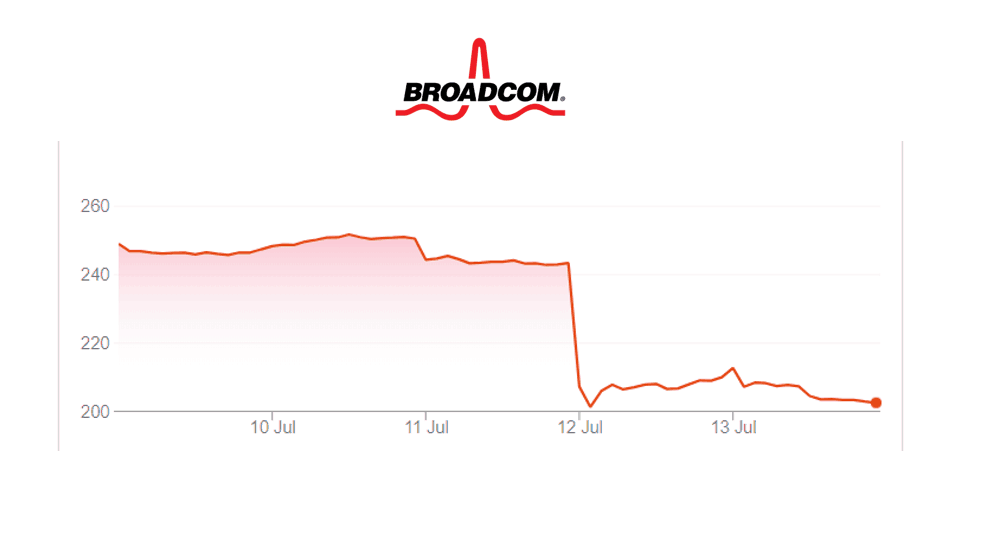 It's Not Just about Broadcom, Is It?
With software as the strategic cornerstone, CA Technologies has scaled its offerings in systems management, anti-virus, security, identity management, applications performance monitoring, and DevOps automation. With enterprises shifting gears in their cloud adoption journey, revenue from CA Technologies' leading business segment – Mainframe Solutions – has been declining for the last couple of years. But this decrease has been offset with rising revenues from its Enterprise Solutions. Moreover, before the acquisition announcement, CA Technologies had been trying to shift its model from perpetual licenses to SaaS and cloud models. As Broadcom moves ahead with onboarding CA Technologies' offerings, it will gain access to downstream revenue opportunities as it will be able to provide customers a broader solutions portfolio.
The Way Forward
The size and opaque intent of this deal have evoked myriad market reactions. With Broadcom taking an assertive stance to expand into the fragmented infrastructure software market, increase its total addressable market, and capitalize on a recurring revenue stream, we wouldn't be surprised to see it forging partnerships to propel the software solutions business it acquired from CA. Additionally, this deal will probably not face the same regulatory hurdles that ended up derailing Broadcom's US$117 billion takeover bid for Qualcomm.
As Broadcom broadens its portfolio from beyond its core semiconductors business, it is laying down a marker and taking meaningful steps to build an enterprise infrastructure technology business. This aligns well with the collapsing enterprise infrastructure stack. But the question is – will CA's largely legacy dominance be enough to propel this turnover in the digital transformation era?
While uncertainty about business synergies looms over this proposed acquisition, it will be interesting to monitor how Broadcom nurtures and aligns CA's enterprise software business in its broader go-to-market strategy.