The new technologies sweeping the market hold great promise of competitive advantages. But there's a disturbing trend occurring in the services sales process for these technologies that poses a risk for buyers. Look out for providers talking about cloud, mobility, big data, the Internet of Things, and social in the same breath as SaaS/BPaas, automation, robotics, and artificial intelligence. Providers that jumble these technologies together as though they are homogeneous really don't understand the implications of what they're trying to sell you. They're basically throwing mud against your wall and seeing what sticks.
The possibilities with all of these technologies are exciting, but they have distinctly different impacts on the buyer's business.
As illustrated in the diagram below, we can bucket one class of impacts as those that create new business opportunities. They provide new types of services that enterprises can use to change the composition of their customers or provide different kinds of services. For example, the Internet of Things holds enormous promise around allowing enterprises to provide a completely different class of services to their customers. In mobility and social technologies, the digital revolution holds the promise of changing the way businesses interact with their end customers.
Changing technology opens up new opportunities but also creates strategic challenges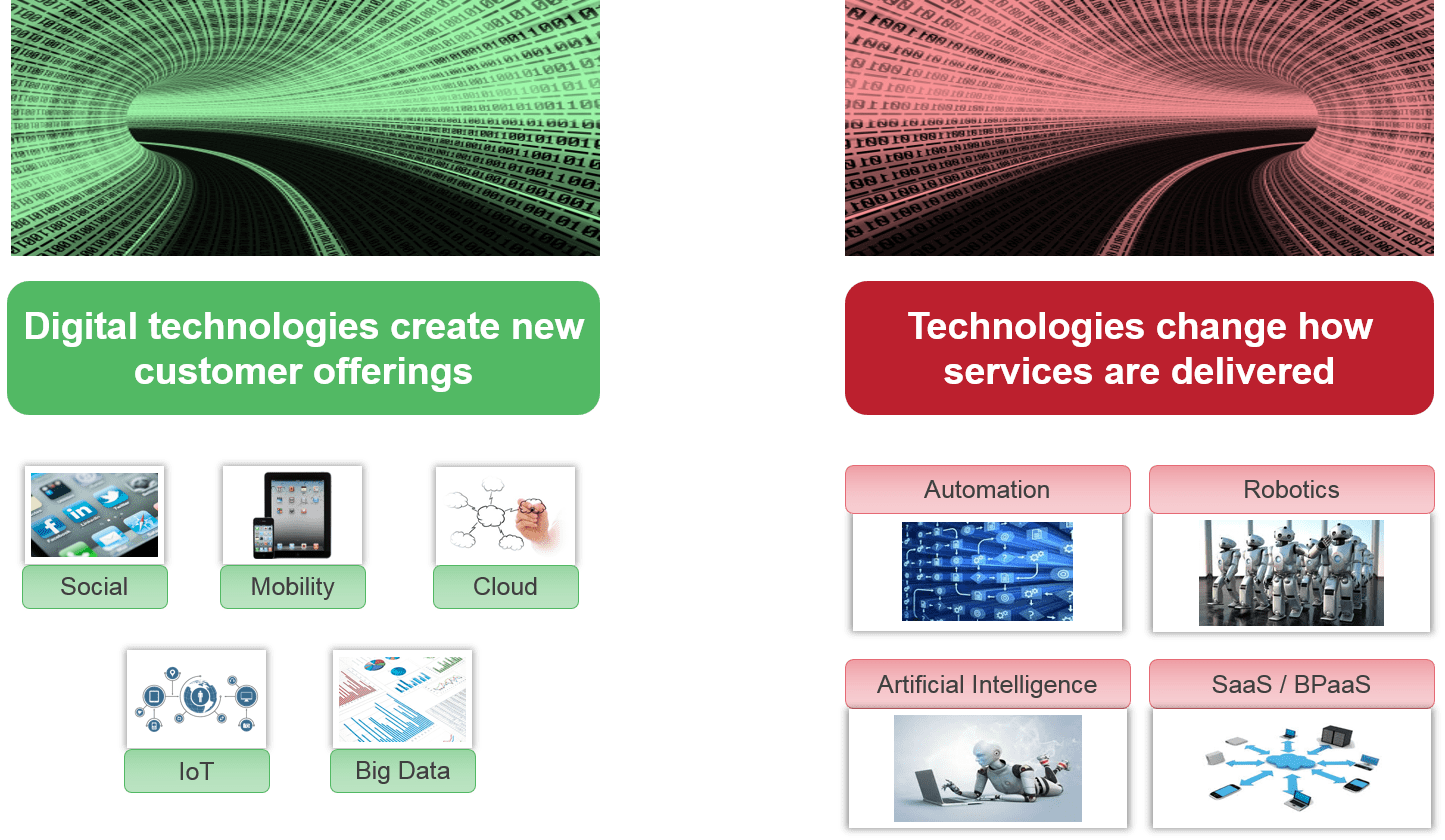 The second class of new technologies (Saas/BPaaS, automation, robotics, and artificial intelligence) changes how services are delivered. For example, SaaS takes a functionality that was available but delivers it through a different mechanism. Automation and robotics changes the way service is provided by shifting from FTE-based models into an automated machine-based delivery vehicle.
The two buckets of technologies have different value propositions. The first class of technologies (cloud, mobility, big data, IoT, and social) are about getting new and different functionality. The impacts in the second class are lower costs and improved flexibility and agility. Each class of technologies has different objectives and value propositions and thus needs a different kind of business case. Buyers that mix these technologies together in a business case do themselves substantial disservice.
The way you need to evaluate the two distinct types of technologies (and providers offering them) is completely different. A provider that recognizes that automation, robotics, and SaaS are about changing the nature of delivery will have a much more thoughtful conversation with you and build its value proposition around flexibility, speed, and quality of service and cost.
A provider that recognizes the impact of mobility, cloud, big data, and the IoT technologies will talk to you about a value proposition around standing up exciting new capabilities, creating new offers and changing the conversation with your end customers.
So, buyer beware. If you're talking with a provider that mixes these technologies' distinct value propositions together, you're dealing with a provider that really doesn't understand what they're offering.
---
Photo credit: Flickr