Exponential growth is expected in process mining market as client base expands across industries, geographies, buyer sizes
Process mining—which is the technique of using software to discover and map business processes in order to optimize and automate them—is an emerging market, growing at around 60-70% between 2019 and 2020 to reach a total market size of $320-$340 million.
Everest Group reports that the client base for process mining is rapidly expanding, driving revenue growth in the market. Even in the pandemic hit year, the client base experienced impressive growth at around 60%. Going forward, Everest Group predicts adoption will accelerate across market segments, buoyed by an increasing awareness of the technology, growing use of process mining as an enabler of digital transformation, and snowballing word of mouth of early adopters' success stories. Everest Group estimates that the process mining software market will triple between 2020 and 2022.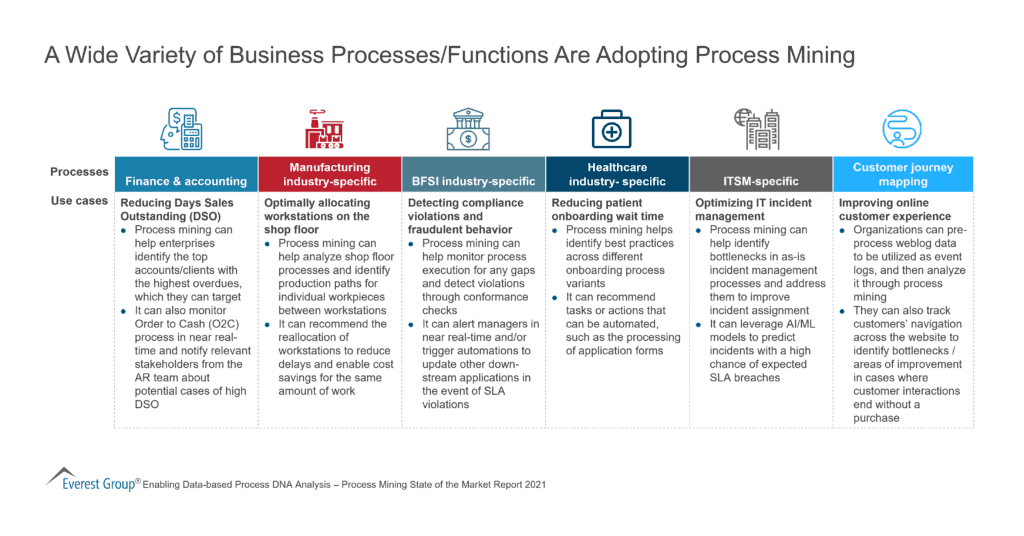 Classic process mining leverages specialized algorithms to analyze process-related information captured in event logs generated by enterprise systems such as ERP, CRM, and SCM to discover processes and generate process insights at a macro level.
Desktop process mining refers to the ability to capture and analyze keyboard, mouse, and potentially other system-level activities performed across multiple users involved in a process to virtually reconstruct the processes and provide process insights at a micro level.
Hybrid process mining refers to the ability to combine information from both event logs and user activities for a holistic view into as-is processes; it is carried out across both macro- and micro-levels.
While the need to optimize operations continues to be the most important factor driving process mining adoption, enhancing customer experience has emerged as the second key adoption driver because of the role process mining plays in mapping customer journeys to identify and address customer pain points.
These findings are discussed in more detail in Everest Group's recently published report "Enabling Data-based Process DNA Analysis: Process Mining State of the Market Report 2021." The report includes a detailed view of the current state of the market and analyzes it across various dimensions, including market size and adoption trends, buyer satisfaction, product capabilities and trends, solution characteristics, vendor landscape, challenges to process mining adoption, and the outlook for 2021-22.
Market Highlights:
Currently 86% of the revenue generated in the process mining market comes from software licenses, with most vendors offering cloud-based access.
Continental Europe holds the lion's share of the market (48%) while North America accounted for the highest growth rate (90-95%).
Manufacturing; banking, financial services, and insurance (BFSI); and the healthcare industries are among the leading adopters of process mining solutions, accounting for more than 50% of the market share.
Celonis, Minit, Software AG and UiPath are the top providers in terms of process mining software revenue.
***Download a complimentary abstract of the report***
About Everest Group
Everest Group is a research firm focused on strategic IT, business services, engineering services, and sourcing. Our clients include leading global companies, service providers, and investors. Clients use our services to guide their journeys to achieve heightened operational and financial performance, accelerated value delivery, and high-impact business outcomes. Details and in-depth content are available at http://www.everestgrp.com