This is one blog of many that explore a range of topics related to COVID-19 issues and will naturally evolve as events unfold and facts reveal themselves. The blogs are in no way intended to provide scientific or health expertise, but rather focus on the implications and options for service delivery organizations.
These insights are based on our ongoing interactions with organizations operating in impacted areas, our expertise in global service delivery, and our previous experience with clients facing challenges from the SARS, MERS, and Zika viruses, as well as other unique risk situations.
Every day, new and more rigid social distancing and quarantining measures are put in place to address growing global concerns over COVID-19. The rising number of people under lockdown around the world is leading to huge shifts in customer demand, behavior, and expectations.
Some industries are being hit harder than others. For example, travel and hospitality is struggling with huge drops in revenue while trying to meet skyrocketing customer service demands for cancellations and date changes. Demand for luxury goods is declining as consumers cut back their consumption. E-commerce is booming with in-store shoppers moving to home delivery. Supply chains are under pressure, and healthcare is transforming with increasing adoption of telemedicine.
Near the end of 2019, we conducted a market survey on key enterprise issues and enterprises' global services plans for 2020. As you see, survey participants believed customer experience (CX) would be their top priority investment area even if the economy weakened.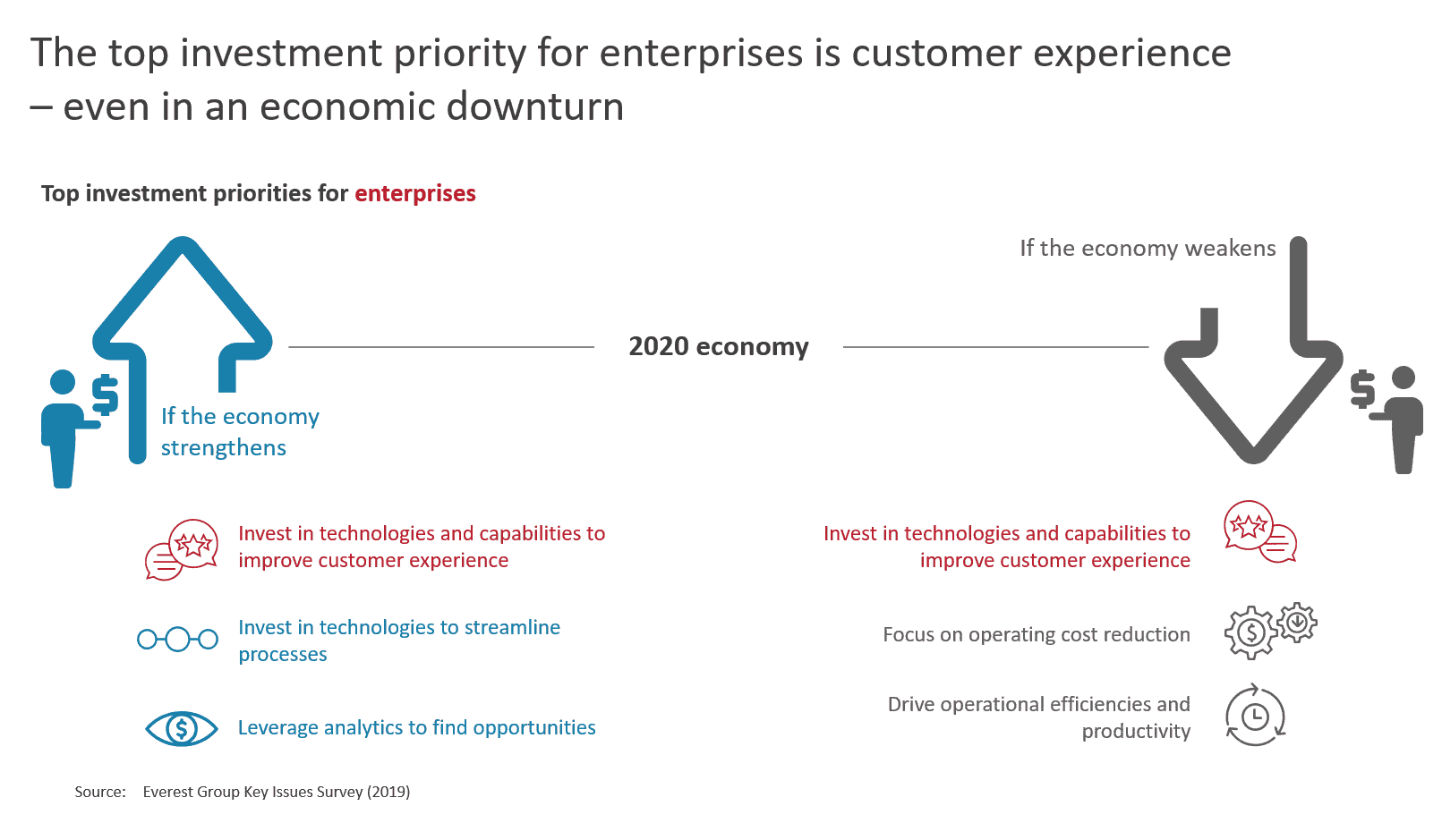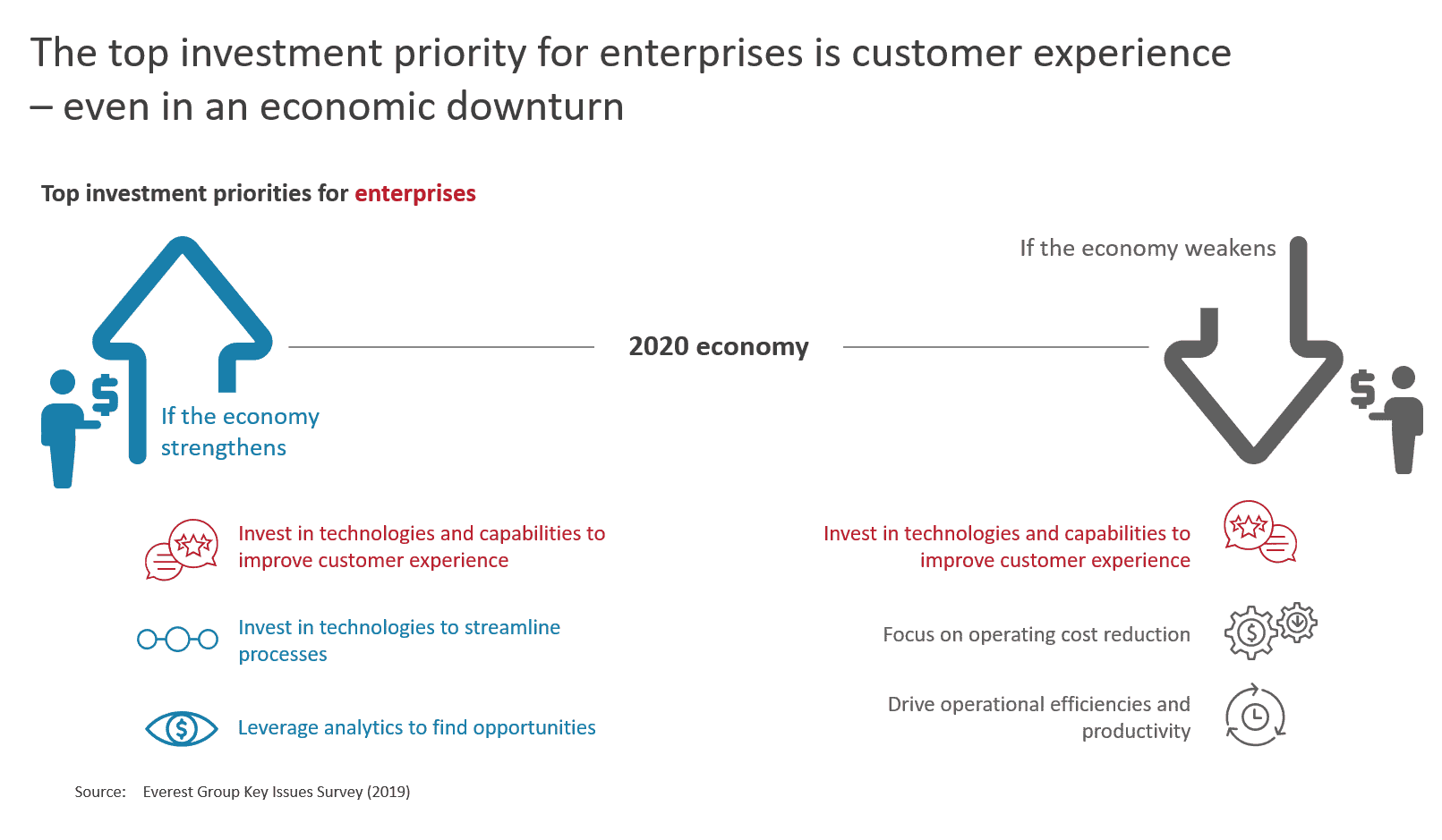 It's true that the severity and impact of COVID-19 is higher than what organizations expected when they thought about a possible economic downturn. But we believe that enterprises that continue to focus on their customers and invest in CX have an opportunity to emerge after this crisis abates with a running start.
And one of the key levers they should pull to help satisfy their customers' needs and expectations is their customer-facing talent.
Work-at-home agents
With the health and safety of the agent workforce top of mind, organizations and their contact center leaders, across industries and geographies, are leveraging the work-at-home agent (WAHA) model as an immediate response to the COVID-19 crisis. Social isolation edicts mean that agents can no longer report to work at brick and mortar centers, so enterprises and service providers alike are scrambling to ramp up their work-at-home capacities, asking their existing brick and mortar agents to keep the lights on by working from home. Understandably, they're facing multiple challenges while ramping up, including procuring laptops and headsets, moving desktop computers from centers to agents' homes, ensuring security and compliance measures, and training and upskilling agents for a work-at-home environment.
Enterprises and contact center providers that are outperforming their peers in transitioning their agent workforce to a work-at-home model are excelling in three areas:
Level of preparedness: Organizations with experience and protocols around WAHA operations, access to prospective agents, and requisite technologies have been able to cope with the transition better than others
Foresight and planning: Organizations that reviewed the COVID-19 outbreak statistics regularly and worked with their partners to understand agent availability, technology, and environmental constraints were much better positioned to react appropriately and plan for the transition
Speed of execution: Organizations that have been able to make the swift decision to migrate to a work-at-home delivery model (even if the model did not exist in their business previously), work with government agencies to obtain necessary sign-offs and waivers, and develop out-of-the-box solutions to challenges during the transition have had greater success in delivering CX consistently during these uncertain times
Accessing more talent
Organizations may well need more agents to help them deliver the best CX during this pandemic. And because the economic downturn is displacing a lot of people, particularly in service-oriented jobs, there's an opportunity to access a large pool of newly available talent. This gig economy-oriented model matches the needs of millennial customers and employees who are digitally-savvy and belong to the "anywhere, anytime" philosophy toward which the world seems to be moving rapidly.
While global economies are grinding to a halt, some businesses will come out of this crisis better than others. During this period of extreme uncertainty, companies that take speedy action to adopt flexible staffing models and shift to newer ways of working are more likely to succeed.
In subsequent blogs, we'll be discussing other levers that organizations need to adopt to drive sustained success, such as digital channels, self-service, and chatbot solutions.
In the meantime, take a look at a replay of our recent webinar "Coronavirus – Beyond Hand Sanitizer: Mitigating Business Impact and Uncovering the Positive."
Visit our COVID-19 resource center to access all our COVD-19 related insights.