Since the start of 2015, we have had the opportunity to speak with a wide range of old friends, new acquaintances, and industry contacts – and spanning across enterprises, services providers, technology providers, academics, and consultants. Almost without fail, the topic of robot process automation (RPA) comes up. Most of the discussion aligns with the thinking in our report from last October (Service Delivery Automation (SDA) Market in 2014 – Moving Business Process Services Beyond Labor Arbitrage), but some goes deeper and adds fresh new colors.
In this blog we offer a quick summary of recent observations from these dialogues. Although these points are an amalgamation of many conversations, a few bear mentioning specifically. Mihir Shukla (CEO of Automation Anywhere), Lee Coulter (CEO of Ascension Health Shared Services), and Gianni Giacomelli (SVP Product Innovation/CMO at Genpact) debated the trends in disruptive technologies, particularly automation, at a recent SSOW event in Orlando. Additionally, Matt Smith and Dan Hudson – formerly leading Virtual Operations North America, now in Cognizant's RPA group – spent some time explaining how their views have evolved as they have gone from advising service providers to actually working for a provider. We also spent time speaking with a number of enterprises with process improvement programs that are utilizing robotic process automation, plus conducted a recent webinar with Telefónica about automation.
Viability of RPA
RPA is a "no regrets" move that essentially guarantees results. Beyond the somewhat obvious fact that it can generally deliver savings quickly, it is also flexible. Unlike many decisions in global services, the approach, priorities, and tactics can all evolve fairly rapidly without having to take major steps back because the automation routines are not fixed and are designed to be changed. In this way, it is closer to how small applications outsourcing projects are simple compared to large infrastructure agreements with multi-year terms, which are complex and hard to reverse transitions, etc.
For automation-friendly processes of 8 or more FTEs, 40% savings is a reasonable expectation. Sometimes it is less but can also often be more. As a result, ROIs of new initiatives are measured in quarters, not years.
Although the cost savings is nice, the predictability and rigor from automating complex, but rules-based processes can add tremendous value. It makes knowing that operations are under control much easier. Plus, the benefits of reduced errors and delays can be a huge positive–truly value beyond cost savings.
Rate of adoption of RPA
Although initial processes can be implemented in several months or quarters, it requires two to three years to implement and reach significant penetration of processes across an organization.
There is a surprising degree of organizational inertia to not look seriously at RPA or go slowly. As a result, our view is that it will take five years to penetrate most of the market – despite being a fairly simple, almost no-brainer approach.
As an illustration of the pace of adoption, consider the exhibit below from our recent webinar on service delivery automation. RPA is making inroads into FAO renewals and new deals. However, notice that only 12-28% of recent deals are including RPA. Given that most of those are 4-5 year terms plus others immediately preceding them had even lower rates of RPA inclusion, this means that 3-5 years from now deals signed without RPA will be coming up for renewal…and it will still be the majority of the deals hitting the market without RPA. Once we see the deals per year with RPA cross 50%, the rate of change in the market will be noticeably faster. The wildcard, of course, is how many of the deals being signed now without RPA will be restructured during the term of the deal to include it – this will happen, but the rate is not yet clear.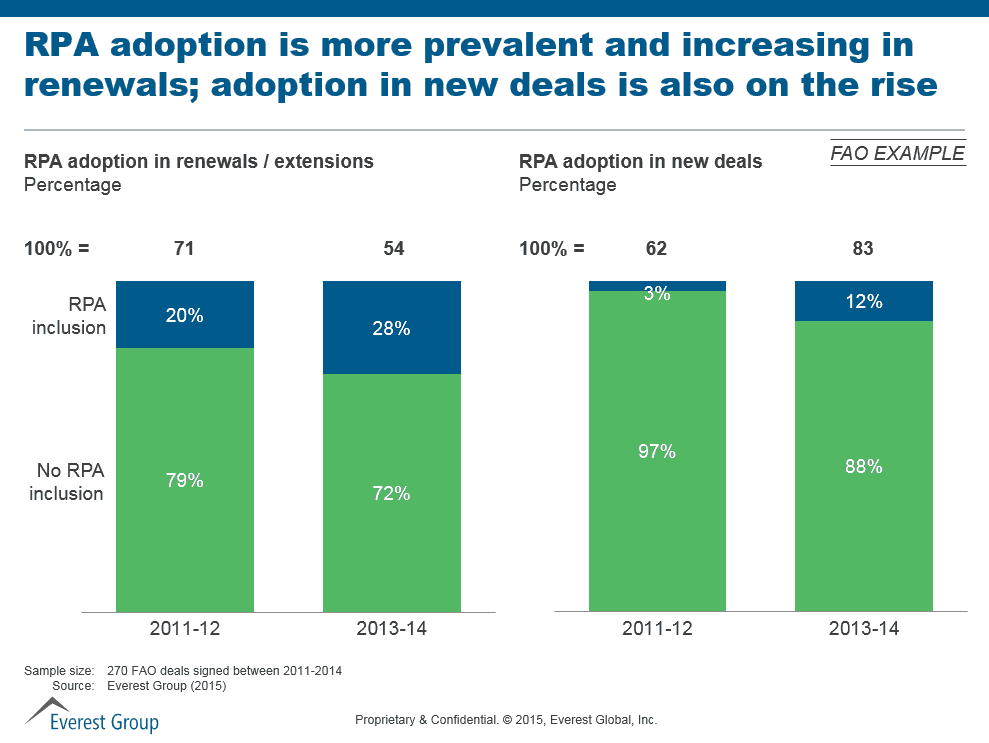 Technology models for automation
No single tool can do everything and it is a matter of building the right portfolio of options. Further, even if a tool tried to do everything, the market would likely be reluctant to select it due to fear of lock-in.
Interestingly, we are seeing more proprietary tools by service providers coming into play. This is not to say that the commercially available tools aren't effective – they are, but rather that providers are experimenting with making their own investments to avoid licenses fees and to create the operating model they desire. In fact, there is a general feeling that some of the proprietary tools have functionality not found in the commercials tools (and vice versa), such that we may be entering an arms-race for innovation in automation tools. Might this even lead to service providers being willing to license their proprietary tools without also providing accompanying services? Time will tell, but this would seem to be a compelling way to attract and retain clients with a differentiated offering while spreading investments across a larger base of users.
At this point, those organizations electing to utilize outsourcing appear largely comfortable allowing their service provider to select and provide the relevant tools (results-oriented mindset). Those enterprises wanting to select their own tools, tend to shy away from an outsourcing model anyway.
In case you missed it, we recently released some additional information on automation and technology in business process services:
---
Photo credit: Flickr