Over the years, Mexico has become an attractive nearshore delivery location for U.S. enterprises and service providers. But two significant potential challenges may impact its popularity.
NAFTA
To boost economic ties, Mexico, Canada, and the United States entered the North American Free Trade Agreement (NAFTA) in 1993. However, NAFTA critics argue that it has resulted in job losses and suppressed wages in the U.S., and encouraged illegal migration of workers from Mexico into the U.S. The Trump administration is considering withdrawing the U.S. from NAFTA due to 'protectionist' measures, i.e., those that are in the interest of U.S. domestic market.
The proposed outsourcing tax/Border Adjustment Tax (BAT)
To further promote and create jobs in the U.S., President Trump has proposed incentivizing companies to make goods domestically by adding a tax – an outsourcing, or border adjustment tax (BAT) – on companies that import goods and services from other countries. He has floated the idea of 20-30 percent BAT on imports.
While the actual impact of impending renegotiations on NAFTA and potential implementation of the BAT on Mexico as a nearshore service delivery location is yet to be seen, Everest Group conducted research to determine the likely short-term effect of these developments on the IT-BP industry in Mexico. Following are snapshot findings from our study.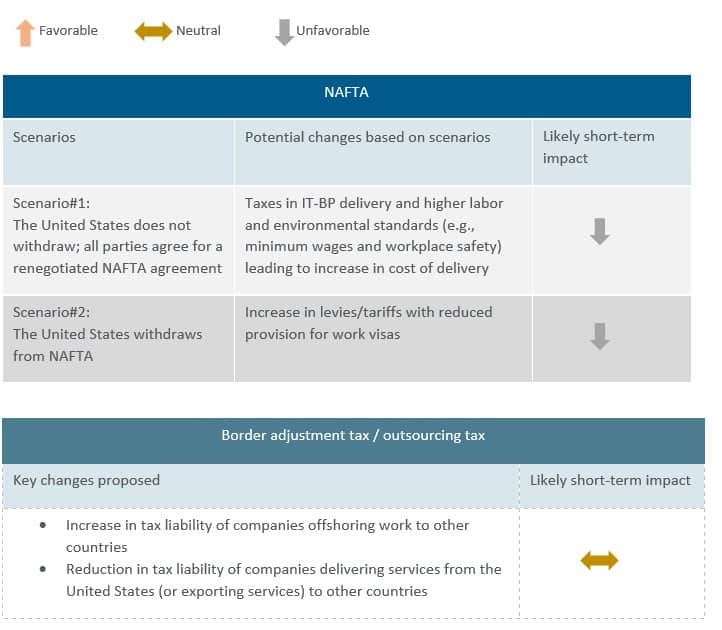 Further, while there are multiple alternative locations in Latin America available to U.S. enterprises, very few offer a significantly better cost-talent proposition than Mexico. Thus, even in the likely scenario of NAFTA revocation, Mexico is not likely to lose its sheen as an attractive nearshore location for IT-BP service delivery for U.S.-based organizations.
Although there are no favorable indicators in the short-term, there have been no knee-jerk reactions from firms leveraging Mexico for service delivery. We believe the country's medium- to long-term outlook continues to remain positive for IT-BP services delivery.
For more detailed findings, please read our report: "Mexico IT-BP Services Viewpoint."