Everest Group regularly supports clients in developing fact-based business case models to assess all relevant costs and benefits associated with their service delivery portfolio and delivery location decisions.
Not surprisingly, we've seen an increase in this type of activity in the last several years due to technology disruptions, potential immigration reform laws, intensifying competition for talent, and macroeconomic and geopolitical uncertainties. We've also seen an increase in the number of faulty/incomplete business cases that, if unresolved, can result in unnecessarily high costs and less than expected benefits.
Six common mistakes enterprises make when creating their global service delivery location business cases.
#1 Clarity on the primary objective of the business case:
Establishing clarity on the key objectives of the business case for service delivery location selection is of utmost importance. Companies often include benefits of other initiatives (e.g., transformation) which may impact their overall locations footprint, but fail to include costs associated with these initiatives, resulting in a faulty business case. As business case assessment is typically done for long-term strategic decisions, it is critical to ensure clarity on the locations strategy and implementation roadmap under consideration.
#2 Underestimating the costs of "what it takes to get there":
Companies often underestimate the costs associated with exiting their current location (e.g., lease termination and severance costs); disruption in their existing locations (e.g., loss of knowledge due to higher than expected attrition); migrations (e.g., employee relocation, technology migration, parallel/shadow run); and set-up of new centers (e.g., capex, cost of hiring and ramp-up, training costs, etc.)
Example: A global Financial Services company had a 12-month long shadow/parallel run to effectively complete knowledge transfer for high complexity processes. This negated most of the arbitrage-related benefits for the initial 12-18 months. In fact, the company incurred relatively higher total cost of operations (TCO) until steady state operations was achieved.
Example: In a recent engagement, the location selection for a Latin American client's shared services center was greatly influenced by applicable withholding taxes (i.e., the Argentinean government levies a ~31.5% withholding tax on import of global services from certain locations such as Mexico). These factors significantly impacted the relative cost attractiveness of locations under consideration.
#3 Overestimating benefits:
Companies often plan multiple transformation and optimization initiatives in parallel with changes to their services delivery portfolio. In such cases, things seldom pan out as planned, and the savings achieved are significantly lower than expected in areas including:
Headcount reduction from process improvements
Delivery pyramid optimization
Implementation of automation/technology solutions
Economies of scale (in cases of location consolidation)
Optimization of management and administrative overheads
Example: A BFSI firm changed its planned strategy midstream, as its initial plans to fund the business case for large scale service delivery location consolidation by reducing FTE headcount by ~ 6,000 could not be realistically achieved.
#4 Stakeholder misalignment:
A service delivery location decision must involve multiple stakeholders including onshore business leaders, offshore delivery leads, functional and GIC leaders, migrations and/or transformation teams, corporate real estate, and technology teams. Any lack of coordination among these stakeholders can pose challenges in alignment on data used, key assumptions, the roadmap for service delivery portfolio changes, and the plan for other transformation/optimization initiatives. All stakeholders must be kept in the loop from the beginning of the location evaluation, and they must periodically periodic sign-off on the approach.
#5 Industry benchmarks:
While it is important to leverage industry benchmarks, companies must contextualize information to their own unique situation. The specificity of operations or the role a location plays for the company can be different from the typical value proposition of that location/geography.
Example: A recent engagement for a global Financial Services client demonstrated that, despite industry benchmarks that indicated Location A offered ~20 percent cost savings over Location B for typical BPO processes, the client's specific processes and talent needs reversed the cost attractiveness of the two locations.
#6 Talent competition in the local market:
Companies often underestimate the true extent of competition in the local talent market, and the impact of attrition on sustainability of their operations. This impacts a company's ability to scale initially, retain talent, and back-fill lost staff.
Example: A global manufacturing company faced significant challenges in hiring language skills for its newly setup shared services center in the APAC region, resulting in significantly lower arbitrage savings than expected.
While developing business cases models can be a significant challenge, we believe that addressing the above-mentioned points can reduce chances of error significantly. Learn more about Everest Group's Service Delivery Locations practice.
With the uncertain political situation in the Philippines and the comments President Duterte has made about distancing from the United States militarily to align closer to China and Russia, many are concerned about what this means for the relationship between the Philippines and the U.S. And rightfully so – this would be a major shift, and over time could be a cause for concern.
At the same time, the Philippines has been quick to point out that the commercial and social relationships between it and the United States are very strong, and that it wants and expects those to continue.
And therein lies an important point… a rebalancing of military relationships does not automatically lead to poor commercial and social relationships between countries.
In a quick exercise to demonstrate how countries can have a variety of types of relationships with the United States, I did a super simple comparison of several military and social dimensions in the graphic below. In addition to the Philippines, I chose India, Malaysia, and Turkey to represent a cross-section of countries near Russia and China that have some level of meaningful connection to the United States. Turkey is a member of NATO, India is a major trading partner for services and goods, and Malaysia is an interesting mix of relations with China and the U.S. (not to mention the Malay flag looks very similar to the United States flag).
I looked at language, religion, sports, and use of NATO-sourced fighter craft (both trainers and actively deployed.) Those without NATO-sourced fighter craft tend to attain theirs from Russia or China. Most countries not in NATO and near Russia have some mix of fighter aircraft.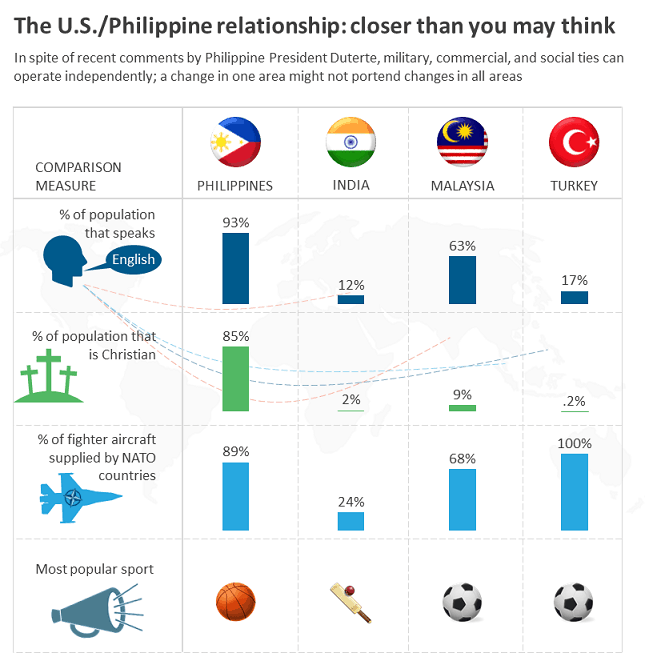 Based on this very simple comparison, many in the global services industry might be surprised to see that India appears to be the least well-aligned to the U.S. on most dimensions. In particular, India depends primarily upon Russia for various types of military equipment, beyond just aircraft, and India is an important export market for Russia.
By contrast, the Philippines is very closely aligned to the U.S. on all dimensions, which explains why the average Filipino has a hard time with the concept of weakened commercial and social ties to the U.S.
Time will tell what actually happens. But we should all remember that military, commercial, and social ties can operate somewhat independently. Relationships between most countries are complex and multi-faceted, so a change in one area may be slow to impact the overall relationship.