Oracle held the European edition of its flagship event, OpenWorld, in London recently. Against the backdrop of cloud wars, leadership changes in the ecosystem (Mark Hurd's untimely demise and the change of guard at SAP), and blazing growth by hyperscalers (the two boutique firms in Seattle), the market is keenly watching what Oracle has in store.
Here are my take-aways from the event.
1. Cloud FOMO: Oracle is investing heavily in its datacenter footprint and expects to have 36 regions by the end of the year, with a datacenter opening every 23 days. It claims it will have more regions than AWS by the end of 2020.

This is turning out to be a common trend among hyperscalers and cloud vendors, creating an asset bubble. Capital spending is at an all-time high, as the exhibit below shows. Will this create further price wars and overcapacity in the market? Only time will tell.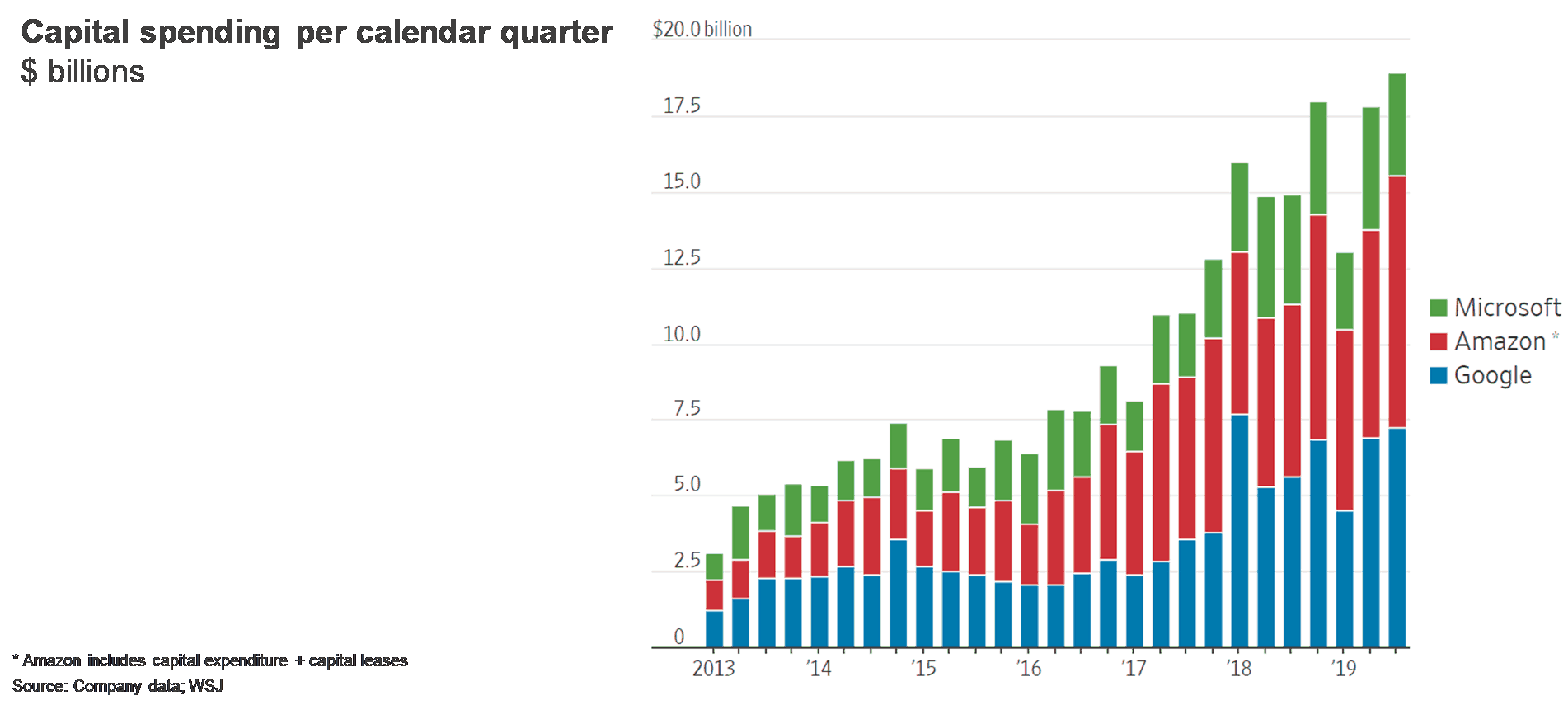 2. Doubling down on data: Oracle announced a slew of initiatives aimed at infusing data and, to a lesser extent, AI across its offering stack:
Expanded DataFox's data pool across AI and managed data. Oracle acquired DataFox in 2018 because of its sizable data assets covering ~2.8 million public and private businesses to enable predictive decision making. Now, DataFox natively integrates across the Oracle SaaS stack, sourcing over a billion data points annually to improve the data quality of Eloqua and Sales Cloud as well as third-party applications.
Launched a new Oracle Cloud Data Science Platform to build and deploy AI and ML models.
Expanded its Autonomous Database offering to support the integration of algorithms within databases and added new ML capabilities, with support for Python and automated ML.
3. Ecosystem bets in a multi-cloud world are crucial: Oracle is now sharpening its focus on partnerships and the ecosystem to compete in the multi-cloud environment – this is on the back of its Azure and VMware partnerships. With Microsoft Azure, it announced a new interconnect facility based in Amsterdam. Because Amsterdam is a crucial European datacenter location and hub for Oracle, this facility will help companies in the region share cross-application data and move on-premise workloads to the cloud, according to Oracle.
4. Cloud interoperability – are we there yet?: With Google Anthos and Azure Arc, interoperability is back. While the partnership with Azure did highlight some degree of interoperability progress, I didn't see enough. This is likely a prickly concern for enterprises as cloud vendors start erecting their own walled fortresses, hindering true interoperability. We have opined on cloud interoperability before, and it's going to be a key issue for the ecosystem to solve over the next 18-24 months, especially as the cloud-native conversations gather momentum.
5. The dawn of the new CEO mindset: One of the highlights of the event was a client showcase. The CEO of Italian coffee major, illycaffè, Massimiliano Pogliani, spoke to Oracle CEO Safra Catz about a critical aspect of modern business – the changing role of the new CEO. He described it as being the activator of collective intelligence across the organization's human capital. He also described his company's mission around three themes: good (product obsession), goodness (sustainability), and beauty (the experience.) We are seeing greater recognition by some forward-looking CEOs of their purpose and impact, including Novartis CEO Vas' focus on the journey to unboss and Salesforce chief Marc Benioff's call for a new type of capitalism.
 The cloud landscape is becoming very interesting as all segments attack the opportunity: hyperscalers continue to invest in expanding their datacenter footprint; enterprise platform providers are focusing on verticalization (e.g., ServiceNow under Bill, Salesforce acquiring Vlocity); and system integrators are trying to keep up with the massive implementation opportunity while battling a talent shortage. We are going to see share shifts as these changes gather steam.
From an enterprise perspective, the cloud conversation is now veering toward journey-in-the-cloud versus journey-to-the-cloud, aka lift-and-shift. This shift is bringing total cost of ownership (TCO) back into the picture. We are in for interesting times ahead.
What's your take on today's cloud wars? Please share your thoughts with me at [email protected].