Digital Adoption Platforms (DAP)
Enterprises are increasingly evolving into digital-first businesses to remain competitive and future-ready. However, realizing value from digital transformation efforts can prove challenging when users lack the necessary training and resources to effectively utilize new technologies. In this context, organizations are turning to Digital Adoption Platforms (DAPs) as powerful tools to bridge the gap between technology and users, ensuring seamless adoption and learning of digital tools.

The DAP market grew steadily in 2022 due to increased demand from enterprises and significant investments by providers in enhancing their product capabilities. As the DAP market continues to mature, it is expanding its scope beyond adoption to address a wider range of business use cases such as change management, optimized software spending, data integrity, enterprise-wide search, and enhanced customer and employee experiences.

What is in this PEAK Matrix® Report
In this report, we evaluate 23 DAP technology providers based on their DAP products, vision & capability, and market impact and position them on Everest Group's PEAK Matrix® as Leaders, Major Contenders, and Aspirants. The research will help buyers select the right-fit technology providers for their needs, while DAP providers will be able to benchmark themselves against each other.
In this report, we provide:
Everest Group's PEAK Matrix® evaluation of DAP technology providers and their positioning as Leaders, Major Contenders, and Aspirants
The competitive landscape of the DAP technology provider market
Key enterprise sourcing considerations
Providers' strengths and limitations
Scope:
All industries and geographies
Related PEAK Matrix® Assessments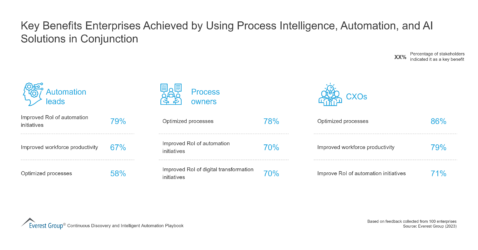 Key Benefits Enterprises Achieved by Using Process Intelligence, Automation, and AI Solutions in Conjunction
What is the PEAK Matrix®?
The PEAK Matrix® provides an objective, data-driven assessment of service and technology providers based on their overall capability and market impact across different global services markets, classifying them into three categories: Leaders, Major Contenders, and Aspirants.