Countries across the world are currently grappling with and adjusting to macroeconomic and regulatory changes, the slowdown in ITO-BPO industry growth, and increasing concerns about the availability of relevant talent.
Business Process Enabling South Africa (BPESA) – which operates both as a specialist investment promotion agency for BPO, and as a national trade association and networking body for the industry, with a mandate to create jobs in South Africa – recently took a proactive approach to addressing these issues by collaborating with Everest Group to develop South Africa's value proposition.
The Present
South Africa's IT/BPS sector has grown exponentially over the past five years at a rate of ~22 percent – much higher than the global growth rate. Its value proposition for the industry has been closely linked with traditional English contact center delivery, mainly due to availability of talent with high levels of empathy with the end-customer. This remains its key strength and has evolved to provide a more multi-/omni-channel experience for customers. Concurrently, the rest of the IT-BP industry in the country has also evolved to provide a wide array of services that have spawned from its traditional strengths.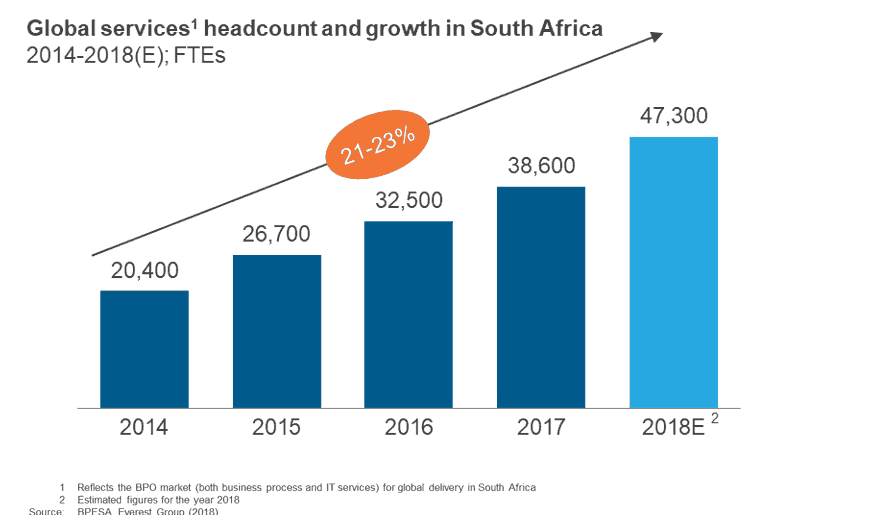 Take the banking sector, for instance. This has been one of the major areas of domestic growth in South Africa. And international companies are increasingly following suit by creating global delivery teams in the fields of asset management, life insurance, and fund accounting processes to service Australia, the U.K., and the U.S. from South Africa. Similarly, in the legal sector, South Africa has carved a niche for itself for contract drafting and management and document review work.
South Africa's IT sector is providing some interesting solutions which are akin to digital services being delivered from more mature geographies. More than 60,000 students graduate with IT, engineering, and related degrees every year. This talent pool has proved valuable for major industry players. For example, Amazon developed its AWS cloud platform in Cape Town in 2005, and Accenture recently built its Liquidity Studio – which caters to providing client experience on disruptive technologies such as artificial intelligence, blockchain and cloud – in Johannesburg. Analytics is another function which draws stimulus from the contact center industry. Technology start-ups in this space are developing prediction models/algorithms to determine customer behavior; such sentiment analysis is proving to be valuable for upselling and renewing contracts with clients.
The Near Future
While South Africa will continue to be one of the primary locations of choice for English contact center delivery, it will also build capabilities in IT and more unique areas. It has already started to do so in the field of Edtech (such as offering gamified training) and providing English-language training to countries across multiple time zones. It is an exciting time for the IT-BP industry, and South Africa is well-positioned to cater to worldwide markets and create a unique proposition in companies' global services portfolio.
Click here to get our detailed report on the evolution and growth of the BPO sector in South Africa, and an investor's guide to South Africa's competitiveness with other offshore/nearshore service delivery locations.