I experienced three pleasant surprises at last week's Healthcare Information and Management System Society (HIMSS) conference. They were all about a perfect storm that is building to correct all that has been wrong in the digital healthcare space all these years.
Healthcare Companies are Exploring Cures for Their #DigitalHeadache
Payers and providers alike are growing increasingly disillusioned with the outcomes of their digital programs. In fact, 78 percent of the healthcare leaders we surveyed in late 2018 indicated some sort of failure with their digital initiatives, whether big or small. The good news here is that most forward-thinking leaders are going back to the drawing board to redefine their digital strategy. Anthem, Intermountain Healthcare, and New York Presbyterian are great examples of organizations that have taken up the cudgels to fix digital healthcare where it fails – organization and culture.
There's Increased Focus on "Enabling" the Patient Experience
To make the "patient experience" successful, enterprise leaders are taking a step back and focusing their attention on creating experiences for their workforce, clinicians, and partners (e.g., physician group, CMS, government agencies.) Don't get me wrong, patients still need to be at the center of our universe. However, the personas that enable and deliver experience for patients need a fix first.
Innovation is Coming from Unexpected Sources
It was heartening to see the likes of Amazon, Google, Microsoft, and Salesforce steal the march from the big boys in the healthcare tech space – i.e., Cerner and EPIC – in asserting themselves as the technology visionaries in healthcare. Their focus on healthcare microservices is a relief for healthcare executives trying to navigate the "all or nothing" approach of the EMRs.
There is one player that seems keen on reinventing itself: Optum. Through a nimble product and services strategy, Optum is touching upon on all the hot buttons – MLR, analytics, PBM, and claims. Optum is the specialist vendor to watch out for when it comes to healthcare.
Last, but not least, what really took the cake were the innovative and exciting POCs related to clinical AI and visualization that Israel and Ireland – yes, the countries – showcased in their booths. These were some of the most fully baked solutions that I have seen in my 10 years attending HIMSS.
Hence, it's with good reason that I left fairly impressed with the developing ecosystem knocking on the doors of healthcare organizations that are hungry for outcomes.
I will sign off by sharing an illustration from our recent study that analyzed the investments 27 of the leading healthcare payers and providers have made in artificial intelligence (AI), a key marker in the world of digital healthcare. This study objectively analyzed these investments from the perspective of ROI achieved.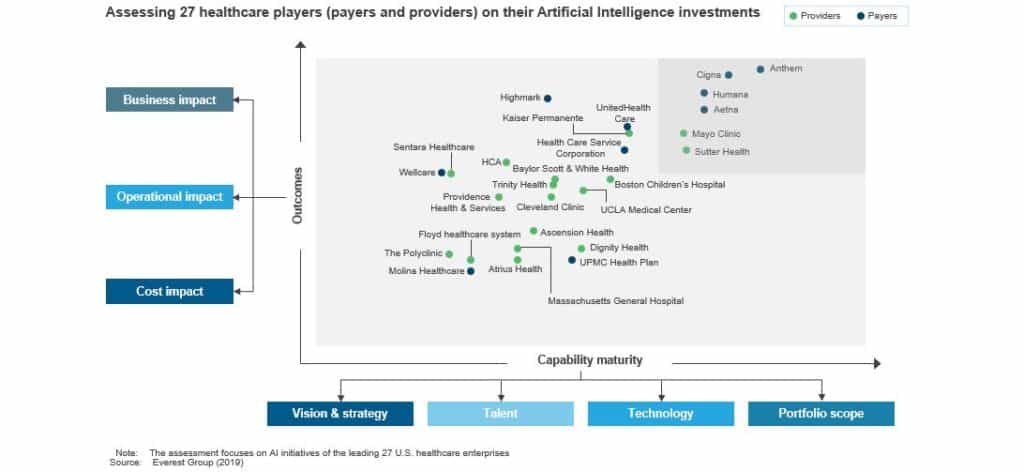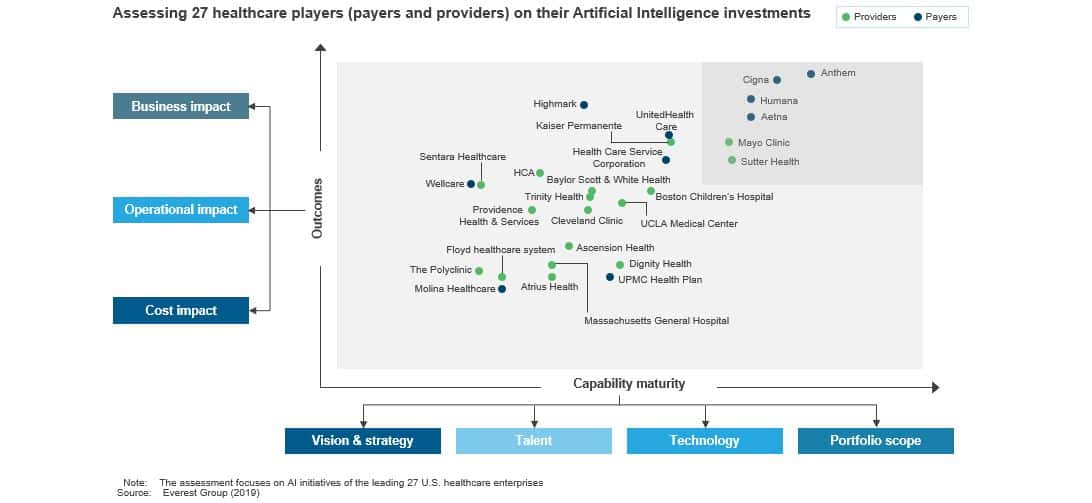 As you can see, there is a wide variance even within such a small sample set of healthcare organizations. FOMO (Fear Of Missing Out) pushed a lot of organizations to invest in the flashy new toy called AI. However, not all of them embarked on their investment journey by first enabling the core components of capability.
The difference between the best and the rest in healthcare is simply this: the ones to get the best ROI – those on the top right – are taking their journey through step functions that enable not only technology but also an organizational culture of innovation.
Please contact me at [email protected] if you'd like to hear more about my take-aways from the HIMMS conference or our study, named "Dr. Robot Will See You Now: Unpacking the State of Artificial Intelligence in Healthcare – 2019."