The contact center industry is changing considerably due to technology enablement. Contact center automation is rapidly becoming a priority as centers increasingly embrace technologies such as artificial intelligence (AI), chatbots, robotic process automation (RPA), and robotic desktop automation (RDA) to handle customer interactions on rote queries like account balances, package tracking, and reservation confirmations.
A similar transformation is also taking place in personal transportation. Advancing technologies and intense competition are driving amazing strides in the autonomous vehicle industry. While cars aren't yet 100 percent self-driving, companies like Tesla are already offering advanced driver assistance solutions that can pretty much take control of driving, albeit with human supervision.
With the perceived nature of each of these two industries, it's easy to assume that contact centers will be fully automated in far less time than the two to three years some believe it will take for autonomous driving solutions to get you from one point to another without human intervention.
However, this is an incorrect assumption.
Indeed, counter-intuitive as it seems, it's much more difficult to completely automate contact centers than it is to automate driving. Why?
Driving involves a large, but still finite, number of scenarios that need to be programmed for. But a contact center environment can throw up potentially infinite unique problem statements and challenges that enterprises cannot possibly predict and program for in advance. Yes, AI helps, but even that can only get you so far. At the end of the day, the human mind's problem-solving ability far exceeds anything that the current or foreseeable technology can offer. And while most people would be more than happy to let robots take over the wheels on the road, they still expect and require human touch, expertise, and judgment for the more complex pieces that usually make or break the customer experience. Technology just isn't sophisticated enough to handle these yet.
The degree of contact center automation that can be leveraged within an industry varies by process complexity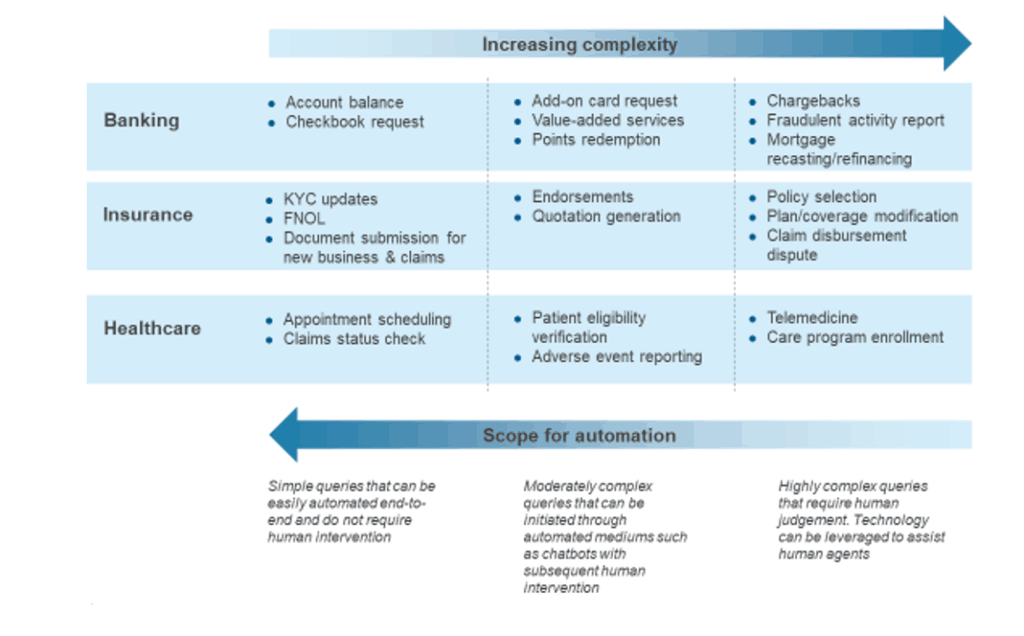 Although technology use in contact centers is in the early stages, we are already witnessing higher agent satisfaction and lower attrition rates in an industry that has one of the highest churns globally. And as robots increasingly take care of customers' simple, straightforward asks, we certainly expect agents' satisfaction to increase.
Of course, agent profiles will continue to evolve as they are required to deal with more challenging and complex issues leveraging machine assistance. This will, in turn, demand greater investments into talent acquisition and upskilling programs.
It will be interesting to see how all of this plays out in the next few years as technology becomes increasingly advanced and capable. The only thing we can say with certainty is that the customer experience of the future will be much more pleasant as irritations like long wait times, inept IVR responses, and repetitive conversations with agents who hold incomplete information become issues of the past…or, shall we say, smaller and smaller objects in our rearview mirrors?