Offshore-heritage service providers' cost arbitrage value proposition served them well in the outsourcing industry's earlier days. But to gain competitive advantage in the digital age, clients' expectations over the past several years have evolved to include value-add capabilities, innovation, industry-specific expertise and skill-sets, etc. In turn, offshore service providers increasingly lost market share to global service providers that made heavy inorganic M&A investments in these areas.
Following the global service providers' lead, many offshore providers took the M&A path to growth. And the results have been astounding. In fact, our Q1 2019 Market Vista report shows that the offshore providers' revenue grew by 8 percent in 2018, as compared to the global providers' 2 percent growth.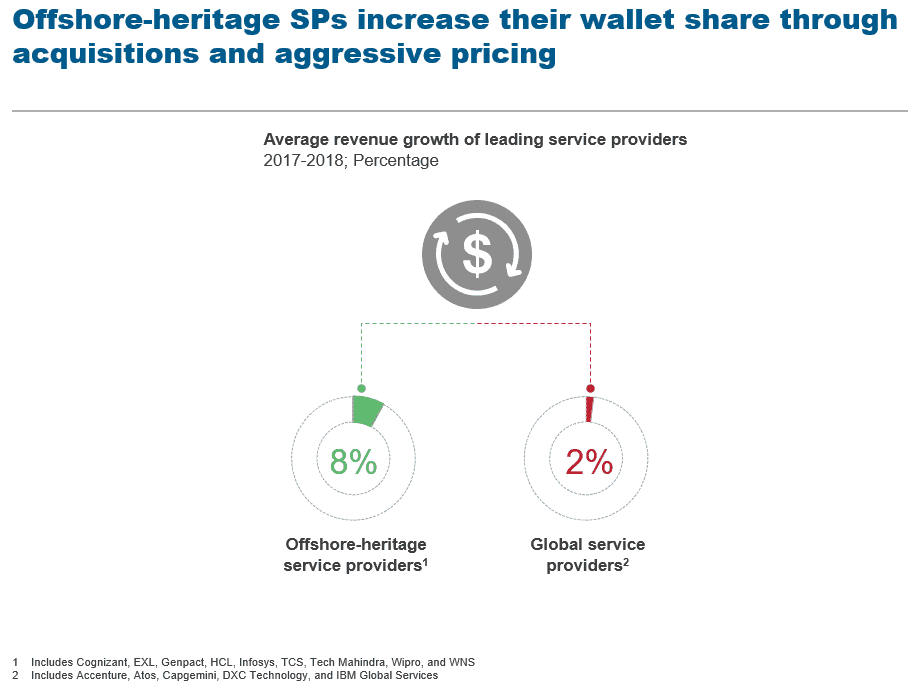 Where have the offshore providers been investing their M&A dollars?
New technological capabilities
Because of clients' digital-oriented mandate, the majority of offshore providers' acquisitions have been to obtain new technological capabilities such as cloud, cybersecurity, analytics, and automation. For example, Wipro in 2018 acquired Cooper, a design consultancy firm, for US$8.5 million to expand its design and digital innovation capabilities in North America. And TCS acquired Bridgepoint Capital to expand its capabilities in the financial services and insurance domain, particularly in U.S. retirement services.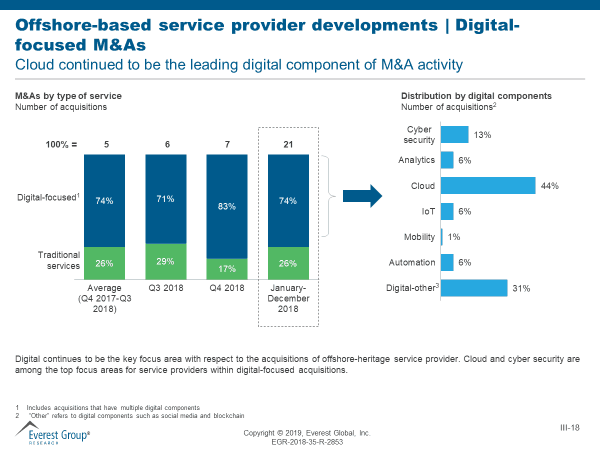 Start-ups
Due to lack of skills and knowledge about these next-generation digital technologies in the general workforce, offshore service providers are acquiring niche start-ups to:
plug gaps in their portfolios
quickly enter domains where sizable language and cultural barriers exist
improve their agility/flexibility
reduce their costs
access stronger and better insights
improve processes.
In fact, our most recent Market Vista report showed that start-ups accounted for as many as 50 percent of offshore players' acquisitions in Q4 2018, compared to 42 percent in Q3 2018.
For example, Cognizant acquired Mustache, a creative content agency start-up, to expand its digital content capabilities by leveraging Mustache's innovative approach to planning, producing, and distributing compelling video content and programming. Infosys acquired Fluido, a Salesforce Cloud consultancy start-up, for US$76 million to help clients in digital transformation and strengthen its position as a Salesforce enterprise cloud service provider.
Talent
Because offshore-heritage service providers' initial reskill/upskill approach left them far behind global service providers' inorganic approach, they've taken the leap and started acquiring companies to obtain direct access to already-trained talent. For example, Wipro acquired Syfte, a design firm, to strengthen its design and innovation capabilities in Australia and Asia Pacific. Under the agreement, Syfte's talent will join Designit, a subsidiary of Wipro, to enhance the transformation services offered by Wipro Digital. Similarly, Genpact acquired Barkawi, a supply chain management consultancy, to add talent with consulting and digital technology capabilities in supply chain management and aftermarket services.
To learn more offshore providers' M&A strategies, key market trends, global locations activity, and service provider activity in Q4 2018, please see our Market VistaTM: Q1 2019 report.