The United States healthcare system suffers from systemic issues of cost, access, and quality, providing significant whitespaces for innovation. The key factor driving disruption is the pressure to contain costs and improve care quality amidst rising healthcare expenditures. (In 2014, The United States' spending on healthcare was 17.1 percent of its GDP, and in 2022 it is expected to touch 20 percent.)
The transition from defined benefits to defined contribution, employer-based purchasing to the individuals market, and fee-for-care to fee-for-outcome are some of the structural changes that are driving cost optimization and better patient outcomes.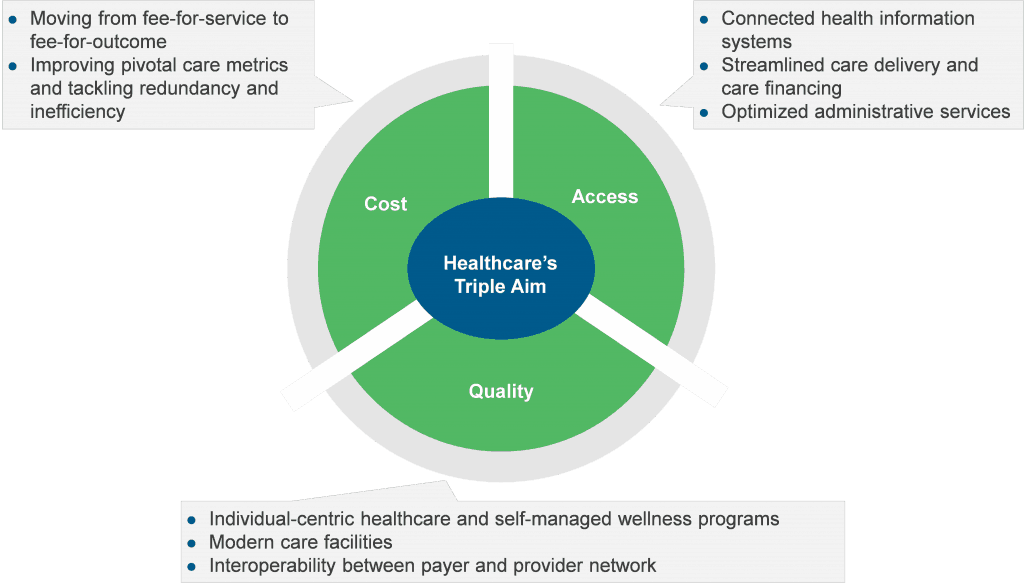 Technology: the harbinger of change
However, with the rising adoption of digital services by healthcare buyers, technology is proving to be the biggest catalyst in transforming the entire healthcare ecosystem. Technology enables both cost reduction and consumerization. Most of the modern healthcare doctrines such as remote healthcare, 24×7 vitals monitoring, seamless claims management, and integrated health records are powered by technology tenets such as Internet of Things (IoT), robotics, Artificial Intelligence (AI), mobility, analytics, and cloud computing.
Incumbent players have started providing digital services to meet the demands of customers. However, they are a little hesitant to make huge technology investments as they must balance already thinning bottom-lines, shrinking in-patient volumes, and tightening regulatory controls. Additionally, in-house investments have longer go-to-market cycles, higher risk of failure, and stretched pay-off duration.
Start-ups: catalyzing innovation
Stakeholders have been trying to tackle endemic industry issues through technology use. At the same time, consumer expectations are fundamentally changing from their healthcare experiences. Stakeholders are trying to evolve healthcare's operating model in the new normal. Start-ups have a fertile ground to reap benefits through innovative solutions that address these challenges.
This is reflected in the differential investment interest in healthcare. While the overall funding climate has begun to show signs of correction, healthcare is witnessing a resurgence in investment activity. Global funding for start-ups went down by more than 20 percent in Q3 2015, whereas funding for digital health companies shot up by nearly 10 percent in 2015.
Uncovering the healthcare start-ups landscape
In order to understand the extent of disruption that start-ups bring to the healthcare market, Everest Group Research conducted an in-depth analysis of start-ups in the healthcare landscape (see Hot-healthcare Start-ups: Dawn of a new world order).
We took a discovery-based approach, and analyzed more than 200 start-ups on three major levers:
Technology disruption

To what extent has the start-up addressed existing challenges through technology?
To what extent has the start-up created new channels via technology?
Business disruption

To what extent has the start-up transformed existing business functionality?
To what extent has the start-up created a new market?
Market buzz

How much trust have investors shown in the start-up?
What kind of market recognition has the start-up received?
Our analysis resulted in five leading investment categories, and five top players in each.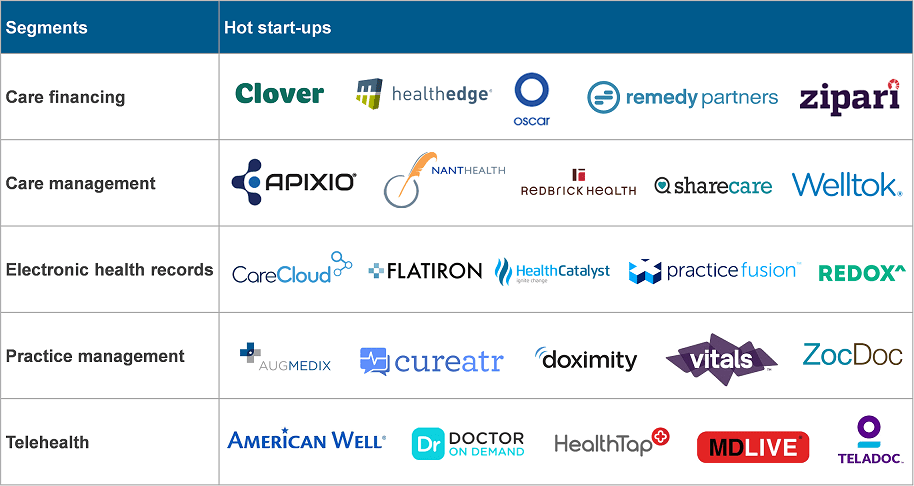 Key findings from the study included:
Given the valuations and impact they create, start-ups have the potential to unseat some of the incumbent companies. Therefore, it is imperative for payers and providers to partner with them or acquire them to remain relevant in the healthcare value chain.
Associations with start-ups will significantly reduce time-to-market as they provide ready-made plug-and-play solutions. This can also convert capital expenditures to operating expenditures and maintain a leaner cost structure.
Start-ups have built the agility required to withstand changing industry dynamics, as they have tried and tested multiple use-cases. Hence, association with them will be helpful to mitigating competitive rivalry and adapting to regulatory changes.
Access the full report entitled "Hot-healthcare Start-ups: Dawn of a new world order".