The relationship between RPA vendors and their clients isn't so different from the relationship between Marvel Studios and its fans.
Since the movie Iron Man hit the big screen in 2008, fans' expectations of superhero films have skyrocketed. Despite the rising and evolving expectations, Marvel has satisfied its audience and has made a little pocket change in the process.
In a similar way, RPA buyers are expecting increasingly more from their RPA vendors. So, have RPA technology vendors been MARVELous in their customers' eyes?
The Drivers
Our recent research study among 50 enterprise RPA buyers makes it clear that vendors have excelled in addressing their primary drivers, which are cost reduction and process optimization.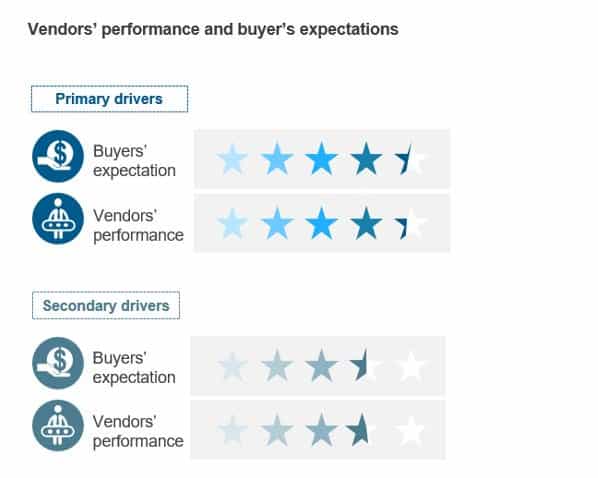 However, vendors didn't score as high on secondary drivers such as improved customer experience, governance, and top-line growth. With increasing awareness about the potential impact of RPA beyond immediate cost and efficiency benefits, enterprises have started to view RPA as a primary contributor to their digital strategy, rather than a tactical measure.
Consequently, technology vendors should focus on continuously evolving their RPA solutions with a host of capabilities to help enterprise buyers achieve their strategic business outcomes.
The Capabilities
As to be expected, the buyers in our research study found their RPA vendors excelled in certain areas and had work to do in others.
The key strengths for those vendors who were identified as the Leaders as per our PEAK Matrix™ assessment on RPA included:
Customer support and service
Ease of use and robot development
Vision and strategy
Key improvement areas for Leaders included:
Responsiveness
Product vision and strategy
Product training and support
The X Factors
As there are so many RPA tools available in the market, each with its own strengths and weaknesses, it can be daunting for enterprises to select the right vendor for their unique needs. One critical part of the decision-making process is to focus on the X factors that are most important to their strategic agendas.
Our study found that factors including "ease of use and robot maintenance" and "scalability" highly correlate to buyers' overall satisfaction levels. This is not surprising, as these are factors that buyers typically face issues with during RPA adoption. "Product vision and strategy" – and in some cases vendor expertise in a specific vertical industry or function – are also important buyer X factors.
While it's clear that RPA vendors can do more to satisfy the needs of their customers – and that they'll need to continually evolve their solutions – they have indeed been relatively MARVELous in delivering value and overall satisfaction to their buyers.
To learn more, please read our report "Buyer Satisfaction with RPA – How Far or Close is Reality From Hype."