Employee and job candidates' perceptions of an employer's brand can significantly impact talent acquisition and retention. Building on its inaugural research in this area, Everest Group will soon release its 2023 report examining how operations and technology employees in Global Business Services (GBS) organizations in India, The Philippines, and Poland view their employer's brands. Read on to learn why building a positive brand perception is crucial in today's war for talent. 
See who's on the list in the 2023 report.
Why GBS brand perception matters?
GBS organizations are only as good as the talent they possess. Brand perception can positively or negatively impact the GBS employees who provide services to the broader company. With today's unique operations and talent needs, leading GBS firms understand the importance of investing heavily to create a positive employer brand in the local markets where they operate.
Building and maintaining a strong GBS employer brand is critical for talent recruitment and retention. As the battle for skilled talent continues, even with massive layoffs, companies are continuously striving to improve their competitiveness by creating a favorable reputation.
Employer branding, or how current and prospective employees view the company, is one of the most critical decision-making factors for job candidates. Employer brand perception is shaped by a combination of factors, including company policies, activities, and communications by the employer and its current employees.
Perception matters in today's digital age. Employees can easily access information online, and good and bad news travels fast through social media. Potential employees can easily research a company's reputation; read employee reviews on portals like Glassdoor, AmbitionBox, and Indeed; and develop a view of the company's culture and values through social and professional media sites like Facebook, Instagram, Twitter, LinkedIn, etc.
Potential employees form their views about a company through these review portals, social media, and other online discussion forums, and the sentiments they come away with can be different than the image the employer presents.
While GBS leaders regularly collect feedback to make improvements, they can be blindsided by their views of their brand and fail to seek the much-needed outside-in-employee perspective. To address this void, Everest Group's Top GBS Employers' Report provides employee views on reputation, enabling GBS leaders to compare how they rank against market competitors and improve their talent strategies.
About Everest Group Top GBS EmployersTM Report
Brand perception studies typically do not focus on the differentiated nature of the GBS market and fail to capture the concerns of talent or the voice of employees. Everest Group's Top GBS Employers analysis is, by design, based on publicly available information and the latest feedback capturing prospective employees' perceptions about GBS organizations.
The report findings provide companies with a comparative snapshot of leading firms' market perceptions among the technology and operations workforce to arm GBS leaders with relevant facts and insights to make the right decisions.
First report of its kind
A year ago, Everest Group analyzed 200-plus GBS organizations across India, the Philippines, and Poland in a first-of-its-kind study in 2022, capturing the outside-in perspective of each organization. The firm analyzed data based on ratings on employee review portals, social media, and the internet. The study examined brand perception across dimensions such as compensation, career progression, senior management, work-life balance, culture and values, and diversity. It also evaluated the performance of the GBS organizations in local talent markets, spotlighting attrition rates, joiner-exit ratio, and overall employee satisfaction ratings.
The report revealed that companies viewed favorably by the public may be seen differently by GBS personnel in local markets. This analysis helps GBS organizations understand their employer brand's outside-in perception and compare it with their industry peers, as well as with their internal brand perception.
To learn more about the 2022 results, Everest Group presented the following interactive sessions:
A LinkedIn Live event, Who Are the Top GBS Employers?, featuring discussions with GBS leaders from Sun Life Financial Asia Service Centre, Mondelez International, and SAP, India to help GBS organizations understand best-in-class practices and initiatives to build their GBS employer brand
A webinar, Elevate Your GBS Employer Brand: Lessons from Top Employers, to provide GBS leaders with insights to contextualize the report findings and develop a plan for improving the outside-in perception of GBS brands
The second edition of Everest Group Top GBS EmployersTM
Expanding on the scope of the 2022 report, Everest Group is finalizing the second edition of the Top GBS Employers Report covering 300-plus GBS organizations across India, the Philippines, and Poland. A report covering case studies showcasing actions taken by Top GBS employers in their respective locations will also follow.
To learn more about how the top 15 GBS employers in Poland set themselves apart, view the Linkedin Live event, Improve Your GBS Employer Brand, Learning from the Best in Poland, featuring GBS executives who have shown significant leadership and innovation. Rohitashwa Aggarwal, Partner of GBS Research and Advisory at Everest Group, talks with leaders from ABSL DACH; Antonio Calco Labruzzo, Global Head of HR, GREFP and Takeda Business Solutions; Jacek Przybylski, Senior Director, Site Leader Cisco Krakow; and Edyta Wojtkiewicz, Head of  EMEA GFS, AstraZeneca.
Below is a look at how employees at top GBS organizations in Poland view compensation and benefits, work environment, career development, and diversity among, other factors that influence their job satisfaction: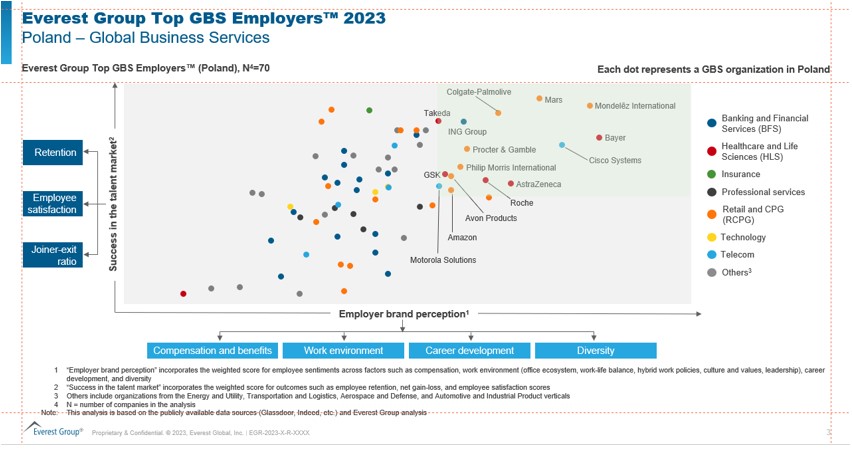 GBS leaders are invited to attend an upcoming webinar to learn about the Top GBS employers in India and the Philippines. This webinar will present the views of leaders from Sun Life Asia Services Centers, Experian Business Services, and Target in India on this assessment and their actions to build and maintain their GBS brands. Attendees also can request one complimentary assessment of their GBS organizations in either India, the Philippines, or Poland.
To learn more about Everest Group Top GBS Employers and Top Employers for Tech Talent, reach out to [email protected], [email protected], [email protected] or contact us.