While insurers have traditionally been slow with technology adoption, they're now jumping on the mobility bandwagon, leaving no stones unturned in devising their mobility strategies.
So what has made mobility adoption a non-negotiable choice for insurers? They've realized that investments in mobility are essential for keeping pace with competitors and meeting the demands of an increasingly mobile "Facebook generation," and that mobile offers unique benefits over the traditional brick and mortar, or even online, engagement models.
Following are some innovative uses of mobility in insurance and how they are transforming the industry:
Usage based insurance (UBI) through telematics: Telematics allows a sensor installed in a user's automobile to transmit real-time information about his or her driving behavior to the insurance provider. The insured individual is rewarded for good driving through reduced premiums, discount vouchers, etc. And as the practice encourages safer driving, insurers pay out on fewer accident claims. This win-win situation for both the parties is significantly altering the auto insurance landscape.
More effective claims processing: P&C insurers are investing in native apps that can be used for claims reporting. In one form, the insured individual can take a picture of damaged property and post it via the app to initiate the claims process. In another form, inventory management apps allow the consumer to take photos of belongings and catalog all with the product price and purchase date, which can be used for claims processing in case of accidental damage or theft.
Better customer service and support: Many insurance providers today provide "Mobile Live Chat" functionality to enable better connectivity between the insured and the insurer, and a "when I want it, where I want it" experience for the customer.
Sales force automation through enterprise mobility deployment: Most insurers have armed their sales force with tablet/mobile-based solutions that provide real-time access to carrier systems. These enable agents a convenient way to showcase their offerings to prospects, and to readily adapt per unique client needs. Further, team managers can use mobile-based performance dashboards to monitor and optimize sales performance and make commission payments to agents.
To support insurance companies' needs for industry-specific solutions and enablers, leading service providers are investing in development of a wide range of mobility solutions. While telematics and UBI are broad areas of investment, key insurance functions in which providers are investing are sales, claims and account management. The graphic below illustrates select major investments by service providers: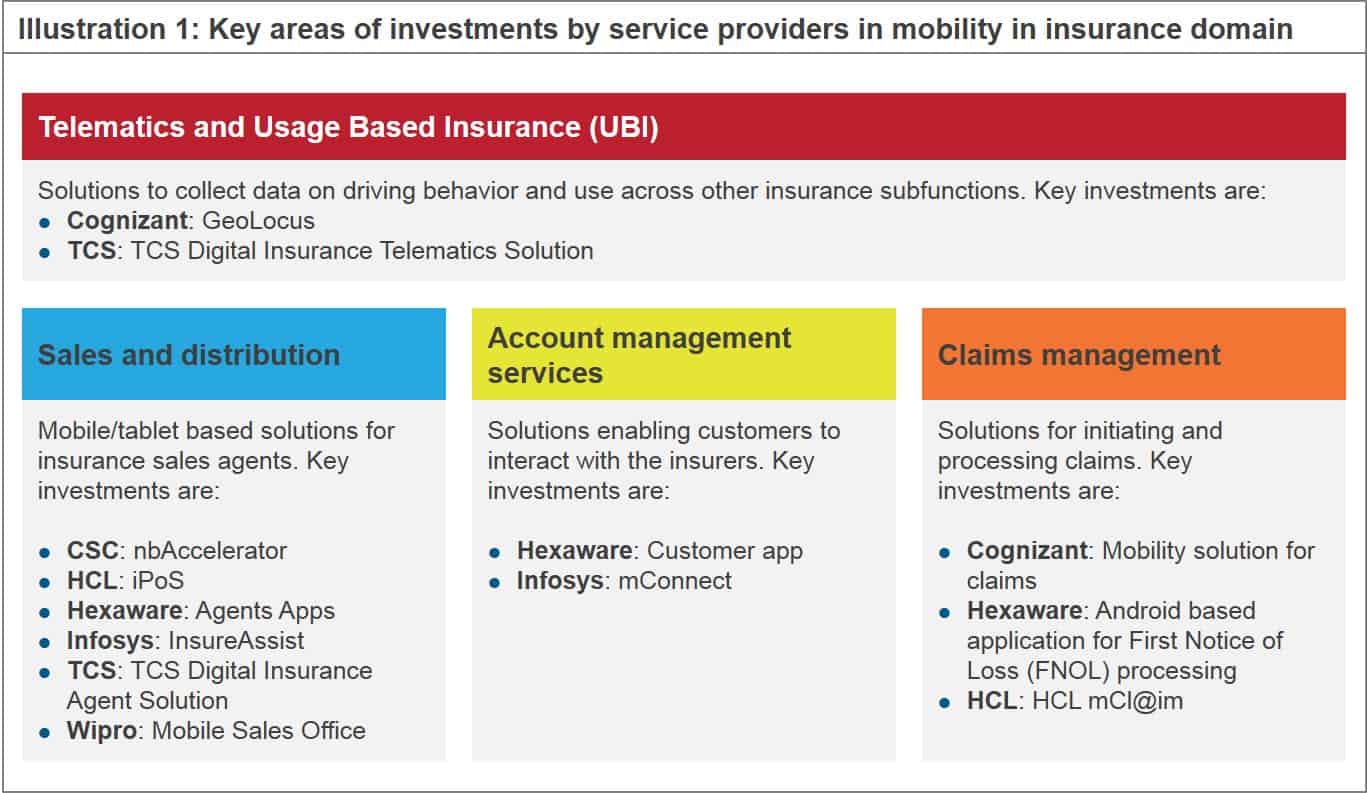 To gain additional insights and perspectives on leverage of mobility, key mobility initiatives by leading insurance firms, and questions key stakeholders must have answers to, read Everest Group's IT Outsourcing in Insurance – Annual Report 2013: SMAC is the Panacea for all Insurance Industry Problems, and IT Outsourcing in Insurance – Service Provider Landscape with PEAK Matrix™ Assessment 2013. So, will insurance customers of the future use mobile as their primary interaction channel? Our research and current industry trends certainly bode so!