"We want to create comprehensive mobile apps that mirror the functionality of traditional applications." Every time I hear an organization say that, I think about a mobile application or strategy that is fast forwarding toward a grand failure.
Why? There is a simple answer. No one wants, or can actually use, a mobile app that is like that. Traditional applications have so many features and complexities that, if "mobilized," will significantly degrade the overall design, code quality, user interfaces, and user experience. These applications typically offer many functionalities that consumers are neither aware of nor use.  Unfortunately, the market is fast approaching a state of "fat client native mobile apps" in which we could see a further divergence of users' core requirements and developers' fanciful creations. Indeed, even in the typical mobile apps that connect to a cloud or hosted application, developers are unable to grasp the real requirements of the end-user.
The reality is that mobile applications must have their sanity intact and offer functionalities that users will actually consume.
While designing mobile applications, developers and architects need to remove their traditional approach and segregate the functionalities into "must-have," "should-have," "good-to-have," and "may-have." But they must always keep top of mind that a must-have functionality for traditional access could be a "may-have" for mobile devices. Therefore, they need to see the application landscape through a different lens before deciding which functionalities should fall under which bracket. It goes without saying that this exercise must be performed from an end-user perspective.
Given that mobile apps is still a growing area with lots of yet to be answered questions, organizations need to be careful in adopting a mobile application strategy. It should, at bare minimum, address the following:
Relevant functionalities: Only the core features of an application should be available on its mobile avatar (at least to begin with). Once end-users are comfortable and there is an increase in demand for more functionality, newer features may be added. Moreover, the definition of "core features" on mobile may be very different than that for the desktops
Minimum learning curve: End-users need to comprehend, appreciate, and start liking a mobile application in a very short time (say two-five minutes). Beyond that, the chances of them looking at it again are very low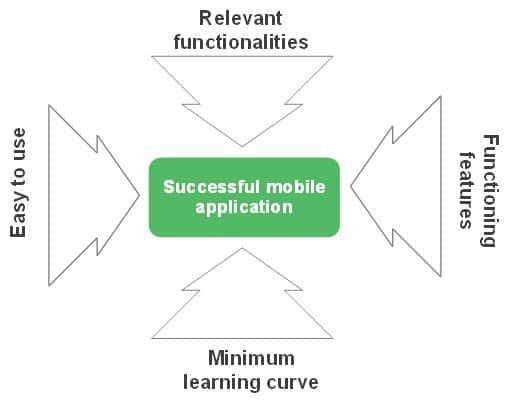 Functioning features: When a mobile application is dependent on another system, data connectivity to the systems must be functional or performance will be hindered and the user experience spoiled
Easy to use: While this is an old horse in application development, the importance of ease of usage increases manifold with mobile platforms. Developers should focus not only on different mobile OSs, form factors, etc., but also on the intuitiveness of the interfaces and easy availability of key features (e.g., search).
While all the above may appear to be very generic and obvious, it's not…believe me. I am seeing various buyer organizations struggling with evangelizing the adoption of, and technology provider's inability to create, meaningful mobile apps. And in the meantime, they're investing millions of dollars that are not delivering the returns.
Therefore, the crux of a successful enterprise mobile apps strategy is to KISS it…or, Keep it Simple and Sane!