On 25 April 2017, U.S. President Donald Trump moved one step closer to instituting new regulations for granting H-1B visas. At the same time, many IT service providers – especially those of Indian-heritage –moved one step closer to realizing their worst fears! The threat of visa reforms became real when President Trump ordered an inter-departmental review of the H-1B visa program, which would ensure formulation of regulations for hiring only the most skilled or the most highly-paid professionals and "would never replace American jobs."
While it is universally acknowledged that a stricter visa regime will negatively impact most service providers' onshore margins, particularly the offshore-centric providers that follow the "landed" resource model (i.e., a delivery model that hires resources from offshore centers to work in the U.S.,) it is important to examine the true nature of this impact. The exhibit below indicates the possible impact on onshore margins under various visa reform scenarios.
Scenario-based H1-B visa reform impact assessment on onshore (U.S.) margins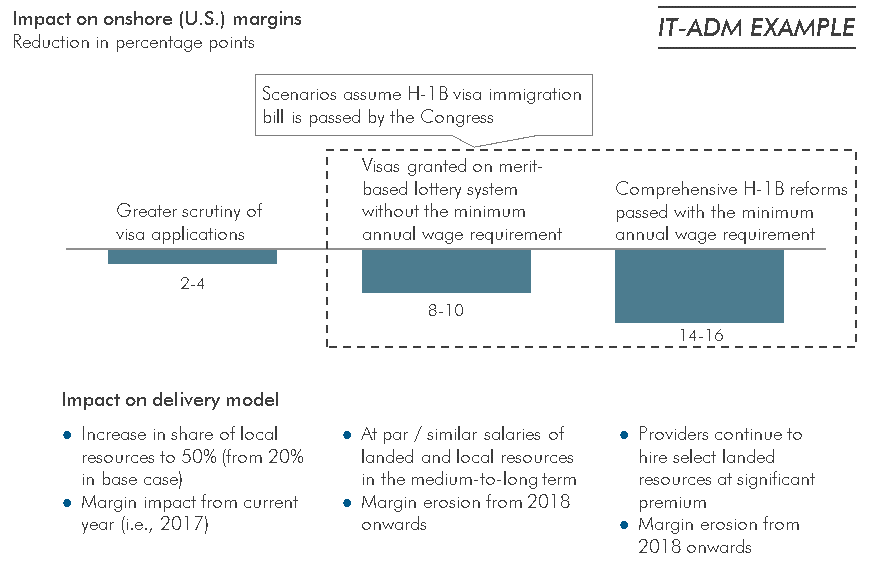 Even in a situation where the visa reforms do not translate into full-fledged regulation (the most ideal scenario for Indian-heritage service providers) we expect far greater scrutiny of H1-B visa applications, leading to fewer visa grants. Even in this scenario, we expect more onshore hiring by IT service providers to meet their talent requirements, leading to reduction of service provider margins by 2-4 percentage points.
The probability of the above happening has become more dubious, given recent developments, and it is highly likely that visas will be granted based on either skills/merit or minimum wage requirements of US$130,000. In either case, service providers will need to hire a much higher share of local resources. This further complicates the situation for Indian-heritage providers, as they have a smaller foothold in the U.S. talent market than do the global providers. Whether Indian-heritage or global, hiring landed resources at some/all levels of the delivery pyramid at the minimum salary levels of US$130,000 could drop service provider margins by as much as 14-16 percentage points, resulting in negative returns on onshore deals, at least in the short-term.
While none of the scenarios paint a rosy picture for service providers, the impending visa reforms may act as a catalyst for them to develop more automation solutions and front-end technology products and restructure their talent hiring and value proposition. Interestingly, while onshore resources will increase in U.S.-based contracts, the overall portfolio-level offshore ratios may also marginally increase with providers pushing the offshoring lever to protect their overall margins.
Everest Group has simulated the potential impact on onshore margins using key input variables around existing cost structures, rate cards, staffing pyramid, and onshore-offshore resource mix. Please see our viewpoint on the above topic: "Impact of Changes to H-1B Visa Program on Service Provider Margins" for more details.